The Honest Guide To Nigeria Travel – 2014
Capital: Abuja.
Currency: ( code: NGN) is the currency of Nigeria. It is split into 100 kobo. N1 = 100k.
Time Zone: UTC+01:00 (Nigeria is 7 hours ahead of New York; 8 hours ahead of Los Angeles).
Voltage: Main voltage in Nigeria is 220V (domestic) 440V (industrital) ; If you plan on bringing any electrical equipment using 110volts to Nigeria, you will need a voltage converter.
Driving: Keep right (opposite to UK).
Measurement: Nigeria uses the Metric System where 1 Mile = 1.6 Kilometers, 1 Pound = 0.45 Kilograms, 0oC = 37oC.
The International Dialing Code: 234 is Country Code for Nigeria. Phone Number (may not begin with 0): landlines - 7 to 8 digits with area code cell phones - 10 digits.
Dialing Nigeria from Overseas: If you're dialing Nigeria from United States, start with 011 – US exit code, followed by 234 (Nigeria country code) and then, the phone number. For example; 011-234-(80)-67452312
Dailing Overseas from Nigeria: If you're dailing United States from Nigeria, start with 009 - Nigeria exit code, followed by 1 and then the phone numer.
Mobile Networks: MTN, Glo Mobile, Airtel, Etisalat, Visaforne, Multilinks Telkom, Starcomms, Mtel, Zoom.
National Sports: Football, Basketball, Athletics, Boxing.
Languages: The national and official language is English, spoken everywhere in Nigeria but there are 4 major languages – Hausa, Yoruba, Igbo, Fulani.
---
Travel to Nigerian cities
---
Arik Air Flight Schedule*
| | | | | |
| --- | --- | --- | --- | --- |
| Airline | Departs New York (JFK) | Arrives Lagos (LOS) | Days | Flying Time |
| Arik Air Flight 0108 | 12:00 PM Local Time | 03: 00 AM Local Time | Daily flights available | 15 hours (Overnight flight) |
KLM Flight Schedule**
| | | | | |
| --- | --- | --- | --- | --- |
| Airline | Departs New York (JFK) | Arrives Lagos (LOS) | Days | Flying Time |
| KLM | 17:55 PM | 19:55 PM | Daily flights available | 20 hours (Overnight flight) One stop at Amsterdam. |
United Airlines Flight Schedule***
Airline

Departs New York (JFK)

Arrives Lagos (LOS)

Days

Flying Time

United

2:30 PM

3: 45 PM

Daily flights available

19 hours 22 minutes.

(Overnight flight) Makes a stop at Washington for 1hour 10minutes and Houston for 1 hour 45 minutes.
** Please note: The KLM schedule for flights from the U.S.A (JFK) to Nigeria was correct at the time of publishing (January 2014). Check with your travel or airline for the latest information and times regarding flights to Nigeria.
** Please note: The Arik Air flight schedule for flights from the New York to Nigeria was correct at the time of publishing (January 2014). Check with your travel or airline for the latest information and times regarding flights to Nigeria.
You can refer to the flight booking engine for the latest schedule and prices for flights between Nigeria and the United States. You can also use the booking engine to get an idea of the cost of domestic flights in Nigeria.
International check-in
There are different check-in times for certain flights:
USA flights: check in three hours before flight departure

Other international flights: check in at least two hours before flight departure, irrespective of travel class
Domestic check-in: Passengers are required to check in at least 90 minutes before flight departure
Luggage
There are luggage weight restrictions that vary between points of departure and airlines but here are some of the approximate guidelines for your check in luggage. If you are taking a flight to Nigeria from the United States of America, it is expected that you carry one piece of luggage that weighs not more 30 Kg for Business class, 20 Kg for economy class and you have to pay extra charges when you are carrying more than this kilogram.
United States Passport & Travel Visas
If you want to visit Nigeria from United States, you need a passport valid for a minimum of six months, ahead of your departure date. Your passport must have at least one blank page for visa imprint. You will need a visa to travel to Nigeria. If you are applying for a tourist visa, you will be given a six month visa for single entry and 6-12months visa for multiple entries.
Visa Requirements
F

inancial Proof – recent bank statement.

Two recent coloured passport photograph with a white background.

Y

ellow Fever Card – a certificate of vaccination against Yellow Fever

H

otel booking confirmation.

A

copy of your flight ticket (flight itinerary).

A

copy of your host's information page of their passport.

Letter of invitation from your sponsor in Nigeria

Visiting: a sponsor letter from your host.

Business: a letter from the company you are transacting with.
Please, visit Nigeria Consulate or High commission in your country to get more informationn or visit their website you can also visit Nigeria High Commission website.
For New Couples
It is the name on your airline ticket that is matching your passport that you would use. If you are travelling under your married surname, it is expected that you have a passport that would match your new married name. If you cannot obtain a new passport, it is expected that you travel under your maiden surname.
Nigeria has two differentiated seasons; the dry season and the raining season. The dry season is accompanied by a dust laden air mass from the Sahara Desert, locally known as Harmattan. Natural hazards include periodic droughts and flooding. Tornadoes and hurricanes are very rare.
Southern Nigeria
| | | | |
| --- | --- | --- | --- |
| The Long Rainy Season | The Short Dry Season | The Short Rainy Season | The Long Dry Season |
| starts in March and lasts to the end of July | experienced in August for 3 - 4 weeks | This brief wet period follows the "August break" from early September to Mid-October | starts from late October and lasts to early March |
Northern Nigeria
Exhibit only two different seasons, namely, a short wet season and a prolonged dry season.
This depends mostly on what you want to achieve, every season has a lot of offers for you according to regions. Nigeria is always full of exciting activities no tourist would want to miss, such as;
The Osun Festival is held at the end of every rainy season, usually in August, at the Oshogbo Sacred Forest in honour of river goddess Oshun, an important Yoruba deity.

The Sharo or Shadi flogging competition is a traditional rite of passage for Jafun Fulani men, which is held during the dry season.

The New Yam festival is seen in most places in the country during the raining season, with lots of masquerades who are thought to be reincarnated dead ancestors, with supernatural powers.

The Eyo Festival is performed in Lagos Island, which is festival of masquerades.

The Calabar Carnival is held during the December period.
However, the best time to visit Nigeria is during the dry season, between December and February.
Travel to Nigeria and begin a journey of enchantment. Nigeria is the largest country in West Africa and the most populated country in Africa, comprising 36 states and its Federal Capital Territory, Abuja and slightly more than twice the size of California in the US.
You may not be able to travel to all the most fascinating tourist attraction centers in the country within a short time.
Lagos: Lagos is a cosmopolitan and the most popular city in Nigeria. It's like a world class destination for a lot of things such as hotels, restaurants, music, architecture, culture etc. Lagos is the home of Bar Beach on Victoria Island, Lekki Beach which is a long stretch of sandy beach. Lagos is a place to be!
Abuja: Abuja is Nigeria's fastest growing capital city with modern significance. Abuja's extensive range of sights, the standard and contemporary architecture will feed your spirit. Nigeria's capital city, offers unlimited opportunities for rock climbers at the Gawa Hills, Gwagwa Hills, the Chukuku hills, the Agwai hills, and the famous Aso Rock which hold strong attractions for all lovers of nature.
Port Harcourt: It is a notable attraction in Nigeria; it is the base for the country's oil industry and exportation of different stuffs. Port Harcourt prides itself in its matchless productivity, environment and exciting events.
Akwa lbom: It is an affluent tourism destination offering loads of cultural values, wildlife and attractions, striking scenery, and beaches such as Eket and Ibeno beaches. Akwa Ibom has something for everyone.
Bauchi: Has the Yankari National Park and Games Reserve, including the Wikki Natural-Warm Spring.
Photos by Aubrey Martin on Flickr
Calabar, Cross Rivers State: Calabar is a city saturated in arts, culture andtradition, although, it's an urbane and vibrant city. The city offers most of the most beautiful attraction in Nigeria. Every year, Calabar hosts a festival – Calabar Carnival for locals and various visitors from different parts of the world. Other attraction centres in Cross Rivers State are Agbokim and Kwa Falls are found here, including The Tinapa Free Zone & Resort.
Enugu: Enugu has lots of attraction centres such as the Coal mines at Okpara, Onyeama and lva Valley - Zoo and botanical gardens.
Nigeria offers different types of transportation to help you get around, but the best and safest means of transportation for visitors is to hire a car to take them around. From the airports, you will find a number of cheap chauffeur-driven cars to take you around town. If you are hiring a car or taxi, you should negotiate and agree on the transportation fares before hiring. Travelstart offers car hire services, you can easily book a rental car using Travelstart online car booking engine.
Other transportation in Nigeria includes ferry, helicopter and rail services. The rail service is effectively working in some cities such as Lagos, Ibadan, Ogbomosho, Kaduna, Zaria, Aba, Enugu, Jos and others. It is advisable not to rely on the trains because they are very slow in movement. The ferry service works effectively in cities where we have rivers and seas, such as Lagos, Port Harcourt, Bayelsa etc.
Banks in Nigeria
Nigeria banking system is modern and extensive. There are many banks in Nigeria, most of them are connected to some International banks making it easy for International travellers to withdraw and save money in the local banks. A proof of identity such as driving license or International passport will be required to access your account in the bank.
ATMs
There are plenty ATMs in Nigeria, almost at every corner and in every bank branch in each city; you can withdraw money from them using your credit or debit card. You can load your credit card with money before travelling to Nigeria. However, keep an eye on the exchange rates as you plan your trip. You should inform your bank that you will be using your credit card outside United States and also check for transaction fee for international withdrawals.
Currency Exchange
You can change dollars to Naira at exchange shops at the airport or any of the local banks. Other Bureau de change offices are located in Ikeja.
Shopping in Nigeria is fun; each city in Nigeria has major markets where people shop for different things including foods. Sometimes, the market sellers will follow you around, asking or begging you to come buy from them. At the markets, you will need to ask the price of anything you are buying. However, you can negotiate and offer to pay a lower price but do not get it down to half the original price because doing that might aggravate the seller. Remember to be polite and smile. If you are not happy with the price, smile and walk away. There is always a major shopping mall in most cities in Nigeria. The shopping malls are always grand and there, you will find familiar designer stores and well-known brands. Most things are already labelled with price and you do not need to barter or negotiate.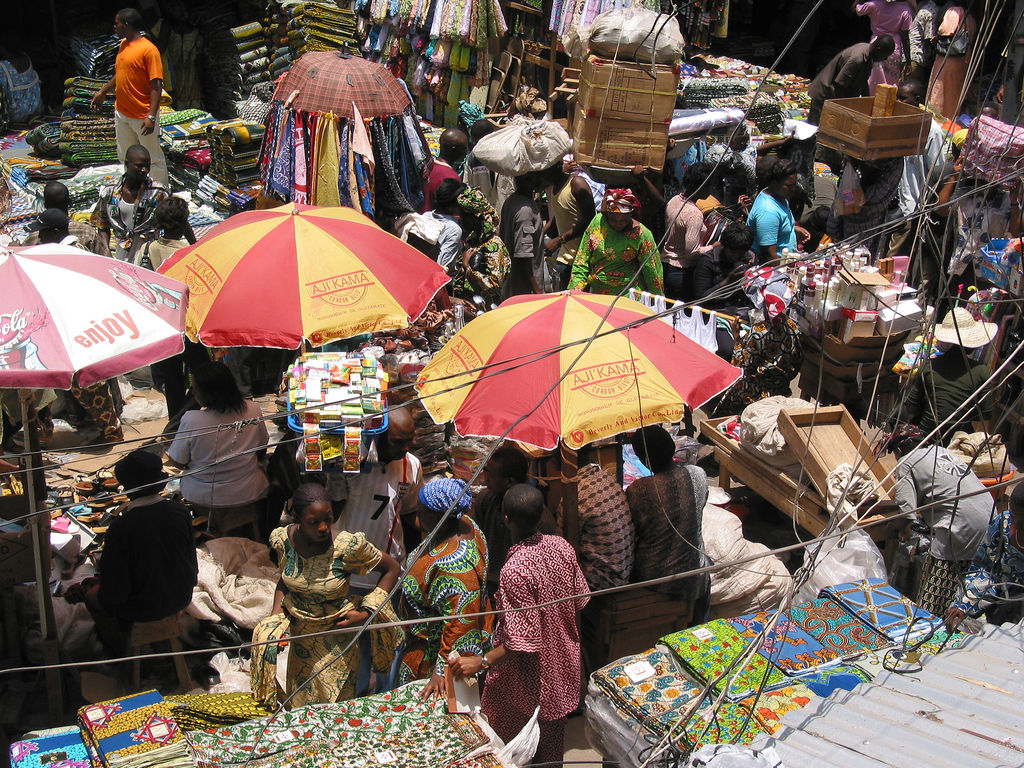 Health Risks
Yellow Fever vaccination certificate is required from all passengers going to Nigeria. Anti-malaria prophylaxis and Tuberculosis inoculation are recommended for passengers at least three weeks before departure date. Avoid drinking untreated water, drink boiled or bottled water.
Staying Safe
Nigeria is not as dangerous as it has been painted by the media, especially because of the activities of the sect in some Northern states, Boko Haram and militants in the Niger Delta. With the support of a guide or agent, you are going to have a safe trip in Nigeria.
The country has a well developed network of roads, waterways and air routes, if you are coming to Nigeria the first, it is recommended you make use of a car hire service. Hire a car with Travelstart.
The Nigerian's exchange rate is very favourable to every tourist including Americans who are happy with their purchasing power in Nigeria. Visitors are recommended to enjoy the affordable facilities that have been made available for them. There are budget hotels to stay in Nigeria which offer best facilities such as free Internet WIFI, air-conditioner, TV set with a minimum of 3 satellite channels and other associated services. Cheap transportation services are available to take you around the city. In Lagos, there are cheap and safe transportation services called LagBus and BRT Buses which transport people from one place to another. For food and drinks, there are low-cost restaurants that can cater for your food cravings with best food and drinks you can ever imagine.
Latest Exchange Rates: 1 United States Dollar = 160.150 Nigerian Naira (January, 2014 subject to change)
American tourists in Nigeria should always: ensure that you;
Make photocopies of your visas, passport details, travellers cheques and your credit card numbers.

Do not carry too much money around with you; you can save your money in the local banks or make use of the safes provided in your hotel.

Make sure that your passport is valid for at least six month from your date of return.

Make sure that your family and friends at home know your travel plans.

Avoid visiting places that has been labeled as crime hotspot.

Practice safe sex.

Keep your credit cards safe, do not give it to anybody.
Extra Travel Tips
Leave behind a copy of your travel plans with someone at home and keep in regular communication with friends and relatives while in Nigeria.

Obey the Nigerian laws.

Do not leave your luggage unattended especially at the airport.

Do not flash your expensive possessions like watches and jewelry.

Use hotel safes, drop boxes, and bank safety deposit boxes to store your valuables and documents.

The sun can be very hot; do not forget your sunscreen.

Pack your bags carefully and ensure they are secure before checking in for your flight.

Before travelling to Nigeria register your contact details online or at your country's consulate or local embassy consulate immediately you arrive in Nigeria, so they can contact you in case of any emergency.
In the event of an emergency, the visitor may secure help by dialing whichever is relevant among the following numbers:
Emergency Calls:
Police: 199

Fire Ambulance: 999

Operator: 190

NITEL (fault): 192

Enquiries: 194

Speaking clock: 191
Postal Services
The Nigeria Postal codes consist of six numbers. Nigeria is divided into nine regions by the Nigerian Postal Service. The first digit of the code represents the region while the second and the third digits combined with the first are the dispatch district for outgoing sorting. Each main postal head office in every region has a postal code that ends with 0000. Alternatively, you can make use of other poster services such as UPS, TNT, Fedex, DHL and many others.
The Internet
There is availability of wireless internet in most airports and hotels, banks and cafes. The business internet cafes are located in different cities and even villages in Nigeria.
Business Hours
The governmental offices have office hours from 8:00 AM to 4:00 PM while businesses have office hours from 8:30
AM to 5:00 PM. However, some banks have limited hours, they close all customers' transactions at 4:00 PM.
Public Holidays and Special Days in Nigeria
New Year's Day - January 01, 2014

Milad un Nabi 2014 (Birth of the Prophet Muhammad) - January 13, 2014

Good Friday - April 18, 2014

Easter Monday - April 21, 2014

Workers' Day - May 01, 2014

Eid al-Fitr (End of Ramadan) - July 28, 2014

Independence Day Nigeria - October 01, 2014

Eid al-Adha (Feast of Sacrifice)- October 04, 2014

Christmas Day - December 25, 2014

Boxing Day,- December 26, 2014
Making Use of a United States Cell Phone in Nigeria
It is advisable to buy a local mobile network sim card when arrive in Nigeria because it is very affordable and cheap, less than $1. You can get your sim card anywhere in Nigeria including the airport. The tariff for phone calls and text messages are almost the same for all the mobile networks.
Travelstart was founded by an online travel entrepreneur Stephan Ekbergh in Sweden in 1999. It became an internet global travel market leader within a short span of time in Northern Europe. Today, it has its headquarters in Cape Town, South Africa. Travelstart has fast become Africa's leading online travel agency, hotel and car rental bookings and one stop shop for flight, the online offering service is supported by skilled and experienced customer service team and travel agents that deal with custom holiday packages as well as over-the-phone enquiries. Currently, Travelstart has its operations in Nigeria, Egypt, Turkey, Tanzania, Namibia, Kenya, Turkey where it trades as Geziko and South Africa.
---
Share the news