Louisiana, a state in the United States of America is a unique destination where you can enjoy special holiday packages, been a birthplace of jazz, there is no better city in America than Louisiana where you can enjoy great music and food. There are lots of tourist attractions from its legendary plantation homes to its museums and from the Cafe du Monde to the Preservation Hall's jazz scene and Jackson Square. Book cheap flights to Louisiana with Travelstart.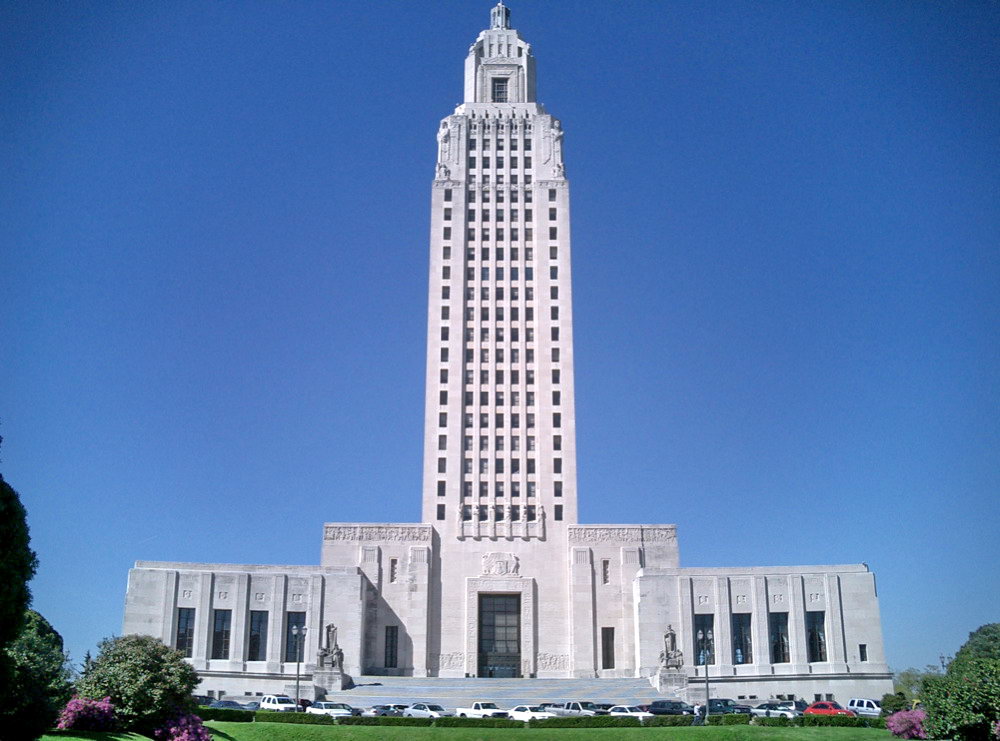 Louisiana State Capitol, Baton Rouge. Image Source: Wikipedia
Alexandria International Airport AEX
Alexandria International Airport was once known as England Air Force Base, a former base to the United States Air Force used during World War II. The airport has become a public use facility that is situated in Rapides Parish, Louisiana. It is operated by England Economic and Industrial Development District.
Major Attractions
Louisiana has a historical museum called the Southern Food and Beverage Museum that you would love to see, this museum exhibits the state's different cultures, artifacts that include recipe scrapbooks, cooking utensils and restaurant advertisements. The New Orleans Museum of Art is where you can find the oldest art institution in the state.
On the streets of Louisiana, you would have a feel of an eclectic mix of the Caribbean, African and European culture, the Shreveport's Municipal Auditorium is one of the American's significant location for its music history, legends like Johnny Cash, Hank Williams and Elvis Presley all began here before launching out to become superstars.
If you are a fan of golf, the Audubon Golf Trail, Atchafalaya National Heritage Area, Bike Louisiana and Louisiana Paddle and Louisiana Birding Trail attract a lot of golf lovers. These trails are opened all through the year. Festivals are events you would not miss when you are in Louisiana, there are so many of these festivals that paints the state with parades and colourful costumes, you can experience the New Orleans Jazz, Festival International de Louisiane, Heritage Festival, the Red River Revel in Shreveport and the Contraband Days in Lake Charles
You may love to visit the National World War II Museum, in this museum the story of the World War II would be narrated to you through pictures, artifacts and weaponry displays. The New Orleans Plantation Country has eight historic antebellum plantation buildings that would tell you a lot of stories of the plantation life that was seen along the Mississippi River. Nightlife in Louisiana is exciting and fun, complete with a lot of tourist attraction sites for you, nightclubs and bars that are affordable, this is what brings a pulsating energy to the city.
Hotels and Accommodation
Louisiana has a lot of five star hotels that are equipped with state of the art facilities and budget hotels. Book your Louisiana hotel accommodation with Travelstart.
Car Rentals
A visit to Louisiana may not be fun and hassle free if your movement schedule is not coordinated. Travelstart offers car rental services; you can hire a car to take you around the city.
The Best Time to Visit Louisiana
The charismatic nature of Louisiana attracts visitors to travel there every year, the best time to visit is from February to May, this is when the weather is comfortably cool and lots of celebrations are in full swing. Whether you are in Louisiana for leisure or business trip, the city has a lot of social activities for you to get involved with.
---
Share the news