Libreville, Gabon, West Central Africa is a port city and is a popular destination for tourists in Africa; it is steeped rich in culture and presents all the attractions for travelers. Make your flight bookings to the beautiful city which is one the favorite destinations in West Africa.
Book cheap flights to Libreville with Travelstart. Search and compare cheap flights and airlines on booking engine above.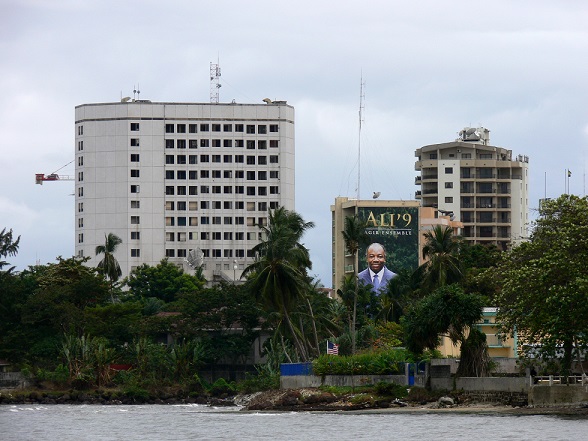 Entry Requirements
A National passport with a minimum period of 6 months is needed at the time of travel.
A Nigeria tourist visa is required and can be obtained at Visa application centre located at 27 Lingu Crescent, Off Aminu Kano Crescent, Wuse II, Abuja.
Getting to Libreville from Libreville Leon Mba International Airport (LBV)
You can get to the city from the airport by bus, taxi or car rental. Buses are cheaper but not convenient. Car rentals are the best option as it merges cost with convenience. Car rental agencies have desk at the airport and you can easily hire a car to take you to your desired destination.
Major Attractions
Pointe Dennis Beach is tourist's favorite for activities on water such as boat ride, swimming and snorkeling. A skyline view of Libreville and view of its coastal structure from this spot is beautiful
The ministry of mines and petrol building is only one of its kind, with special shape and painting. Tourist stops over here to take photos. The magnificent Palais Presidentiel is an architectural masterpiece at the centre of Libreville.
Seaside Boulevard of the city is located a wide grass path by the side of the coast. Mini-parks, trees, special sculptures and seat fill the length of the bay.
Things To Do
Swim and take a boat ride Pointe Denis Beach, take pleasure in the sun and sands of Pointe Denis. Take a clear view of Libreville skyline and coaster structure from this point.
Do not miss a relaxed stroll down Boulevard Triomphal. Hotels, restaurants, supermarkets can be found on this street. Government buildings, most important landmarks are all sited on this avenue.
Make a guided tour the Arboretum de Sibang preserved Rainforest Park. You will have a closer observation of the wild and marvel at the natural resources resident on this park.
Take some photo shots at ministry of mines and petrol building to refresh your memory of the nice time you had at Libreville years to come.
Hotels and Accommodation
There are many hotels located within the airport premises. The hotels vary in the facilities they have and their charges differ as well. However all of them have competent staff and offer grand services. You will definitely find a hotel that will suit your budget and taste. Some of the hotels are: Le Meridien Re-Ndama, Laico Okoume palace Libreville Hotel, Hotel L'Alinze, Hotel Louis,Intercontinental,Hotel Tropicana and Onomo Hotel Libreville. Find Libreville hotels.
Car Rentals
There are many independent and major car rental suppliers at Libreville Airport. As well as various types of cars from luxury cars to low cost economy cars. You will have to make you choice based on your budget and taste. Hire a car with Travelstart.
Best Time to Visit
Though Libreville is a round the year tourist destination; the best time to visit is during the dry season, between December and January temperature is about 25 0c . From July to September whales are spotted off the shores from November to January sea turtles can be seen laying eggs on the beaches. National parks provide information on the time of the year wild animals (mammals) can be sighted migrating from the forest to the savanna.
---
Share the news