Fly To Geneva, Switzerland
Geneva, Switzerland, is a centre of culture. It is known for its tolerance and diversity right from the protestant reformation. The top class entertainment and the limitless recreation that this city has to offer make it a favorite tourist destination. The time to make flight bookings to this city which happens to be one the most beautiful city in Europe is now.
Book cheap flights to Geneva International Airport with Travelstart. Search and compare cheap flights and airlines on the booking engine above.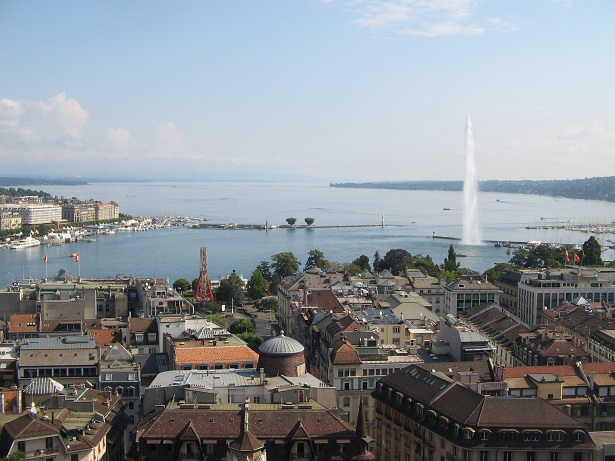 Entry Requirements
Original, signed Nigeria passport with at least 6 months of remaining validity at the time of travel. A Nigeria Tourist Visa is required and can be obtained at embassy of Switzerland in Abuja.
Getting To Geneva City Centre from Geneva International Airport (GVA)
Geneva international airport is about 4 kilometers from the city centre. Many transport companies are present at the airport to take you to your destination. Extensive bus network link Geneva Airport to various destinations. Car rental services are also available.
Major Attractions
The major tourist attraction in Geneva is Lake Geneva. Sited in this Lake is fountain with an astonishing height of 140 meters. The Garden surrounding the fountain is a favorite spot for both tourist and locals alike. Daily people visit the park to play bike, date, sightseeing etc. families, couples and even lone rangers are all attracted by serenity of this spot. Other top attractions include:
Geneva Flower Clock, sighted is an icon that merges the capacity of Swiss technology with a collection environmental art and gardens. The clock is surrounded by differs colors and gardens and located close to Geneva. The park is sure a relaxation spot and cultural and art performances do take there
Lake Geneva is a beautiful attraction to visit. The Lake water is ice cold and clean. Do not miss to visit this lake which is connected to the valley of the Alps if you are here on honeymoon.
River Rhone is a tourist delight anyday. From this river you can take a boat tour round Lake Geneva. on the tour you explore the beauty of this blue river, the picturesque sight of mountains of the Alps, enjoy the sight of pristine architectural buildings, vineyard in the rural areas and catch the breathtaking sight of birds diving to catch a prey.
Things To Do
Swim at Rhone river and Geneva Lake. Catch you fun on the beaches, sunbath and just take a relax stroll while meditating on the wonders of nature
Enjoy the delicacies and recipes of Geneva by join a tour designed to expose you to Swiss native foods. Treat you taste bud with sausages, wine, cheese fondue and chocolates before boarding.
Walk along quai Gustav-Ador. From there you can trek to fountain of Geneva about 800 meters away and take photos. Visit the Rath Museum. It is an art museum with exhibition going on every now and then.
Shop for souvenirs at the store chains located along Rue du Mont-Blanc. You will certainly like to buy Swiss Army knives and also the funny cuckoo clocks. Switzerland is the home of watches so don't forget to get yourself a Swiss watch.
Hotels and Accommodation
Whatever your taste and budget is, it is easy to find a suitable hotel for you in Geneva. You have an enormous variety of Geneva hotels to choose from. Find Geneva hotels.
Car Rentals
Bus ride and taxi will take you from the airport to your hotel or to any location in Geneva. Transport system in Geneva is organized and efficient. However car rental is the most relaxing way of getting around. Hire a car with Travelstart.
Best Time to Visit
The best time to visit Geneva is during the months of July and August. The weather is friendly and you can explore Lake Geneva and engage in other outdoor activities
---
Share the news