Getting to know flynas
flynas is a leading low-cost airline based in Saudi Arabia launched in 2007, is the first low-cost carrier in the Kingdom of Saudi Arabia (KSA), with a fleet of 27 A320 aircraft, operating more than 1000 weekly flights on 30 routes within and outside the kingdom. After unveiling a new brand identity in 2013, flynas launched a dedicated Business Class Cabin to diversify its offerings and announced a number of significant investments and developments in 2014. This led flynas to win the Middle East's Leading Low Cost Airline for World Travel Awards 2015 and also the 2015 Airline of the Year for Supporting Tourism in the Arab World.
flynas was the first Saudi airline to display their 'On-Time Performance' online, and their success is driven behind the fact that they offer the lowest fares and friendly service, that keep customers coming back for more.
Book your flynas flights with Travelstart today!
Why fly with flynas?
flynas flights offers the lowest prices and the most convenient flynas flight times, to satisfy your travelling needs, making it more accessible to travellers!
flynas became the first airline in Saudi Arabia, and the third in the Middle-East in 2013 to receive the Airbus A320, with Sharklet specifications that are designed to reduce both fuel consumption and carbon emissions. (For those of you that are concerned about protecting our plant)!
In 2011, flynas Hajj & Umrah Aviation was established to compete in the untapped market of pilgrims' Hajj & Umarah flights all over the world especially during Hajj and Umrah seasons!
Baggage allowance
All passengers are allowed to check-in 1 piece of hand-luggage (7kg). The acceptance and carriage of excess baggage will be up to flynas' sole discretion in accordance to their baggage allowance policy and this cannot be guaranteed.
Business Travel
Cabin baggage allowance- 1 bag (7kg), with an additional laptop handbag.
Check-in baggage allowance- 2 bags (25kg/ each).
Economy Travel
Cabin baggage allowance- 1 bag (7kg), and a laptop/ handbag.
Check-n bag allowance- 1 bag (20kg).
Riyadh- Jeddah Express
Cabin baggage allowance- 1bag(7kg), and a laptop/ handbag.
Check-in bag allowance- 1 bag (20kg).
Check in
The check-in times vary, so passengers are required to find out these times for their flight before they travel to the airport. Check-in counters open 3 hours prior to departure and closes 1 hour prior to departure.
For those passengers that are travelling in a group or request assistance should check-in a minimum of 4 hours before international flights, and 3 hours before domestic fights scheduled departure, in order to ensure that the check-in process is completed on time.
Passengers who cancel their flights/ do not show for the flights would be considered as denied boarding ,and no refunds will be allowed.
Cabin classes
Business Class
Business Class travel is available on every route, you are able to travel with total flexibility, luxurious seats and a generous luggage allowance-you would only want to fly in business class.
Business class passengers have access to:
Soft leather seats
Free on-board meal and drink service
Free executive lounge acces
Free seat selection
Economy Travel
flynas believe that each customer is unique, that is why they offer their lowest fares where customers will have the choice of selecting the options that best suit their travel needs. All passengers travelling with flynas economy will fly in comfort, as this cabin is equipped with leather seats that have a generous 27'' seat pitch.
Riyadh - Jeddah Express
An express service between Riyadh and Jeddah was launched, in order to give customers more flexibility to change their fights on the day of travel. The express service is ideal for business travellers, as they tend to operate on flexible times, and switching flights is simple and easy.
flynas has two main operating bases; King Abdulaziz International Airport, and King Khalid International Airport. They operate in nearly 1000 weekly flights on 30 destinations within and outside of Saudi Arabia.
Top destinations for flynas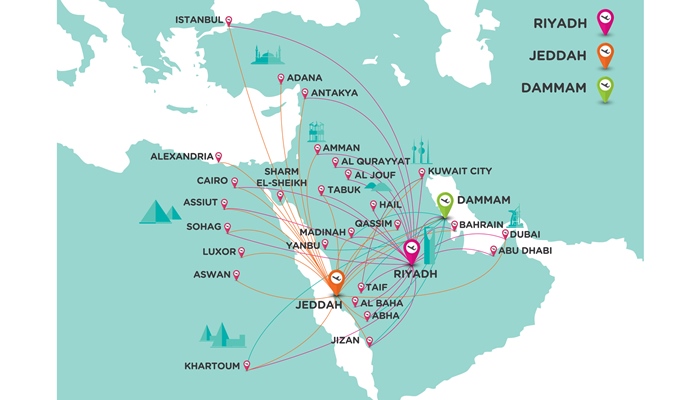 Dubai - DXB - United Arab Emirates
Jeddah - JED - Saudi Arabia
Taif - TIF - Saudi Arabia
Istanbul - IST - Turkey
Medina - MED - Saudi Arabia
Cairo - CAI - Egypt
Riyadh - RUH - Saudi Arabia
Abu Dhabi - AUH - United Arab Emirates
Kuwait - KWI - United Arab Emitrates
Alexandria - ALY - Egypt
Damman - DMM - Saudi Arabia
Aswan - ASW - Egypt
Bahrain - BAH
Jordan - AMM
Sharm El Sheikh - SSH - Egypt
Jizan - GIZ - Saudi Arabia
Hail - HAS - Saudi Arabia
Abha - AHB - Saudi Arabia
Antakya - HTY - Turkey
Adana - ADA - Turkey
Tabuk - TUU - Saudi Arabia
Sohag - HMB - Egypt
Assiut - ATZ - Egypt
Luxor - LXR - Egypt
Gurayat - URY - Saudi Arabia
Baha - ABT - Saudi Arabia
Khartoum - KRT - Sudan
Qassim - ELQ - Saudi Arabia
Yanbu - YNB - Saudi Arabia
Al Jouf - AJF - Saudi Arabia
Codeshare partner routes
As part of flynas partnerships, flynas signed a free sale codeshare agreement with Etihad Airways in October 2012 and Pegasus Airlines in November 2015 respectively, which means our passengers benefit from being able to select a seat on specified Etihad and Pegasus flights and therefore have a greater selection of flights and destinations to choose from.
Our codeshare partnership with Etihad includes 188 flights a week via Abu Dhabi to the following destinations:
Singapore - SIN
Jakarta - CGK - Indonesia
Seychelles - SEZ
Sao Paulo - GRU - Brazil
Karachi - KHI - Pakistan
Lahore - LHE - Pakistan
Islamabad - ISB - Pakistan
Edinburgh - EDI - England
Casablanca - CMN - Morocco
Our codeshare includes 34 flights a week from Riyadh and Jeddah via Istanbul (Sabiha Gökçen) to the following destinations:
Ankara - ESB - Turkey
Antalya - AYT - Turkey
Trabzon - TZX - Turkey
Adana - ADA - Turkey
Hatay (Antakya) - HTY - Turkey
| IATA code: | Hub Airport: | Alliance: | Loyalty program: | Inflight magazine: |
| --- | --- | --- | --- | --- |
| XY | King Abdulaziz International Airport | National Air Service | naSmiles | flynas Skysales |
The information on this page is correct as of November 2015. While every effort is made to keep information as fresh as possible, Travelstart.com.ng takes no responsibility for any of the information being out of date or incorrectly noted.
---
Share the news