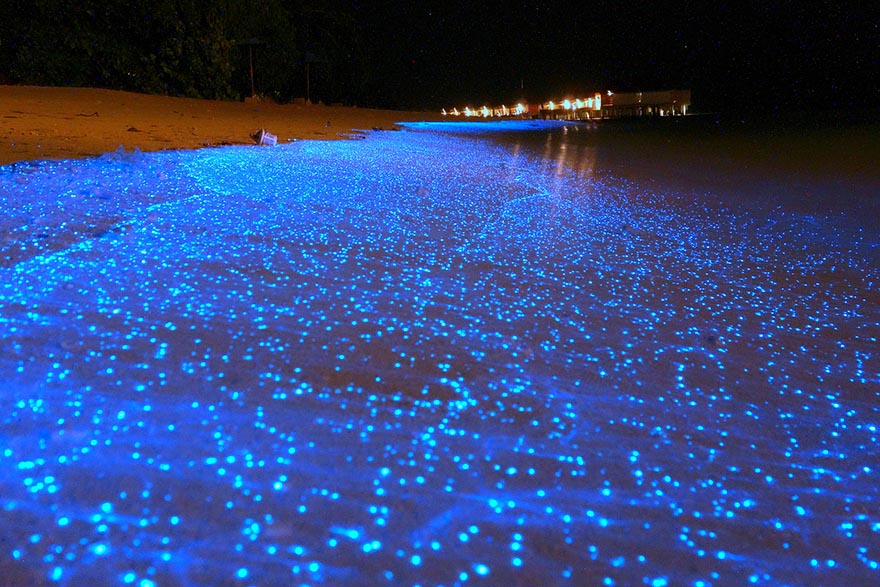 Are you ready to explore your heart and take an adventurous ride? The world is a beautiful place! You might find it hard to believe that places we fantasise and dream about can be found in our little green and blue planet… The beauty of mother nature is simply undeniable and it has so much to offer, aside from its breathtaking natural wonders. Every continent in the world has enchanting scenes such as glowing caves, beautiful lake,colourful rock formations and mysterious places proving the majestic work of nature. Let's explore and discover 10 of these unique, breathtaking places across the globe that catch our breath and capture our hearts.
Lake Abraham, Big Horn USA
Yes, I admit it, Lake Abraham is captivating and startling especially during winter when the temperature falls below 30 degree Celsius, making the big lakes freeze with bubbles below like a winter jewel. The sight is absolutely breathtaking! 
Derweze, Turkmenistan – 'Door to Hell'
'Door to hell' as it is popularly called is located in Derweze, a village in Turkmenistan, Central Asia. Despite the fact that it was a man-made accident that set it burning since 1971, has attracted hundreds of tourists every year. It is one of the most breathtaking places in the world.
Cherry Blossom Tunnel in Bonn, Germany
The lush trees create a stunning translucent archway by twisting branches and forming a real tunnel. It is a beautiful place that allows you catch the moment of blossom, love and the magical pink colour.
The Perito Moreno Glacier in Patagonia, Argentina
Located in the wonderful town of El Calafate, Argentina lies one of the most breathtaking glaciers in the world. The Perito Moreno glacier. It stretches across more than five kilometres. From the front, where tourists get the best view, all the way to the back of the ice is more than thirty kilometres. It is truly a once in a lifetime experience.
Salar de Uyuni, Bolivia
One unique place in the world that shouldn't be missed is Salar de Uyuni or "salt flats". It is the reflecting desert, formed by transformations between several prehistoric lakes. Walking along the salt flat is really mesmerising. You'd think the pictures taken there are photoshopped because of its reflection.
Thermal Pool- Pamukkale, Turkey
Pamukkale is an amazing display of natural hot water pools in Denizli Province, south-western Turkey. It is a magical place combining relaxation, beauty and history, with the pillow-like travertine cascading down. It is ethereal and breathtaking.
'Pink Lake' Lake Hillier, Western Australia
No, it's not a strawberry milkshake, Lake Hillier is a pink-coloured lake on Middle Island, the largest of the islands and islets that make up the Recherche Archipelago in Western Australia. Its striking colour is due to the presence of algae that produces carotenoids. It is a beautiful natural wonder that is worth seeing.
Jiuzhaigou Valley, China
Jiuzhaigou has inspired dreams of a colour fairyland among many travellers. It features multicoloured lakes that change colour throughout the day and year.
Ice Cave in Skaftafell, Iceland
It is sometimes called Crystal Caves, the ice caves in Icelandic glaciers are a truly mesmerising wonder of nature.
Starry-Beach, Maldives
The Maldives has always been a popular honeymoon destination. Its starry beach has glistening dots of light caused by microscopic organisms called bioluminescent, making footprints in the sand light up like a neon display.
I hope these amazingly stunning places took your breath away…You can also share with us breathtaking natural wonders in the world!