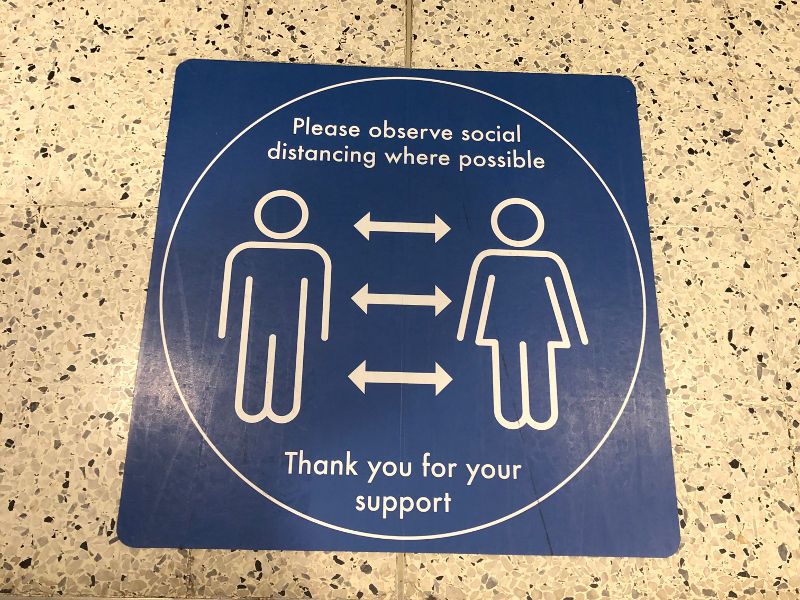 While many of you may be itching to jet off somewhere far far away and melt away your lockdown blues, most people are understandably very hesitant to book a trip, much less climb on an airplane. 
Some of our fearless Travelstarters recently booked domestic and international flights for business trips and to be home with their families.
Read on as our #TravelstartersWhoTravel share their detailed, honest experiences of flying during COVID-19, from pre-flight to touchdown.
After returning home to his family in the UK, our Head of Performance Marketing, Safvan Vali, booked an Emirates flight from Manchester back to our office in Dubai.
Laura Andreotti, working in BI and Project Management, couldn't wait to get home to her family in Milan. Her direct Emirates flight from Dubai to Milan departed in the morning.
Here is what they had to say about their trips: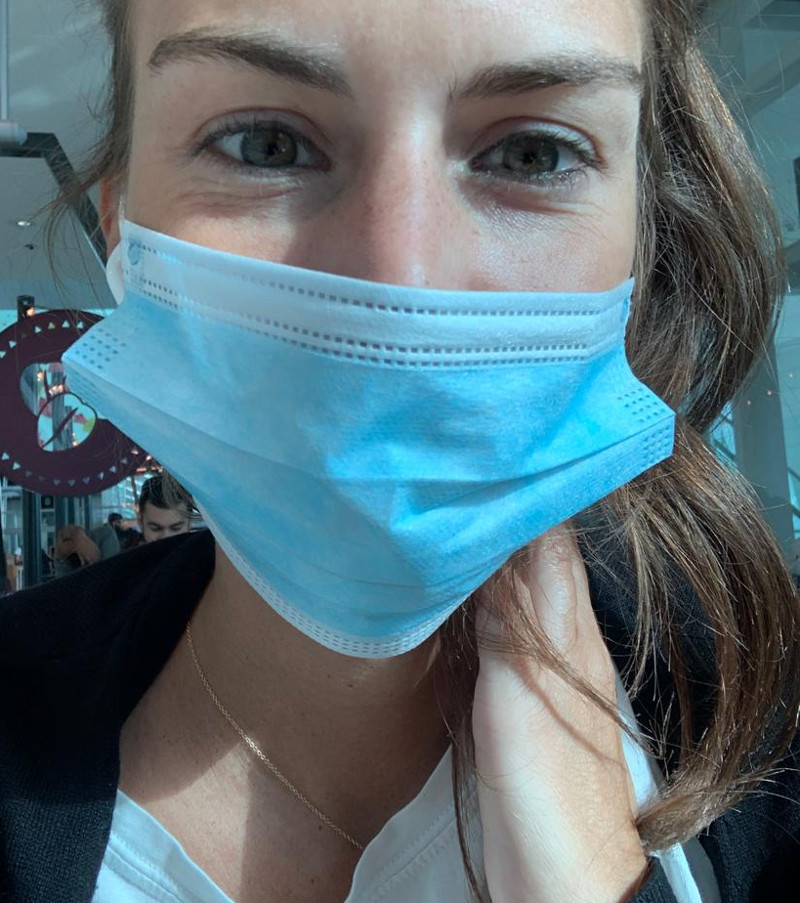 Before the flight:
How did you feel about getting on an airplane?
Safvan: After having been in the UK for 60 days, much longer than the usual visit back home, I was excited to return back to Dubai.
Laura: Excited!
What was the price like? Was it any different to when you last flew?
Safvan: On my return flight from Manchester to Dubai, I paid double the price to what I would usually pay for a one-way flight.
Laura: Super expensive – 4,000 Dirham for a one-way flight (about R18,800).
What documents or permits did you need?
Safvan: At the time of booking (29 June), residents outside of the UAE were required to provide the following:
     

Return permit for residents outside of the UAE and approval from General Directorate of Residency and Foreigners Affairs (GDRFA) Dubai. 

     

Quarantine form (medical and accommodation details in the UAE to ensure "safe" 14 days quarantine if required).

     

An additional quarantine form had to be completed and handed at the boarding gates at Manchester Airport.
Laura: Passport and COVID-19 form (provided at the airport before boarding).
How long was the process to get all the required paperwork?
Safvan: I received approval to return back to the UAE 48 hours from the time of applying.
Laura: None.
Did you need to undergo a COVID-19 test to board the plane?
Safvan: No COVID-19 test was required prior to boarding the flight from Manchester. 
Laura: No.
Did you experience any challenges?
Safvan: No. I was keeping up to date with the latest travel announcements. I had joined the "UAE Expats Stuck Abroad" Facebook group which was encouraging while waiting for borders to reopen.
Laura: No.
How soon before your flight did you need to check in?
Safvan: Online flight check-in was unavailable. I was required to be at the airport three hours prior to flight departure. 
Laura: Online check-in was not available and I was required to be at the airport three hours prior to departure.
Describe the safety precautions at the airports
Safvan: Only passengers were allowed to enter the airport and only two entrances to Terminal 1 were open. Safety posters were visibly placed outside as well as inside the terminal. There were hand sanitiser stations across the airport and constant reminders of safety rules. At Manchester Airport all cafés and restaurants were closed but duty-free shops were open. Unfortunately, the Emirates lounge was closed.
Laura: All the shops and airport facilities at Dubai Airport were open, including duty-free. People were happily sitting down to eat at restaurants. The baggage drop and check-in process went very quickly.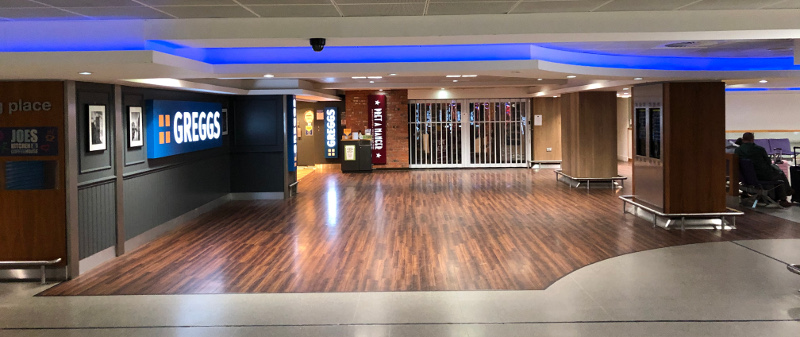 How long did you have to queue at customs and security?
Safvan: There were no queues at customs and security.
Laura: When leaving Dubai, going through security was fast. When I arrived in Milan, the security process was extremely longer than usual. It took two hours to get out of the airport. Once you land in Milan you need to pass through two different controls: The first control is a declaration form you must fill in when you land, providing your details and declaring you are going to self-quarantine. After this check, you'll pass through the passport control.
This took very long because the flight had around 20% Italian passengers and 80% were other nationalities, so the police spent a lot of time checking everyone's forms.
In the end, our luggage arrived before we did (which is unusual)!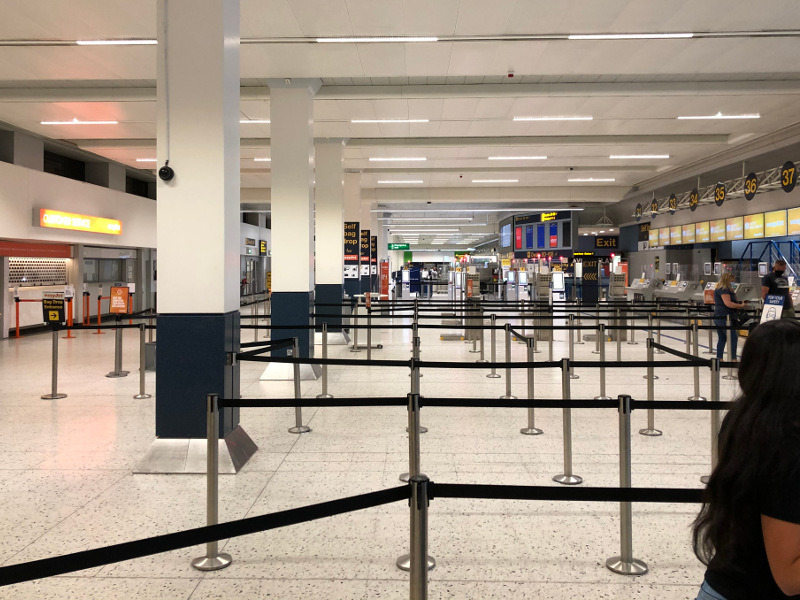 During the flight:
How was the cabin spacing and seating? Were there any free rows?
Safvan: There were no free rows but the middle seats were kept empty to ensure distance between passengers.
Laura: The flight was full, no social distancing!
What was your onboard dining experience like?
Safvan: The onboard dining experience was no different compared to any other time. Masks could be removed for the duration of the meal service.
Laura: It was ordinary, nothing different. You can remove your mask while eating your meal.
Were there any baggage handling restrictions?
Safvan: No.
Laura: No.
How would you rate the cleanliness and hygiene of the aircraft? How often did staff sanitise areas? 
Safvan: Hygiene was up to standard. Cabin crew regularly announced hygiene reminders and to replace masks and gloves with spares provided in the complimentary travel hygiene kit.
Laura: I was quite upset to see that the level of hygiene was not as high as I expected, for example, they could have cleaned the toilets more regularly.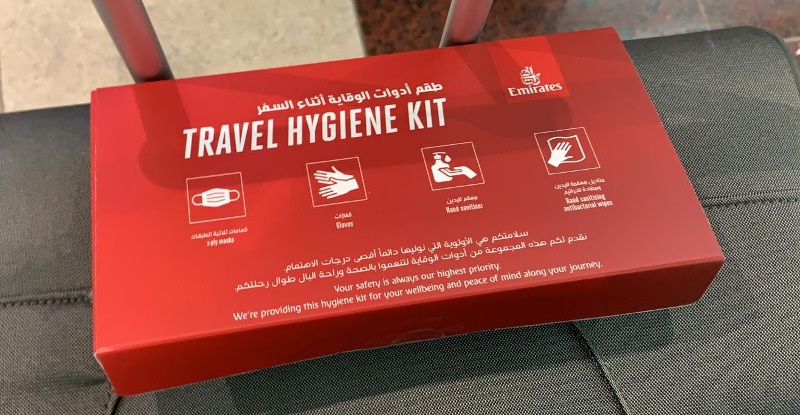 How comfortable did the cabin crew make you feel and what was their attitude towards passengers?
Safvan: The cabin crew were helpful throughout the flight. 
Laura: The crew behaved the same as usual.
What sort of protective gear were they wearing (if any)?
Safvan: The cabin crew wore masks, protective glasses and protective clothing at all times.
Laura: They wore masks, plastic glasses and protective clothing throughout the flight.
How was the in-flight entertainment?
Safvan: In-flight entertainment was no different compared to any other time.
Laura: The same as usual.
After touchdown:
Did you have to quarantine or self-isolate after you landed?
Safvan: I was required to sign a COVID-19 declaration form at the end of the flight and to download an application "C19 DXB Smart" on my smartphone for general COVID-19 advice and support. I was told to self-quarantine at home or at an institute until I receive my COVID-19 PCR test results. If my test result was positive, I was required to isolate myself for 14 days and follow the instructions given by the health authority.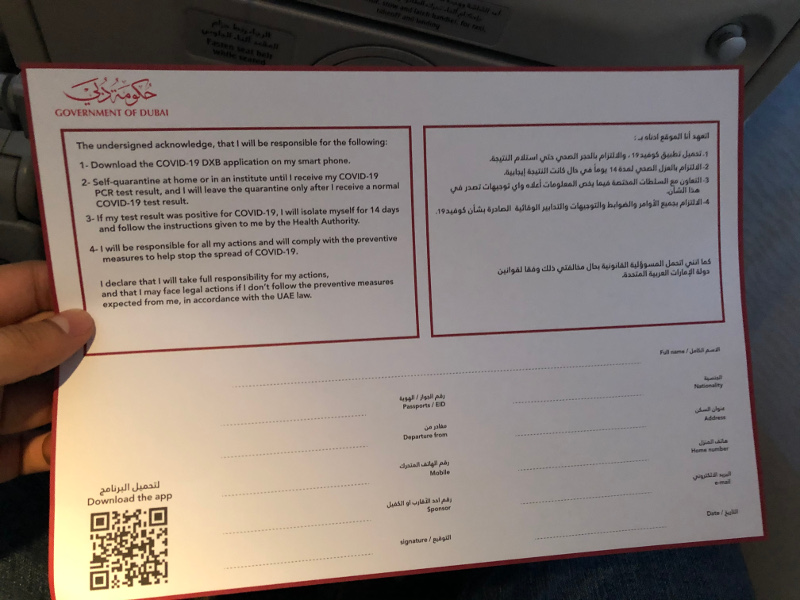 Laura:  I must quarantine for 14 days.
Did you need to take a COVID-19 test before exiting the terminal?
Safvan: Yes. I had to take COVID-19 test before exiting the terminal at Dubai airport. I was then allowed to collect my luggage and leave the airport.
Laura: No.
While there is no silver bullet to this pandemic, we can see that airlines and airports have strict safety measures and controls in place to ensure the comfort and security of all its travellers. 
Yes, it is safe to fly and we cannot wait for the skies to fully open again. Until then, stay safe and keep exploring our beautiful country. Stay tuned for more updates on #TravelstartersWhoTravel. 
Don't forget to sign up to our newsletter to stay on top of travel news, flight deals and much more.
---
All information on this blog page was correct at the time of publishing and may change at any time without prior notice. Travelstart will not be held liable for loss or inconvenience resulting from the use of out-dated or incorrectly noted information.