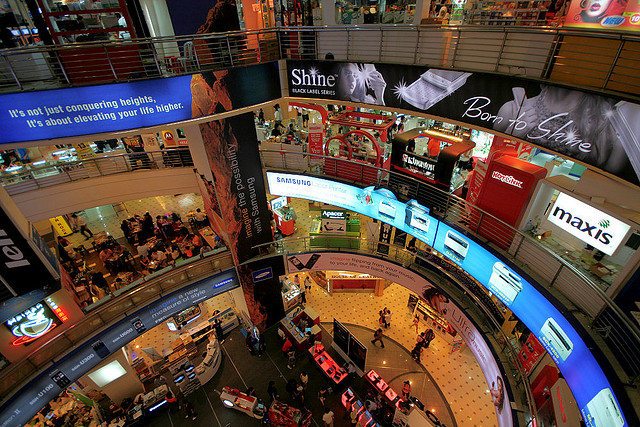 There is a lot to love about Kuala Lumpur, a modern and exotic capital city of Malaysia. Many people visit this magnificent city because they are pulled by its lifestyle, fabulous shopping, world-class cuisine, pristine beaches, flourishing economy, sound education, and pulsating nightlife. The city remains a hidden treasure for many travellers and holidaymakers. The city is steeped in history and blessed with rich natural beauty. The number of attractions in Kuala Lumpur is remarkable; the great quantity of activities is absolutely amazing.
Kuala Lumpur offers unparalleled opportunities to relax and recharge in a luxury way. Here are 15 reasons why you should visit Kuala Lumpur right now:
1. Endless Shopping
Photo Source: Jonas on Flickr
Kuala Lumpur is a shopping paradise and Malaysia is one of the best shopping destinations in the world. If you love shopping, you will enjoy strolling round the fashionable shopping malls adorned with leading designers and brands in Kuala Lumpur. The city offers a wide range of shopping experience with irresistible discounts and bargains. Visit shopping spots such as Little India, China Town and Central Market. Visit the major shopping malls in Bukit Bintang, a shopping area where you will find a great range of goods such as cosmetics, clothes, bags etc.; indulge yourself in a fabulous shopping spree in KL.
2. Architectural Marvels and Landmarks
                            Photo Source: Wojtek Gurak on Flickr
The Capital city of Malaysia abounds with architectural marvels, pre-war buildings. Petronas Twin Towers is a world-renowned icon of Malaysia, the centre piece of KL city centre which consists of a shopping mall, start-rated hotels, landscaped park and a convention centre. Other prominent landmarks include KL Tower, Istana Negara – National Palace, which is the official residence of the king of Malaysia.
3. Swimming with the Sharks
                              Photo Source: chee.hong on Flickr
If you love the sharks, you will love to visit the Aquaria KLCC located at the basement of KL Conventional Centre. The Aquarium is reputed to be the largest aquarium on the world, you will find about 150 species of fishes here. For a memorable experience, walk through the 90m long tunnel while you watch the fish feeding session.
4. Exciting Picnic Locations
                                  Photo Source: J€RRY on Flickr
Kuala Lumpur offers a range of green areas and tropical parks for everyone. Enjoy a beautiful picnic with your friends and families at KL parks which provide a refreshing retreat for people who love nature. KL Lake Gardens, Deer Park, KL butterfly park, KLCC park and enjoy the beautifully landscaped parks with refreshing atmosphere.
5. A dose of history in KL Musesum
                                     Islamic Arts Museum, Kuala Lumpur | Photo Source: Fabio Achilli on Flickr
National Museum which serves as a repository for the nation's rich history and heritage. The museums feature a collection of finest exhibits and arts in Malaysia. Islamic Art Museum, Malay World Gallery, Cultural Museum etc.
6. Vibrant Nightlife
                                      Photo Source: Trey Ratcliff on Flickr
Kuala Lumpur is a city that never sleeps; always lively. The city throbs with its numerous fascinating night spots from pubs, discos, dance clubs, jazz bars and karaoke lounges. After the sun had gone down, the city rocks to the rhythms of the nightspots. A popular place to visit is Bangsar, the city's heartbeat when it comes to nightlife. Bangsar is located in the environs of KL and if you love having fun and socializing, there are a whole selection of night spots waiting for you.
7. A glimpse of wildlife at Bukit Nanas Forest Reserve
                                     Photo Source: Gavin White on Flickr
Located in the city centre is the Bukit Nanas Forest Reserve, a place to visit if you want to get a glimpse of wildlife in their natural environment. It is one of the oldest reserves in the city; it dates back to over 100 years. The reserve is home to a variety of inhabitants such as Silver Leaf Langur. For a unique experience, take a walk tour around the reserve to see and admire the lush foliage and have a look at the trees and climbers. It's really an amazing place to visit. National Zoo, Titiwangsa Lake Gardens and KL Bird Park are places where you can also get a glimpse of wildlife and tropical enclaves.
8. Unique Malay Cuisine
                                      Photo Source: Alpha on Flickr
Kuala Lumpur is the best place to indulge in the finest culinary delights. You will find a mix of several Malay dishes and other cuisine such as Chinese and Indian dishes. You can relish everything from native to gourmet and intercontinental dishes. Malay dishes are characterized by spicy and intensely curried ingredients, and sweet-smelling aromas. The Malay favourite food is known as Sambal, which is made up of prawn paste, lime juice and a hot paste of pounded chillies. Sambal is usually eaten with rice and It's really tasty! There are several restaurants in the city, where you can enjoy these foods with sweet-smelling aromas and delicious tastes.
9. Fascinating Performing Art Scenes
                      Photo Source: Silvia Pavone on Flickr
Kuala Lumpur, the most popular tourist destination in Malaysia is known for its art scenes. There is nowhere as great in the country to immerse yourself in Malay art scenes than in Kuala Lumpur. The city is filled with a sensational selection of entertainment which includes ballet performances, cultural shows, theatre, concerts, orchestras and live music performances. Immense yourself in KL's art scene and enjoy the best entertainment performances you can ever imagine
10. Malay Spa Retreats
If you want to feel refreshed and rejuvenated during your vacation, there is no better place than Kuala Lumpur. The vibrant city boasts a wide range of spas such as Mandara Spa, Spa Village, the Spa at Banjaran Hot Springs Retreat and many more, where you can spoil yourself with a traditional massage and indulge yourself in divine spa treatments including fitness rituals from ageless Malay culture such as Chinese peranakan, gandapura, nusantara and traditional royal Malay treatment.
11. Luxury Accommodation
                                      Shangri-La Hotel, Kuala Lumpur | Photo Source: Shangri-la.com
Everyone deserves a fine luxury vacation sometimes and one of the best ways to enjoy Kuala Lumpur is by lodging in any luxury accommodation the city has. The city is filled with luxury accommodation, which are pocket-friendly and all-inclusive such as Mandarin Oriental, JW Marriott Hotel, Shangri-La Hotel, Sunway Putra Hotel, The Ritz-Carlton, The Royale Chulan Hotel, etc. The hotels are roomy, comfortable and deluxe, they all offer modern facilities and all the luxuries that are essential for a relaxing holiday.
12. Conducive Weather
                               Meritus Beach | Photo Source: Wexas
Kuala Lumpur is a great city to visit any time of the year. The weather is conducive all through, from the monsoon season to dry season. The city offers a great weather for any type of holiday including a beach vacation; you will definitely enjoy your vacation.
13. Superb Entertainment Infrastructures
                                   Photo Source: Will Ellis on Flickr
If you want engage yourself in exciting and fun activities, KL is the best place to do so. There are many exceptional entertainment infrastructures for numerous activities such as sporting events and leisure hunts. These infrastructures are modern such as theme parks, golf courses, sports complexes and horse-riding clubs. You will find the one of the World's biggest indoor roller-coasters in this city. You'll also get an opportunity to indulge yourself in spectacular and interesting activities that will give you a memorable experience.
14. Amazing Culture of Malaysia
Malaysia has unique culture and tradition. Kuala Lumpur has a unique multicultural heritage that makes it a multinational vacation retreat. The fascinating background mix of Malay, Indian and Chinese culture will constantly amaze you because of the cultural richness that unites them. The people are friendly and they have happy smiling faces, which make them approachable.
15. Festivals Galore
Kuala Lumpur is the home of festivals. A grand variety of festivals are celebrated in the capital city. The city also hosts numerous international events and festivals all though the year. The major celebrations are Chinese New Year, Diwali – 'Festival of Light', Hari Raya Puasa, National day, National Open House celebrations, The King of Malaysia's birthday and of course, the biggest and colourful festival – The Colours of Malaysia. The Colours of Malaysia festival is a colourful and cultural celebration that covers a variety of activities and art performances. The festival usually organized by Malaysia Ministry of Tourism and Culture, presents the best of Malay art and culture, food and entertainment.
Kuala Lumpur offers everything under its skies to everyone who would love to visit. There are lots of things to see and do, visitors will surely have a great and fun-filled vacation and experience in the city. Why don't you start planning your trip now?
If you have visited this vibrant city before, we'll love to know how exciting your vacation was. Kindly, share your experience with us in the comment below
Related articles across the web