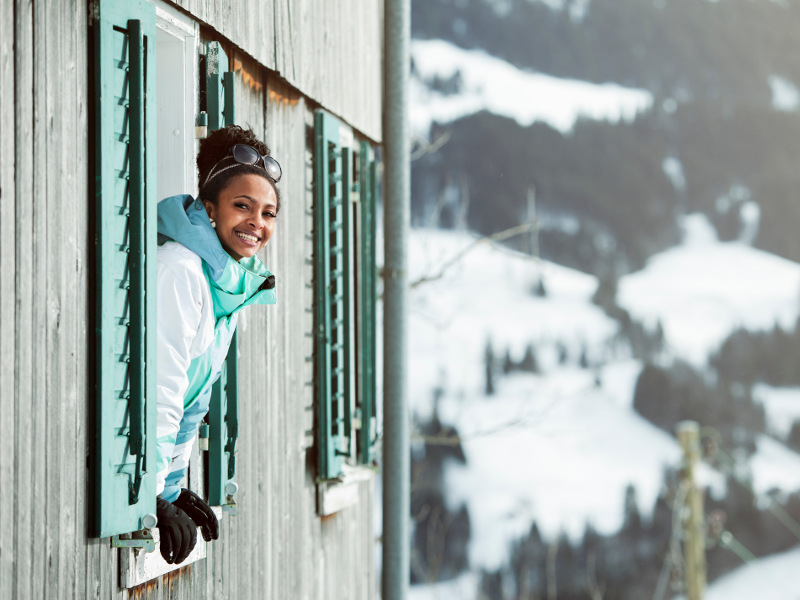 Is the land of cascading green hills and icy clear skies on your travel itinerary? Do you have dreams of visiting the famous chocolatiers such as Läderach and Lindt? Yes? Then let's get you ready and sorted to apply for your Switzerland visa (which is a Schengen visa) and on your way!
We're here to answer all of your questions before you apply for your visa to this marvellous country. Did you know that with your Schengen visa, you are able to travel freely between the 22 Schengen countries of Europe? So, before you pack your bags and plan your day to day schedule through the streets of Geneva, Zurich, Basel and more, make sure that you have everything in order to apply for your Switzerland visa/Schengen visa.
Please note that this visa process is valid for Nigerian passport holders only.
What are the different types of Switzerland visas?
Type A
Airport transit visa – valid for moving within the confines of an airport in Switzerland, awaiting your next flight to another Schengen state or country outside of the European Union.
Type C
Tourist visa – valid for up to 90 days of travel within a period of 180 days, for sightseeing across the 22 Schengen countries
Business visa – valid for up to 90 days of travel and allowing the tourist to conduct business within Switzerland
Long-term visa – valid for a period longer than a tourist visa, and includes long-term study, marriage to a Swiss national, and a family reunion
We will be looking at the requirements for a tourist and business Switzerland visa, as these are the most relevant types of visa for Nigerian citizens.
Tourist visa
To travel within Switzerland and its cities and countryside, you will need to apply for your Schengen visa at least 15 days before your desired travel dates, and the process might take up to three months to complete. It is best to apply as early as possible. Here is a list of what you will need:
 

A valid passport. Your international Nigerian passport will need to have 2 consecutive blank pages and have an expiry date that exceeds your Switzerland travel dates.

 

A completed

Schengen visa application form

: printed, completed honestly and signed.

 

2x identical, recent and clear passport photographs that comply with the Schengen visa requirements and do not exceed the measurements (35x45mm, in colour, with a neutral expression)

 

A letter of invitation (if applying for a tourist visa, this could be from your accommodation hosts or hotel management)

 

Round-trip flight reservation details – to ensure that you will return to Nigeria and not overstay your visa dates

 

Proof of accommodation for your entire duration in Switzerland

 

Travel insurance – this should cover any medical emergencies and have a minimum cover of 30,000 Euros

 

Bank statements for the last three months

 

Employment details and a letter providing evidence of your workplace (a letter of employment)

 

Proof of paid visa fee 
Business visa
To apply for your business Switzerland visa, you will need to have many documents in order, so it is best to have them all together at the same time. Many of the requirements for this visa are the same as the tourist visa, with a few extras.
 

All of the above that is needed for a tourist visa

 

A cover letter – explaining the nature of your visit to Switzerland

 

A short introduction and profile of your business/workplace

 

Invitation letter – this will need to be from the company/companies in Switzerland that you will be meeting with

 

Proof of financial means – financial proof of your company's travel expenses, including flight and hotel prices

 

Employee details – including your income tax return form, employment contract and personal bank statements of the last six months 
Price of a Switzerland visa
The current (2019) price of a Schengen visa is 60 EUR (about 24,820 ₦) for a short stay of fewer than 90 days. Payment is done upfront, and unfortunately, there is no refund if your application is rejected.
Application process
The application process to apply for a Switzerland visa from Nigeria is relatively simple. It is very important to have all of your documents at hand before submitting your application, as not having all of the required papers is the main reason for delays or having your visa denied.
Download and complete your Schengen application form

Collect and submit all of your documents together to the Embassy of Switzerland in Abuja

Pay the visa fee

Make an appointment for your in-person interview

Attend your interview and have your biometric details taken

Wait to hear if your visa is granted via phone call or SMS

Collect or courier your visa
Embassy details
You will need to submit all of your Switzerland visa application documents to the embassy of Switzerland in Abuja. Assuming all goes well, you will then be called in for an in-person interview to be conducted at the embassy. Please make sure to be available for this interview as even though you might not be living in the city of Abuja, you will still need to make your way to the embassy for the interview and biometric fingerprints, etc.
Embassy of Switzerland
157, Adetokunbo Ademola Cr.
Wuse II
Abuja 900288
Nigeria
Phone:  +41 58 4 64 18 61 / 62
Email: abuja.visa@eda.admin.ch
So, are you ready for your Swiss adventure and about to book your cheap flights to Switzerland? Let us know how you found applying for your visa in the comments below, and make sure to tag Travelstart Nigeria in all of your amazing holiday pics!
Make sure to sign up to our newsletter for the best flight deals and more.
Read also: Apply for your Schengen visa from Nigeria