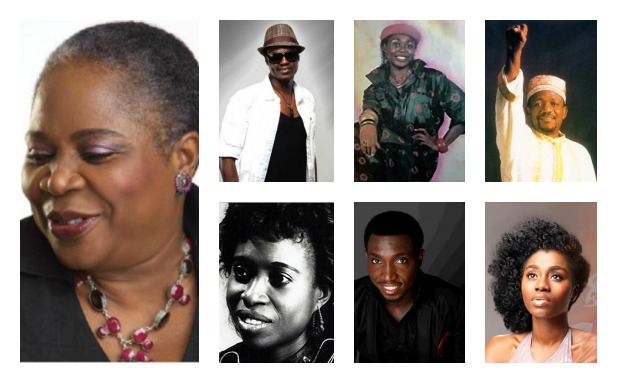 Nigeria is one of the largest black nations in the world, known for many renowned skills, music inclusive. Nigerian music is known, heard and felt locally and internationally. Popularly known for her folk and other major music genres, the popular folk genre is affiliated with its diverse ethnicity. Music style like fashion and technology has changed over time. From the early 30's, till date we've seen eras where the juju, funk, highlife, afro juju, afrobeats, jazz, rock & roll reigned. Nowadays, the popular genres with musicians are Jazz, soul, afro-pop, gospel, reggae and hip-pop.
From the early days of music till date, Naija musicians have written and produced so many songs for this great Nation of ours. These songs talk about this great, wonderful and confounded country of ours in a stunning way. Some of which will always remain classic and branded in our hearts till the end of time. In no order of preference, here is our list of 7 best songs about Nigeria sung, written and produced by Nigerians.
1. Greenland By Ty Bello
This is unarguably the most successful hit from Ty Bello's debut album "Green land". The album which was released in 2008 carried a message of love and hope. The track "the land is green" fast became a national chant as it inspired Nigerians to keep hope alive and keep believing in ourselves and our nation. Ty Bello who was a member of famous gospel band 'Kush' is not only a music artist but is also an internationally recognised portrait photographer. She is director of the NGO, Link-a-child and organizes an annual photography exhibition to raise funds for orphans nationwide. 
2. Great Nation by Timi Dakolo
It's truly a wonderful song about Nigeria. Released in November 2012, it's a song that went viral from the first day of release. The lyrics of the song tell us how great we can build this nation together through peace, unity and Justice. According to the public it's a song that suits a Nation's Anthem. It's a heartfelt song for any patriotic citizen. The artiste 'Timi Dakolo' is a Ghanaian-born Nigerian singer who came into the limelight after winning the first season of Idols West Africa.
3. One Kilometer by Evi Edna
Evi Edna is popularly known as Nigeria's Queen of Reggae and she is one of the best female reggae artists the world has ever known. Known for her style and native lyrics, One kilometre was a hit song from the album "On the move". The song spoke about all the tribes in Nigeria from the East, West, North and south and how they are separated by kilometers. The lyric reflects how diverse Nigeria is in terms of ethnicity.
4. Motherland by Sound Sultan
Sound Sultan popularly known as 'Naija Ninja' dropped a hit song called mother land in 2006, produced by Kennis Music. This song basically talked about our Motherland (Nigeria). The lyric of the song is more of a plea to all Nigerians in diaspora that left Nigeria with the promise of returning home and never did. It further buttressed that however rosy, beautiful and blessed a foreign land may be, home is home and we should always remember that. No one can build Nigeria but Nigerians.
5. Nigeria Go Survive By Veno Marioghae
Nigeria go survive is one of Veno Marioghae's greatest compositions, which was released in 1984. This song was released during the military regime when Nigerians called and clamoured for basic amenities of life. The lyrics of the song gave hope in perilous times (tribal, religious and economic crisis) within the country. Regardless of the state of the country she said, Nigeria will survive and we'll pull through, pleading with all Nigerians that wanted to flee to have hope and fate in their nation.
6. One love by Onyeka Onwenu
There is nothing more Nigerian than living in unity. Onyeka sang about love in her fourth album titled 'One Love' released in 1986. 'One love' is a song that promotes love, unity and oneness amongst Nigerians and this can be deduced from the first line of the chorus – 'one love keep us together'. The artiste Onyeka Onwenu is a multifaceted woman but has been majorly into music, acting, writing and politics. She has been an icon and role model to Nigerian women particularly and encouraged them to reach out achieve their dreams.
7. Which Way Nigeria by Sunny Okosun
This song was a smash in its time! Sang by the Late Sunny Okosun who died in 2008, "Which way Nigeria" addresses the issues that plagued Nigerians and our teeming youths. The empty promises made by our leaders and the dashed hopes of our children who were always told they were leaders of tomorrow but never got a chance. The song asked the relevant question – How long shall we be patient before we reach the Promised Land? Decades after independence, a lot seems to go unchanged. Late Sunny Okosun was one of the leading Nigerian musicians from the late 1970s to mid '80s and was a man who dared to question the ills perpetrated by the powers that be.
Nigeria is blessed with talents and music is obviously not left out. Fortunately, a good number of them have stayed home in terms of their style of music. They have dedicated their lives to addressing issues on ground as well as encouraging love and unity among Nigerians. These songs about Nigeria have had positive impact on us, making sure we all do our part to live in unity and help our fellow countrymen, no matter what our religion, ethnicity or differences are.
Do you know of any great Nigerian songs? Share with us in the comment below:
Related articles across the web
Posts by the Travelstart Blogmaster come from a variety of contributors to this blog. Find Travelstart on G+