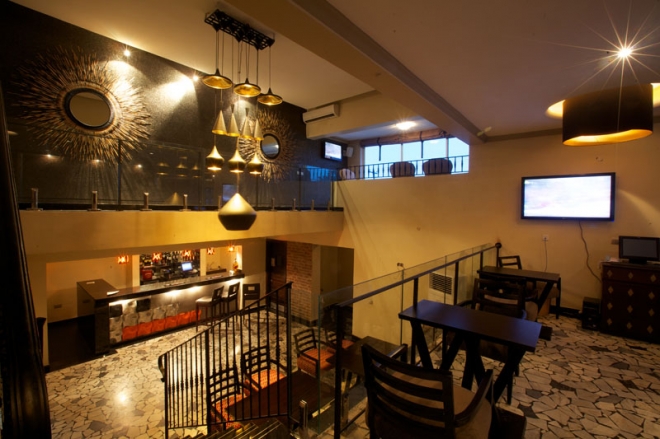 The food scene in Lagos changes rapidly that it's hard to catch up with. One second the latest restaurant is Domino's Pizza, before you wink your eyes, the next hotspot is Yellow Chilli. This has made the dining scene more dynamic and fresh, earning the city a reputation for having some of the best restaurants in Nigeria. What is the secret? A luxurious sense of hospitality that is unrivalled anywhere else in the country. Lagos Mainland restaurants come with an array of delicious meals, flavourful nibbles with great hospitality and immaculate staff.
Here are the 10 great restaurants in Lagos Mainland where you can satisfy your inner foodie:
1. Yellow Chilli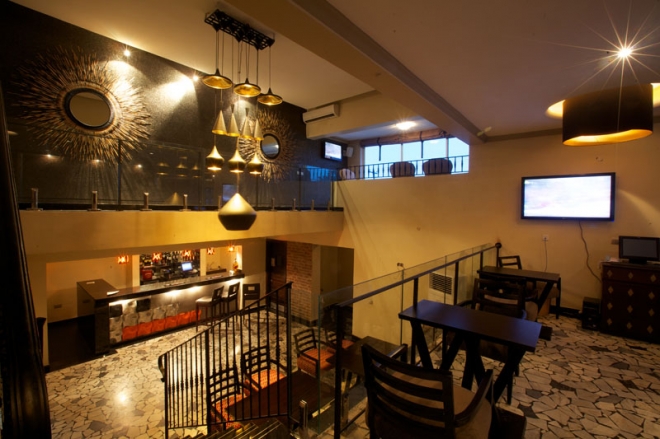 Photo Source: Parolz
Yellow Chilies is a trendy restaurant in the heart of Ikeja. The restaurant offers Nigerian delicious and ethnic with an extensive range of gourmet meals and local spicy foods such as pepper soup, spicy stewed snails, seafood Okra and Prawn made with fresh ingredients with lots of herbs. Their Jollof Fiesta is a delectable dish to die for. Ordering is easy, as guests are given menus to order and there are waiters waiting to get your orders. Visit: Yellow Chilli
Opens 12:00 pm to midnight  (Everyday).
Main dish starts from ₦3000.
Location: 35, Joel Ogunaike Street, Ikeja, Lagos.
2. DeChills Hind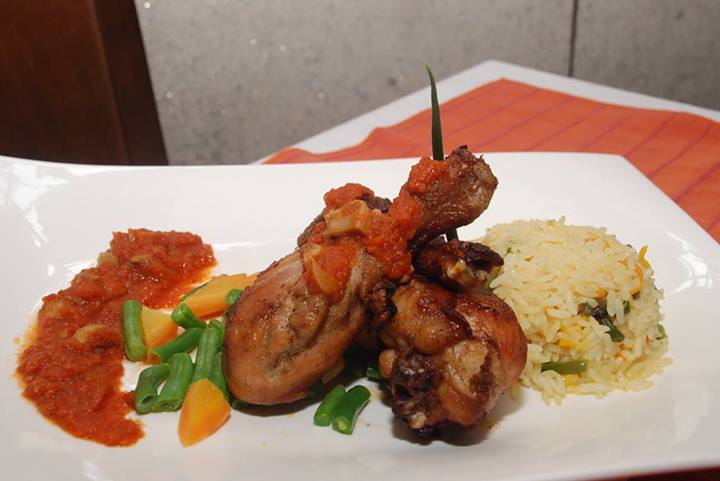 DeChills Hind is a Nigerian restaurant, lounge, bar and night club rolled into one.  The restaurant serves all kinds of dishes from African to Continental cuisine. Situated in Surulere, it is known for its quality ingredients and flavourful foods; the foods are delicious, you should try their Beef Rossini and Chicken which are available at affordable prices. Sometimes, there is a better chance of getting a table in the afternoon for lunch than dinner because it's always crowded at night. The night scene is fun and exciting, as DeChills Hind is place to hang out with friends at night.  Visit: DeChills Hind
Main dish starts from ₦2000
Location: 38 Adeniran Ogunsanya Street, Surulere, Nigeria
3. Browns Cafe & Restaurant
     Photo Source: Hallvent
If you are looking for a reason why food scene in Lagos Mainland is one of the most exciting things in Lagos, you should visit Brown's Café and Restaurant. The restaurant is popularly known as "Browns" and it is noted for its breakfast menu called 'Naija Breakfast' and Browns Platter. Browns foods and drinks are freshly prepared with flavourful ingredients. They serve a variety of Nigerian dishes and gourmet delight.
Visit: Browns Cafe and Restaurant
Main starts from ₦3,000
Opens 9.00am to 10.00pm everyday
Location: 15 Oduduwa Crescent, Ikeja GRA
4. Rhapsody's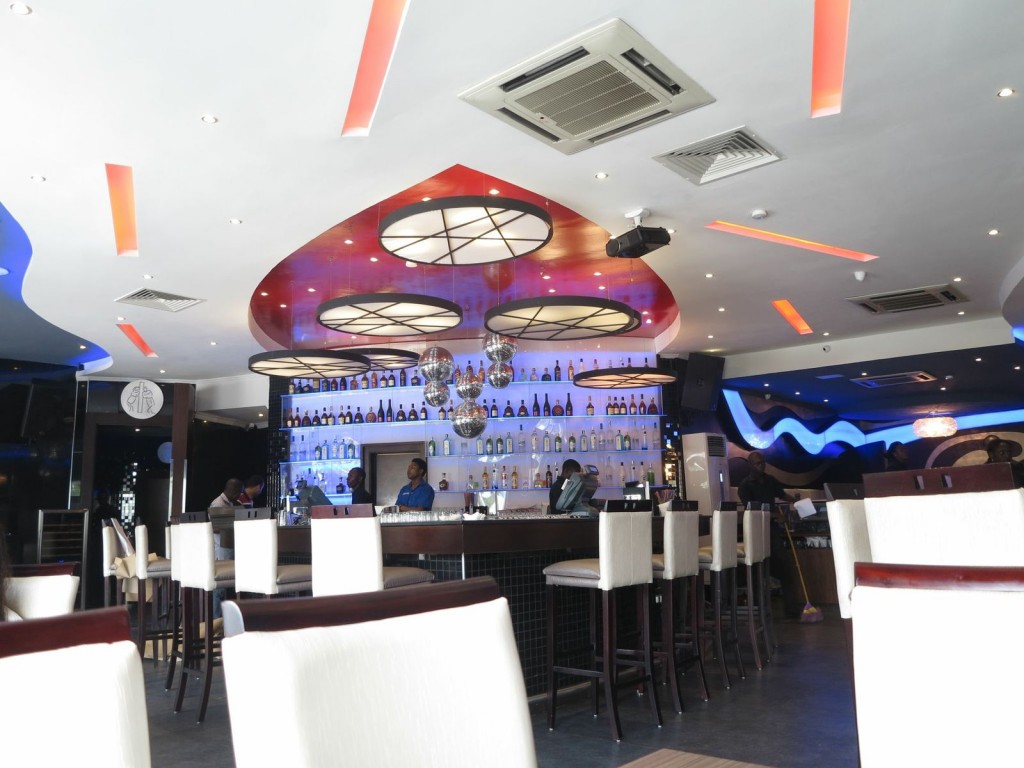 Dinning at Rhapsody's is an event because of its beautiful setting, classic interior, comfortable atmosphere and thoughtfully prepared foods. The restaurant offers a la carte selections and you can unleash your appetite with a multi-course feast with salads and appetizers. You should try their signature dish – Chicken Espetada, grilled deboned chicken thighs skewered with spicy jalapenos and chilli sauce topped with garlic butter. This restaurant will sate your appetite with their delicious meals. Visit: Rhapsody's
Location: Address: Ikeja City Mall, 176/194 Obafemi Awolowo way, Alausa Ikeja, Lagos.
5. Seven Eagles Spur

Seven Eagles Spur serves variety of meals that you'll love to have on your favourite plate at home. There's apparently a Naija tint to every dish served, even though they serve Mexican foods. Jollof rice here is like it's made in heaven, served with fresh salad – fresh vegetables and flavoured ingredients. Their burger is giant, delicious and extraordinary; if you love steak, this is the best place to get one on the mainland. Visit: Seven Eagles Spur
Location: Ikeja City Mall, Alausa, Ikeja
6. Bheerhugz
No matter what time of day, Bheerhugz Cafe is always lively with lots of happy people. Beside the Nigerian food delicacies, you will find a variety of delicious menu such as Salad, Chicken soup, Pork grills and peppered snails. And there are sizeable sandwiches offered on your choice of bread. There's a fascinating list of imported wines, as well as a selection of tasty cocktails, which you can pair with the unique cuisine. It's definitely a place to be!
Visit Bheerhugz
Main starts from N2000
Location: Upper floor, Ikeja City Mall, Alausa
7. Rodizzio
     Photo Source: Sisiyemmie
When you visit Rodizzio, you catch a glimpse of Nigerian food scene and how delicious they can be when you taste them. Rodizzio is known for their signature meals – Jambalaya rice, unlimited BBQ and platters. You can choose from a wide range of meals, including seafood and desserts. The buffet menu is simply the best of the bunch. Visit: Rodizzio
Location: 29, Isaac John Street, G.R.A. Ikeja, Lagos, Nigeria
8. Domino's Pizza
Domino Pizza serves delicious pizza in Ikeja. The restaurant offers a broad dine-in menu as well as take-away menu, you can easily order for pizza and have it delivered in your home. Their menu is one of the great dinning deals you can ever find around Lagos mainland, featuring a variety or Pizzas with flavourable sauce. You can also order for their Garlic Bread Sticks, Chicken wings and spicy Chicken Kickers. The restaurant is always bubbling because people can not do without their Domino's pizza.  Visit: Domino's Pizza
Location: Joel Ogunnaike Street, G.R.A., Ikeja
Main from N1,800
Opens Sun-Wed: 9am-10pm; Thur: 10am-12midnight; Fri & Sat: 9am-12midnight
9. La Mango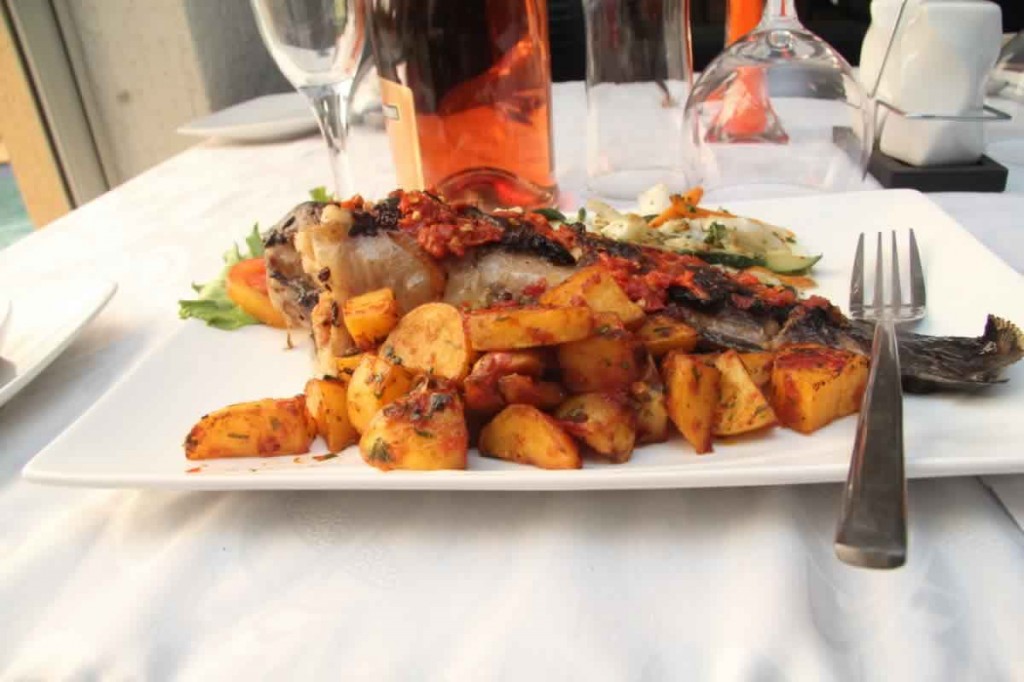 La Mango takes pride in its variety of local and continantal menu. The restaurant serves food from around the world including Thai curries, Malaysian Fried Rice, American burgers and Nigerian local delicacies. Make your lunch or dinner into an experience you will always remember. Apart from the delicious meal served in the restaurant, you get to enjoy the great atmosphere and its modern settings and interiors. Visit: La Mango
Location: 3a Adekunle Fajuyi Way, off Isaac John, GRA, Ikeja
10. Pool Terrace
Pool Terrace Bar offers a mix of fun, music and food. The restaurant is beautiful and tasty enough to make anyone hungry. It is known for excellent food and lively environment. You can enjoy great food –  Nigerian delicacies, barbecues and grilled food as well as live music. All you need to do is to sit the stunning restaurant with a cocktail and order a delicious dish from the menu a la carte. You will surely have a swell time. Visit: Pool Terrace
Location: Sheraton Lagos Hotel, 30 Mobolaji Bank Anthony Way, Ikeja
Do you know a great restaurant in Lagos Mainland? Share your experience or suggestions in the comments below: