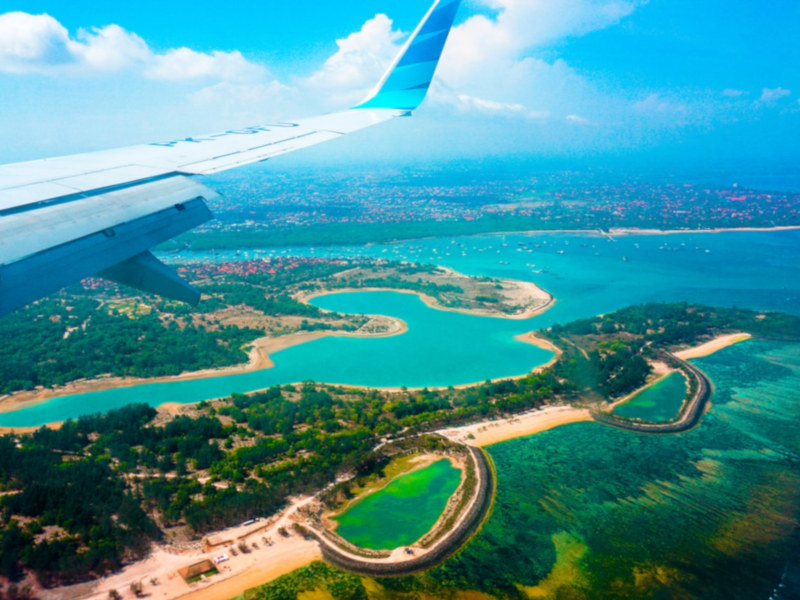 Exotic, ornate temples, surfer-friendly beaches, bustling nightlife and a culinary adventure – Bali welcomes you with the warmest of hospitality! But where is Bali, to be exact?
Where is Bali located?
Located in Southeast Asia, the Indonesian island of Bali forms part of the Lesser Sunda Islands – a group of islands that make up a volcanic arc. In other words, Bali is a single island of the Indonesian archipelago, boasting a multitude of landscapes and experiences.
Map of Bali
Still not entirely sure of where Bali is? This handy Bali map might help to put things into perspective.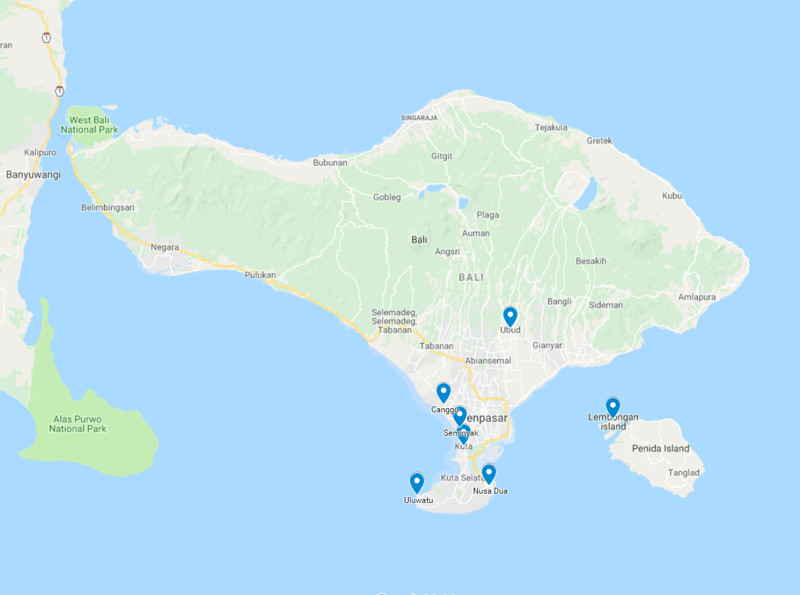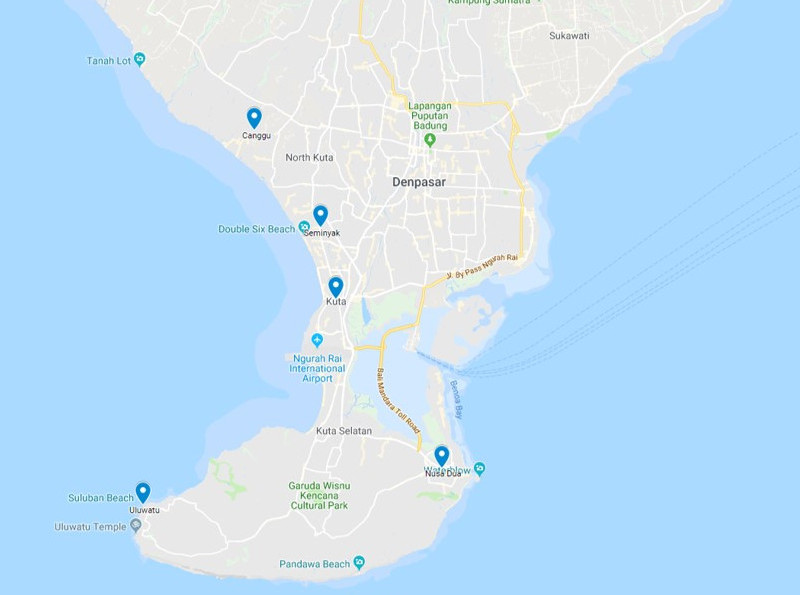 A brief background for your Bali trip
Part of the excitement of travelling to faraway destinations is the opportunity to immerse yourself in the local customs and culture of new, foreign places. Bali is generally more conservative than in Western society, so these etiquette tips should help you to navigate the island locale a little better.
Modesty is the best policy. This goes for the way that you dress and behave.
Communicate calmly and politely. Balinese people dislike confrontation.
Avoid pointing. Pointing is considered rude and displays aggression.
Don't touch the head of a Balinese person. The head is regarded as sacred.
Don't use your left hand. It is used for personal hygiene and considered 'unclean'.
Why visit Bali?
What is Bali known for? Bali beaches are world-renowned and draw sun-seekers in from around the globe to the untamed coastline, framed by emerald cliffs. There's one for the surfers, sunbathers and plenty for the hedonists! The Mount Agung volcano is believed to be responsible for the unusual black sand beaches that span much of the east coast of Bali – the most famous of which is Keramas in the south-east.
Speaking of volcanoes, Bali has three, and they are active – However, the main resorts and tourist areas fall largely outside of the exclusion zone. Mount Agung is the highest point on the island while Mount Batur is the most active. Mount Bratan is well-known for the numerous hot springs that surround it. Volcanoes aside, the island is also known for its natural beauty – vegetation-encrusted cliffs, rice terraces, waterfalls and caves.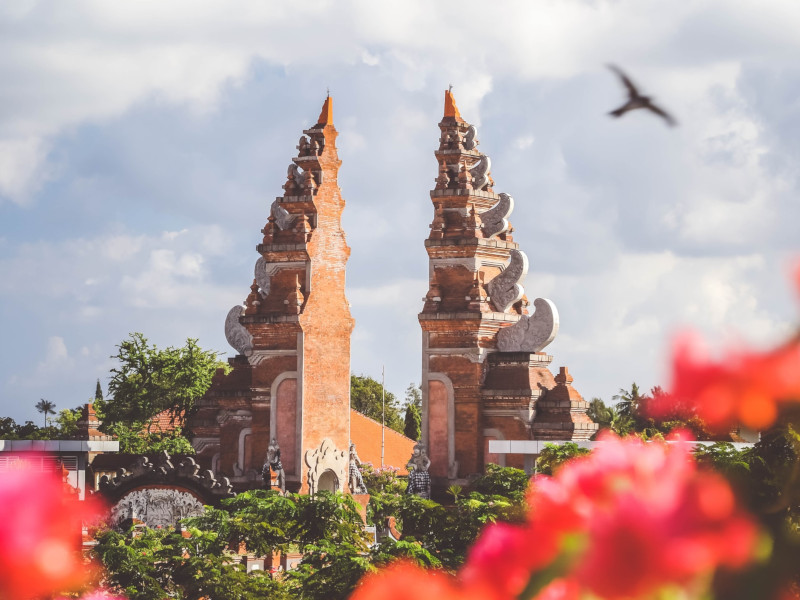 With over 20,000 temples to choose from, a trip to these religious sites is essential and assured. From underwater temples and ornately-carved caves to those perched on cliffs overlooking the sea, each offering a memorable, spiritual experience. Pick up a Bali map on arrival and be sure to mark off at least a handful of the best temples to explore.
From simple roadside warungs to sit-down restaurants, savour the diverse flavours of Balinese cuisine. Vegetarians will equally delight in the dishes of Bali, flavoured with local spices, herbs and produce. Don't be afraid to try a 'meal on wheels' from the back of a motorbike kitchen, just be selective about what you order and which mobile kitchen you choose.
Also read: The true essence of Bali – 10 reasons why you should visit at least once.
Shopaholics will rejoice at the volume of clothing, homeware and souvenirs on offer, to mention the least. From street-side vendors to local branded boutiques and luxury air-conditioned malls, there's something for everyone. As the sun sets, the nightlife takes over. Starting with sundowners or a seafood feast, head south for the best of Bali's nightlife.
Still want more? Read an alternative guide on the best things to do in Bali.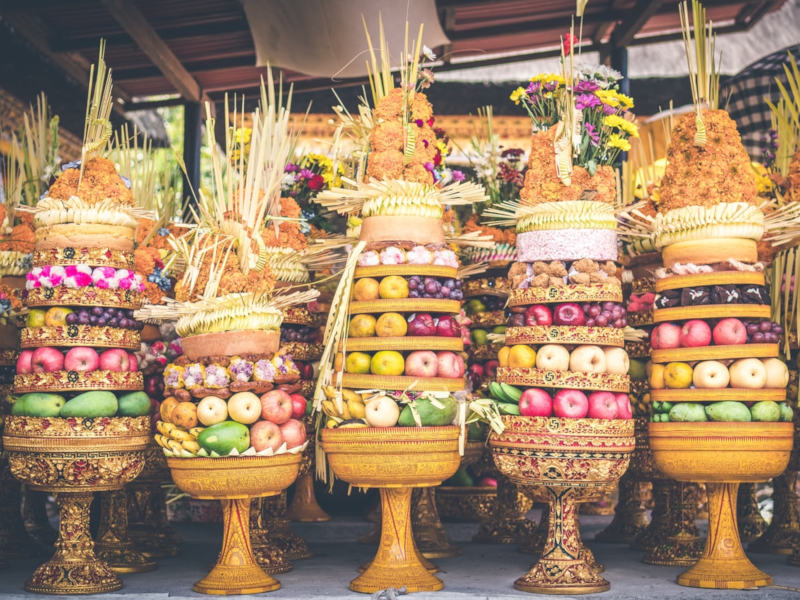 What is the best month to go to Bali?
With close proximity to the equator, Bali weather is tropical and humid throughout the year. Generally speaking, the best time to visit Bali overall is during the dry season from May to September, while July and August are the most popular. The best month to go also depends on your itinerary.
The dry season (May to September) offers the best months for surfing the iconic waves of Bali's west coast, while waves reach their peak on the east coast during the wet season (November to March).
With perpetually warm waters and year-round diving opportunities, the best months for diving in Bali may depend on the marine life you plan to meet. Spot shy mola mola in July and August, or curious manta rays from April to June – although you are likely to spot them throughout the year.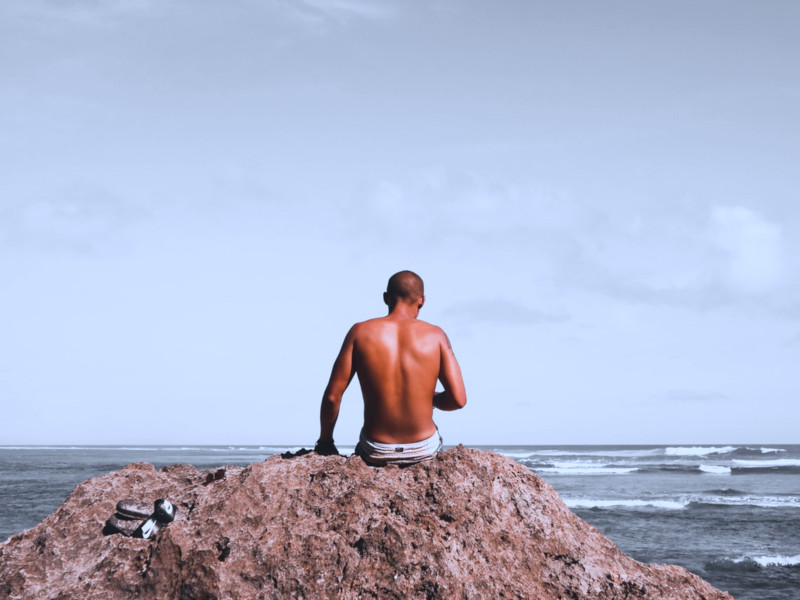 How do you get around in Bali?
Travelling via road is the most common mode of transport in Bali. There are various options at your disposal, with buses providing the most affordable transport.
Public bus
Bemo (minibus)
Tourist shuttle bus
Metered taxi
Go-Jek Scooter Taxi (download the Go-Jek mobile app)
Grab app (Alternative to Uber)
Rental scooter
Rental car
Bicycle
Where should I stay in Bali?
Although it's a small island, Bali is densely populated. A quick look at a Bali map reveals the famed volcanoes that overlook expansive valleys and coastlines below, from the centre of the island. A more sparse population in the northern and western regions make for quieter Bali holidays, while the east and south offer the bustle typically associated with the Indonesian island.
Uluwatu
Adorned with a clifftop temple, gorgeous beaches and excellent surf breaks, Uluwatu is a serene and slightly more remote region in southernmost Bali. Upscale resorts dot the area and offer a secluded beach break.
Kuta and Seminyak
The tourist hotspots and neighbours in southern Bali are well-known for their beaches, nightlife and shopping. Kuta is considered the central hub of partygoers, while Seminyak is less developed and consists of more trendy, upscale resorts, restaurants and bars.
Canggu
Further up the south coast, Canggu boasts untamed black sand beaches, prime surfing conditions and terraced rice paddies to be toured. Take a scenic ride by horseback through rice fields to the beach, and enjoy the changing landscape of Canggu.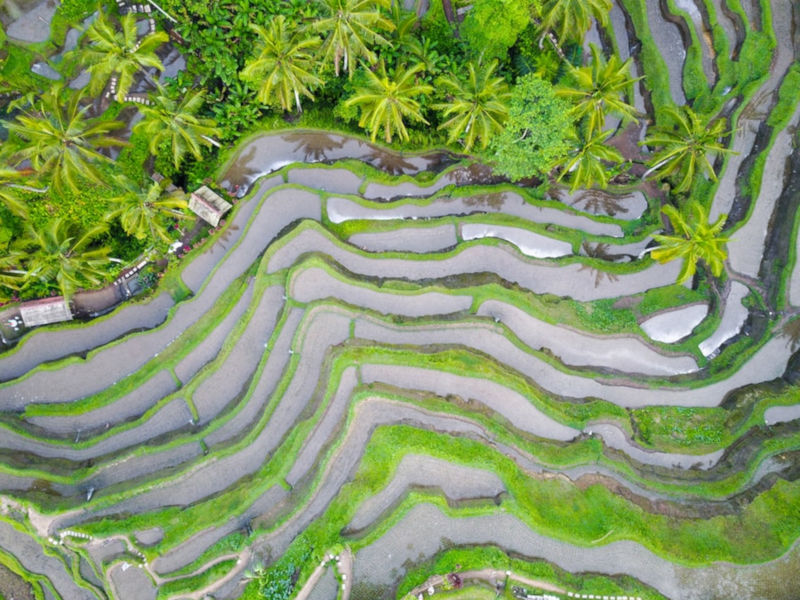 Ubud
Travelling inland towards central Bali, Ubud is regarded as a cultural epicentre and a prime example of the islands' incredible natural beauty. From UNESCO listed rice paddies, intricately carved ancient temples and art galleries to an array of regional handicrafts on offer, Ubud is unmissable.
Nusa Dua
Translated as 'two islands', Nusa Dua is an upscale region in southern Bali and consists of the Nusa Dharma and Peninsula headlands. On Nusa Dharma Island, discover the cliffside temple of Pura Geger. Across a sandy stretch of Nusa Dua beach, you will find Peninsula Island with its massive blowhole, a well-visited landmark where the ocean exerts its full force against the limestone channel.
Nusa Lembongan
Southeast Bali is home to the island paradise of Nusa Lembongan. Renowned for its pristine natural beauty, the island flaunts white-sand beaches, sea cliffs, mangrove forests and endless water sports – from surfing to diving, swimming and snorkelling. The authentic, relaxed feel of the island shows a different side to Bali.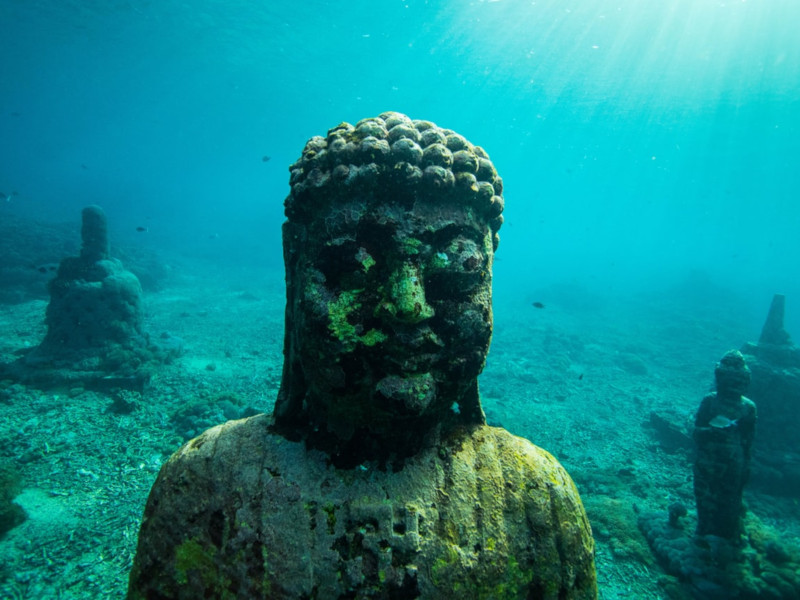 How do you get to Bali?
Catching a flight straight to the island of Bali is the easiest way of getting there. Bali Ngurah Rai International Airport is located in southern Bali and is approximately a 35-minute drive from Denpasar. You can browse and book cheap flights to Bali on Travelstart!
Consider a flight to Indonesia and spend some time there before securing a speedboat, ferry or short flight to Bali. That way you get to experience two destinations in a single trip.
Do you need a visa for Bali?
Nigerian passport holders require a visa to travel to Bali. This can be obtained in person at the Embassy of the Republic of Indonesia, which is located in Abuja.
Embassy of Indonesia:
4, Salt Lake Street, Off Gana Street
Maitama District
Abuja
Nigeria
Phone: (+234 8166026466)
Email:  kbri.abuja@gmail.com
How Safe Is Bali?
Bali is considered safe to visit, with mostly opportunistic or petty crime occurring. Natural disasters are not uncommon in Bali, just be aware of what to do in an emergency situation and don't let it spoil your trip – Bali is business as usual on all accounts! Apart from that, keep an eye on mischievous macaque monkeys, who will snatch food and anything eye-catching on display.
What should I wear in Bali?
Balinese people are warm, welcoming and guaranteed to win you over. Locals tend to dress more conservatively and so you should be respectful of local cultures and etiquette. Taking the tropical heat of the coastline, or cool mountain climates into account, layer up or down to suit the environment in which you will be spending time.
When travelling during the wet season be prepared for strong winds and downpours, while travelling during the dry season means soaring temperatures. Purchase clothes locally – there is a seemingly endless supply of sarongs, swimming costumes and flip-flops to choose from. Be sure to bring that sarong along to cover knees and shoulders when observing temple etiquette.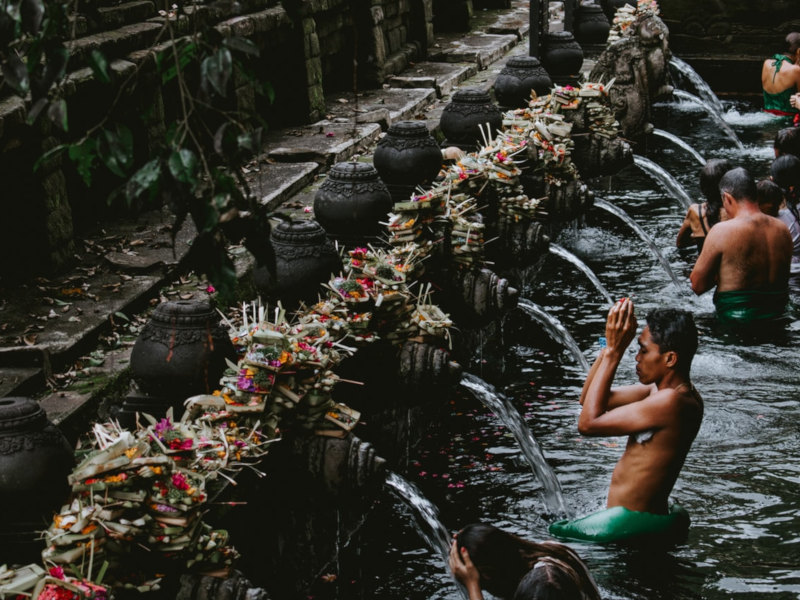 Find cheap flights to Bali with Travelstart.com.ng!
Where is Bali? It's exactly where you are meant to be! So whether you are in search of the perfect surf, a soulful yoga retreat or the vibrant nightlife typically associated with this island in southeast Asia, get into a Bali state of mind. Sign up to our newsletter and be the first to know about travel tips and deals to get you there faster.
Have you been to the blissful island of Bali? Tell us all about your adventures!
All information on this blog page was correct at the time of publishing and may change at any time without prior notice. Travelstart will not be held liable for loss or inconvenience resulting from the use of out-dated or incorrectly noted information.