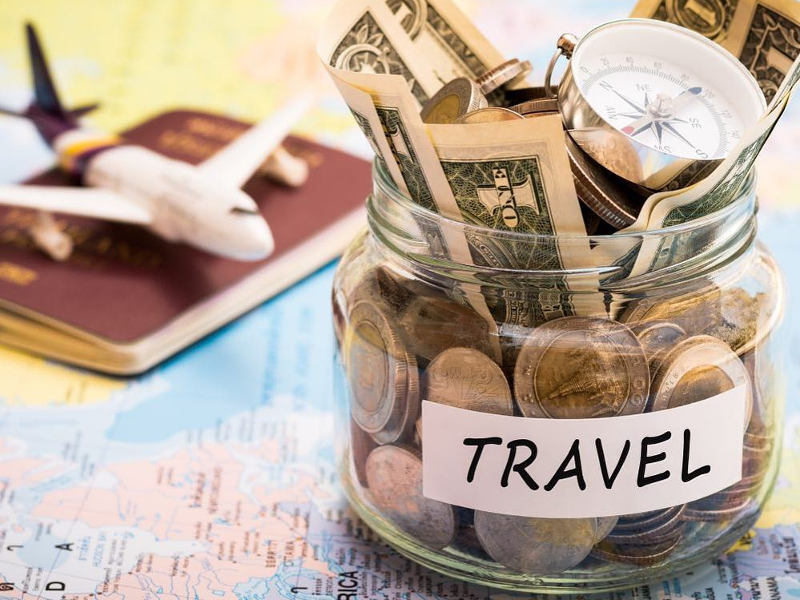 Have you been dreaming of touring the wonderful Dubai, exciting USA, or voyaging south of the continent to the beautiful Cape Town? But, the reality of having limited funds sets in and all your hopes of booking a flight seem nearly impossible? We're set on making your dream vacation possible with some of the best tips on how to save money to travel.
Did you know, the average earnings for a school leaver in Nigeria is ₦20,250 while the average earnings for a director are ₦250,000? With this in mind, you can factor in your income and learn how to save money accordingly. If you're set on travelling and are willing to cut back on unnecessary expenses, try our suggested best tips on how to save money and see how it becomes possible to travel to your desired destination.
1. Pack Your Own Lunch
Opt for home-made meals instead of spending your money on lunching out at restaurants or cafés. All those times that you're going out with your co-workers or friends for lunch adds up. Aim to cut down to eating out two times per week.
2. Shop for Sale Items
Take advantage of sales and avoid spending excess money on nonessential groceries, clothes and household items. A great money saving tip is to find out when specific items go on sale, this way you'll be able to ensure that you're saving money when purchasing your essential items.
3. Make Your Own Coffee
All those coffees bought at your favourite coffee shop adds up tremendously. Choose to switch from an extravagant cappuccino to a standard brew made by yourself. You'll notice the vast difference in your bank account at the end of each month.
4. Sell Unwanted Clutter
By selling your unwanted clutter you can earn extra money. Make sure to put that extra cash straight into your travel fund. Start by setting aside things in piles and find ways to sell your unwanted goods. You could use online methods such as Facebook or have a yard sale. And make sure to put that extra cash straight into your travel fund!
5. Give Up any Bad Habits
Things like purchasing alcohol and cigarettes, frequently, can leave a significant hole in your bank account. Use this time to seriously consider giving up a bad habit that is costing you money. It's a win-win situation as you successfully quit a bad habit, help restore your health, and save money for your travels.
6. Use Your Car Less
If you cut back on your car usage, you can save on petrol as well as eliminate the chance of having to spend money on any repairs for your car. Make use of public transport or cabs to get around. Use this as an excuse to get more exercise by walking or cycling to nearby places instead of using your car.
7. Open a Savings Account
Open a savings account dedicated for your vacation and use it to save a set percentage of your income. This percentage should not be compromised – become disciplined in leaving all the funds you put into this vacation savings account. Be sure to put away the allocated amount in the fund monthly.
8. Research Your Travel Destination
It is important to research the destination that you're travelling to. Research the cost of living, as this way you will have an estimated figure of how much you should be saving. A simple Google search will give you great information on hotel and accommodation options. You can also get great suggestions on the best places to eat. It is great to find out what the average prices of popular attractions are and the most popular things to do.
9. Book Tickets 4 to 5 Months in Advance
In order to get a great deal and save some extra Nairas, time when you book your flight. A great money saving tip is to purchase your ticket at least 3 months in advance. You'll end up saving money and have extra money to spend on vacation.
You might also like: Tips on How to Get Great Deals and Discount on Airline Tickets with Travelstart 
10. Get a Credit Card with Cash-Back or Travel Rewards
By obtaining the right credit card and using it smartly, you will be able to receive cash-back and travel rewards. Always pay your credit card bills on time, as late fees can cause enormous debt.
11. Keep a Change Jar
Save all your loose change and store it in a bucket. You'll be pleasantly shocked to see how much all those loose coins can amount to. Once you've saved a decent sum of money, cash it in at a bank and use it to help fund your trip.
Now that you're equipped with some of the best tips on how to save money, there's nothing holding you back from booking a flight and venturing through epic destinations. Sign up to Travelstart's newsletter and you'll be the first to know about the latest flight deals!
Got any cool tips on how to save money for travel? Let us know in the comment section below.
Featured image courtesy of @jack_ophelia_ via Instagram