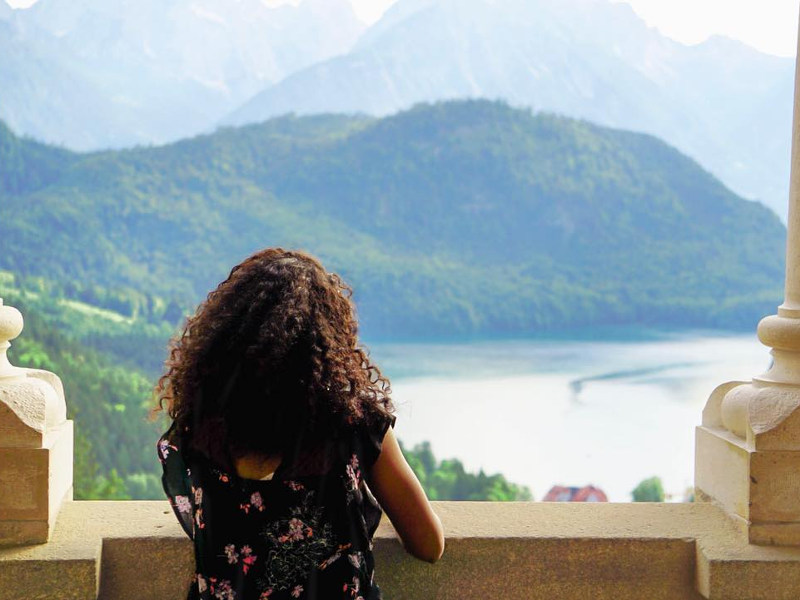 So, you've booked your flight and you're ready to venture off on an epic vacation. Great! This is the time for you to have fun and relax. Having to consider how to maintain your natural hair while on vacation should be the least of your worries. Check out these natural hair tips for your next holiday and you'll be ready for your downtime while looking fabulous for those enviable selfies!
Before You Set Off:
Transfer essential hair products
Decide which essential hair products you want to take with you. These include moisturising shampoo and conditioner, a curl cream and light oils such as coconut and olive oil. Keep in mind, if you're only taking hand luggage on your vacation you will have to transfer all hair products to containers that contain no more than 100ml. You can purchase these containers at any large scale mart or local shops. Another tip for packing is to make sure that all hair products are sealed tightly in a zip-lock bag. You wouldn't want to reach your accommodation with your electronics and clothes covered in hair products. Don't forget to pack in other holiday hair essentials such as hair ties, hairpins and a satin cloth.
Check the Weather
Your hair may require different hair products in different climates and temperatures. You should use a weather app to find out what temperatures you can expect to experience while on vacation. If you're jet-setting to a cold destination, you'll need to moisturise your natural hair every day with a spray bottle (filled with water and hair oil) or applicator. In hot weather, a great hair tip is to take along a styling product like an anti-frizz custard or curling cream, which will protect your hair against humidity and moisturise your hair at the same time.
Deeply Nourish Your Hair
Before you dash off on your vacation, make sure to shampoo and deep condition your hair at least 2 days before your trip. This way you won't have to worry about treating your hair on vacation and it also allows your hair to produce some natural oils before you leave for your trip. Consider a homemade hair mask by using natural products such as avocado, coconut oil, apple cider vinegar and honey. Take some time to research which natural products will work best for your hair.
Decide on the Best Protective Hairstyle for Your Trip
Remove the stress of hair maintenance by having your hair styled before your vacation. If swimming is on your itinerary, protective styles like braids, twist extensions or wearing your natural hair in bantu knots, cornrows or flat twists may be best and easier to maintain. If you opt to get a protective style for your vacation, a great natural hair tip is to do it at least 2-3 days before you leave. This would give your natural hair time to settle, as protective styles like braids can be slightly tight at first.
While on Vacation
Rinse Out Sea Water and Chlorine
If you're heading to a beach destination such as stunning Cape Town or glamorous Dubai, swimming should definitely be on your list of things to do! After enjoying the blissful water, make sure that you rinse out the sea salt or chlorine from your hair, as these minerals and chemicals can cause your natural hair to dry excessively and can make your hair quite coarse. Once you've rinsed your hair, use a conditioner or hair mask to moisturise it afterwards for a healthy summer vacation look.
Take Along a Cool Hat or Turban
For those lazy days, when the perfect hairstyle is the last thing on your mind, turbans and hats can be a pretty cool head accessory to have. It can hide a bad hair day as well as protect your hair from the harsh sun. You can create beautiful hairstyles with a turban and it will definitely add a cool vibe to your gorgeous selfies while on vacation.
Carry a Spray Bottle in Your Hand Bag
You should always keep your natural hair moisturised for a fresh and healthy look. Carry a small spray bottle, this will ensure that your holiday hair is constantly moisturised. Fill the bottle with water and a natural oil such as olive, jojoba, argan or coconut oil.
Protect Your Hair from the Sun
Holiday destinations where there is an abundance of beautiful sunshine such as Bali or the scenic Greek islands in Greece will require you to seriously consider sunscreen products for your hair. A sunscreen will protect your natural hair from becoming dry and brittle. It also gives your natural hair some shine and much-needed moisture. Invest in a great sunscreen to protect your holiday hair from harmful UV rays and one that will not make your hair uncomfortably greasy!
Relax and Have Fun
The most important natural hair tip for your vacation is to relax and have fun. Avoid obsessing about your hair – just nourish and prepare your natural hair as best as you can, and enjoy your vacation to the fullest. When you return home, consider doing a deep condition to help restore your natural hair to its beautiful, healthy condition.
How will you be rocking your hair on your next vacation? Do you have any cool natural hair tips to embrace while on holiday? We'd love to see your tips in the comments below.
Remember to sign up for our newsletter for more great travel tips and flight deals to your favourite destinations!
Featured image courtesy of @itsjustamy_7 via Instagram