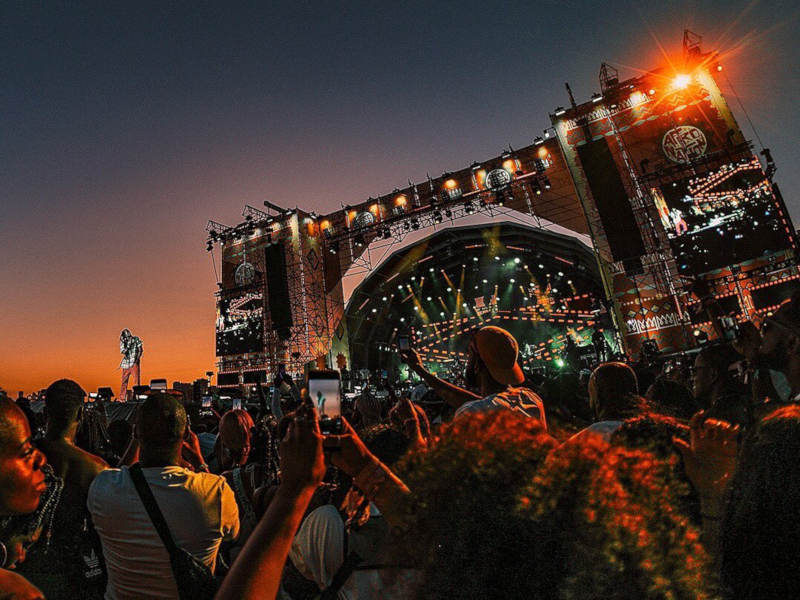 The African continent boasts a deep-rooted culture of music. It's no surprise then that you won't fail to attend at least one of the many music festivals across the continent! With so many options, you might not know where to start. Don't worry, let Travelstart guide you to some of the most exciting upcoming African music festivals.
Accra, Ghana
First up, let's head to the capital of Ghana. The city of Accra is the most populous destination in the country, with more than 1.5 million residents. No wonder it's also the place to enjoy some of the top music festivals in Africa.
Afro Nation
Make sure you're at the stunning Laboma Beach Resort during late December. That's when you can enjoy one of the biggest urban music beach festivals in Africa. The lineup for the return of Afro Nation to Accra includes 6LACK, Alkaline, Burna Boy, Davido, Olamide, Shatta Wale, Kuami Eugene, Naira Marley and more. Laboma Beach is less than a 20-minute drive from Kotoka International Airport. Afro Nation Ghana takes place from 27 – 31 December in 2019.
Afrochella
Explore another part of Accra for a spectacular way to end off the year! Afrochella is more than simply one of the many outstanding music festivals in Africa. The festival is a celebration of African art and culture, with live music, dance performances, live paintings, fashion shows and more. Besides the entertainment, tours around the city are offered. Afrochella takes place at the El Wak Stadium from 27 December 2019 to 4 January 2020.
Lagos, Nigeria
Now to Lagos, the vibrant capital of Nigeria. It's the largest city on the continent, with more than 21 million people. Many of the inspiring locals are the reason why Lagos is so well known for its creativity. Make sure you've booked your flights in time to enjoy some more of these thrilling African music festivals.
Flytime Music Festival
Despite the name, the Flytime Music Festival doesn't reveal all that it offers! This event is all about promoting Nigerian music and comedy. The festival takes place at the Eko Convention Center, which is a 50-minute drive from the centre of Lagos. The Flytime Music Festival offers you four days of fantastic entertainment. The lineup for this event includes Mase, Koffee, Burna Boy, Megan Thee Stallion, Tiwa Savage and more. The festival runs from 20-25 December 2019.
Felabration
This is one of the major music festivals in Africa that makes Lagos such a bustling destination in October! Felabration is a week-long event that takes place every year at the New Afrika Shrine in Ikeja. Maybe you're wondering about the name. It was founded by dancer and singer, Yeni Kuti. She did this in memory and celebration of her father Fela Kuti, a musician and human rights activist. The festival features performances from top music acts in Nigeria and guest appearances from internationally acclaimed musicians and celebrities. Felabration additionally includes street parades, photo exhibitions, debates, and symposia on social and topical issues. The festival runs from the middle of October, definitely one to keep on your radar for next year!
Lake Malawi, Malawi
Then there's Lake Malawi, the third-largest lake in Africa, in extraordinary Malawi. It's a 4-hour drive from the centre of Lilongwe.
Lake of Stars Festival
Some sensational African music festivals take place outdoors! The Lake of Stars Festival takes place over three days in late September on the shores of Lake Malawi. This highly popular event usually attracts thousands of visitors with musical acts from Africa and Europe. Previous performers at the Lake of Stars Festival include Moonchild Sanelly, Black Isco, Kings of the Night, Lioness and more.
Malkerns, Eswatini
Put Eswatini (formerly known as Swaziland) on your bucket list. It's home to breath-taking valleys, high mountains and 1.3 million people.
Bushfire Festival
Make your way to the House on Fire performing arts theatre in Malkerns, Eswatini. For three days in late May, that's where you can experience one of the top music festivals in Africa –  the Bushfire Festival. The event is a celebration of creative expression of music and art. At the same time, it promotes social responsibility and draws acts and audiences from across the continent and the world. Previous lineups have included Maia & The Big Sky, Thabang Tabane, Nibs van der Spuy, Buddy Masango and more. House on Fire is a 20-minute drive from the centre of Manzini.
Johannesburg, South Africa
Finally, we're at Johannesburg, the 'City of Gold'. Informally, it's known as Jo'burg or Jozi by the locals. It's the largest metropolis in South Africa, with more than 4.4 million residents.
Afropunk Festival
Yet another event that goes beyond African music festivals, Afropunk features live music, film, fashion and art. All this happens at Constitution Hill during the last two days of December. The lineup for the 2019 iteration includes Solange, Miguel, Burna Boy, Masego, Goldlink, and more. There's more to Afropunk than the performances of these top acts. You can look forward to the exciting battle of the bands, and sessions featuring guest speakers answering real-world questions. Constitution Hill Human Rights Precinct is a 15-minute drive from the centre of Johannesburg.
---
Now you know about the top music festivals in Africa over the coming months. Do you know which one you will be checking out? Or will you try and experience them all? Regardless, you'll be sure to have a fantastic time in these amazing destinations throughout the continent.
Once you know where to go, all that's left to do is book your flights!
Subscribe to our newsletter for holiday deals to many of these African destinations and others around the world.
Are there other top music festivals in Africa we haven't mentioned? Let us know in the comments!
All information on this blog page was correct at the time of publishing and may change at any time without prior notice. Travelstart will not be held liable for loss or inconvenience resulting from the use of out-dated or incorrectly noted information.
Featured image courtesy of @afronationghana via Instagram