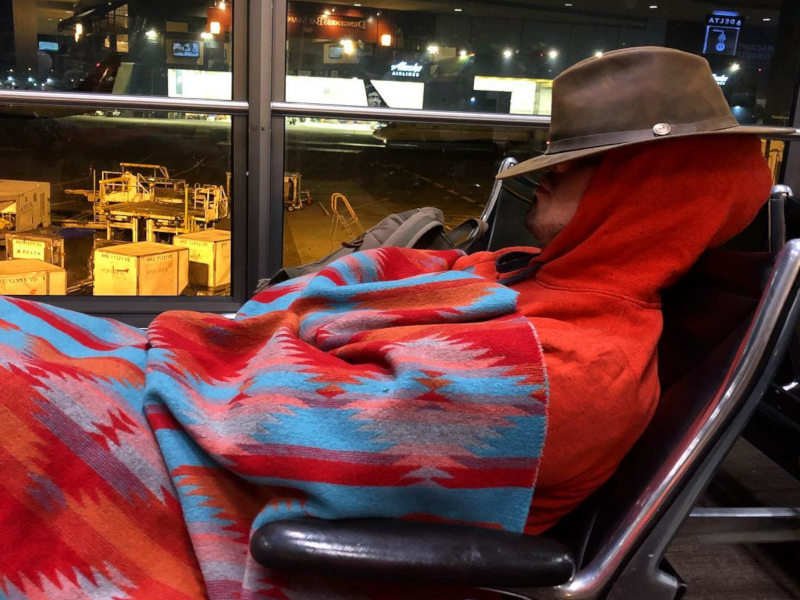 Long layovers are always a pain, but there are ways to get around them, or at the very least, ways to make them more interesting. Below we have compiled a detailed guide with some of our tricks of the trade. With these insights and good planning, you may find we'll have you experiencing two destinations for the price of one!
How do you deal with long layovers?
Long layovers are not always fun, however, in the right airport, there could be hours of fun to be had. Here is a list of things to take into consideration when you know you have a long layover coming up:
Find out which gate you are departing from first so you always know where to board your flight. You don't want to get too distracted and then run around like a headless chicken on the last minute trying to find your boarding gate. Now you can relax.

Do your research on the airport you will be doing the layover in. If you are lucky enough to be "stuck" at Changi International Airport (

Singapore

) for example, you could watch a movie in the cinema, or treat yourself to a massage or spa treatment of your preference, or even take a walk through the various gardens. Its known as one the best airports in the world.

If you have the choice, choose the airline you wish to fly with so that you are able to explore the airport of your choice. Better yet, some airlines, like

Turkish Airlines

who have a stopover programme when you fly via Istanbul free of charge to their passengers.

Always travel with a book. Books can be expensive at the best of times, and even more so at international airports. A good book could be your saving grace at the airport or even during your flight.

If it's within your budget, you could book yourself into an airport lounge or a hotel for a couple of hours.

Pack an overnight bag and pay to use the shower facilities at the airport. That coupled with a decent coffee could do the trick.

If all else fails, some light duty-free shopping and people watching could kill some time.
How long of a layover do I need to be able to leave the airport?
There is no hard and fast rule on this one, but there are a few things you will need to take into consideration.
1. How long is the layover?
If your layover is, let's say 3 hours, take into consideration the time it will take to get in and out of the airport, how long it will take to get to and from wherever it is you wish to visit, and of course, the time you need to check in to your connecting flight.
If you are landing around the middle of the night (overnight layover), which is often the case, there is probably no use in leaving the airport. This is when you will have to get creative or do your research about the airport you are passing through to find ways to keep yourself entertained. You may be in luck, it may be short and quick.
2. Are long layovers only for international travel?
If you had an international layover, you would need to consider the immigration process. There's really no telling how long this could be. It all depends on the time of flight and the airport you are flying into.
3. Do you need a visa to enter the layover destination?
You'll need to check this before you leave. Don't leave it to the last minute because some visas can take a couple of weeks to obtain. Always check your visa requirements if you are unsure.
When travelling to European countries, you will need to check the exact visa required to enter into that specific country. Don't assume that your UK visa will get into a Schengen state for example. Also, if your layover requires you to change airports (Heathrow to Gatwick), it's likely that you will be required to get a UK transit visa on a Nigerian passport.
4. How long will it take to get in and out of the airport?
As previously mentioned, the immigration process could be a setback when trying to exit the airport. The other thing to consider on long layovers is the distance between the airport and where you wish to visit, and the traffic you might find yourself in which could cause an enormous amount of stress. Do not underestimate the time you have for your long layover. You would hate to miss your connecting flight to your next destination. Do as much research as possible about this before making a decision.
Do airlines provide hotels for long layovers?
How times have changed. A large number of airlines are now actually offering free hotel accommodation for passengers with long layovers. In order to qualify for this hotel accommodation, however, your long layover will need to have a minimum and maximum time frame. Some of the airlines will even require you to be travelling over a certain time period. All the airlines have different rules and passengers will need to contact the airline directly to confirm their layover times and book their stay at the hotel. Remember to keep all your boarding passes (first and the second leg) handy as proof that you are waiting for your connecting flight when you arrive at the hotel check-in desk. Some airlines which offer long layover benefits include:
Qatar Airways: Between 8 – 24 hours, only valid when there is no earlier connection flight available.

Etihad Airways: Only valid for specific booking class, or if passengers missed their flight due to delays by the airline.

Emirates: Free accommodation for between 8 – 24 hours.

TAP Portugal: Valid only on long-haul flights, which will also include a continental breakfast.

Turkish Airlines: Free accommodation OR a Touristanbul tour of the most famed sites for a layover of between 6 – 24 hours.
Read more about the Turkish Airlines Stopover Programme.
Do you have to go through security on a layover?
If you have a domestic connecting flight then you are not likely going to have to go through security again. If you are travelling internationally, you will have to go through immigration and security in order to catch your connecting flight. Similarly, if you left the airport you will have to go through security before you re-enter the airport, whether domestic or international.
Can you sleep overnight in an airport?
While airport officials are not excited about passengers using the airport as a "hotel", you won't be the first to do it, and you most certainly won't be the last. Here are few tips when needing to sleep at the airport:
Always find a space surrounded by

ample security

or people so you always feel relatively safe.

Make sure the

people you are surrounding yourself look decent and don't make you feel uncomfortable

.

Be prepared with

refreshments

. In some airports, the shops and restaurants close after the last plane lands.

Make sure your belongings are safe

. Tie/chain them to your chair or to your person.

Pack warm comfortable clothes

. Maybe even a small pillow. You may be there for a while and we all know airport chairs aren't exactly built for comfort.

Be prepared to answer questions to airport officials. Keep your connecting boarding pass and travel itinerary handy. They'll want to know you'll be moving on soon and not just milling around.

Set your alarm or travel with post-its so you can stick them on your bag or head so that people know when to wake you up. This really works!
Is a 45-minute layover long enough?
If your connecting flight is a domestic flight and is in the same terminal you're in then you should be fine. In the event your connecting flight is in a different terminal then this could be cutting it a bit fine. International flights can sometimes be in a different terminal or even in a different airport altogether which may require you to take an airport train or bus.
Do you need to collect luggage before your connecting flight and check the luggage in again? This could also set you back quite a bit. Remember, your luggage is not taken care of by the airlines, so this is out of their control.
To be safe, we would suggest no less than an hour for domestic and two to three hours for international layovers
What happens if you miss a connecting flight?
In this situation, you would prefer the airline to be at fault. This is why we always suggest you book a single connecting ticket with the same airline. For example, it is better to fly from Lagos – Doha – Beijing on Qatar Airways, than to book two separate flights on separate airlines to save yourself a few bucks. The reason for this is, if you missed your connecting flight on your first leg due to delays caused by the airline, then the airline is obliged to assist you with a hotel and/or meal and get you onto the next available flight. If you booked the flights separately then the airlines are not likely to be so forgiving.
In the event you did book separate tickets, your best bet would be to go straight to the check-in counter and ask them when the next available flight is. If the flight is in the same booking class (miracles do happen), and there are seats available, you may not have to pay in a little extra for the flight change.
Now might be a good idea to think about getting travel insurance for your next international trip.
See more tips on what to do if you miss your flight.
Do you have to check in twice on connecting flights?
For domestic flights, you will be required to check in twice. If you are flying internationally, your check-in agent will first ask you if you're flying straight through to your final destination, and once confirmed that you are flying straight through, the agent will issue you with two boarding passes. When you get to your layover destination, you will just have to make your way to your boarding gate for the connecting flight.
If you are leaving the airport for your layover, you will have to collect your luggage and check it in again when you check in for your connecting flight.
Do you change planes on a layover?
This all depends on the specific flight and airline you are travelling with. Sometimes you will not be required to get off and other times you will. You should be able to see this information on your ticket. Look out for the flight number and the aeroplane type. The check-in agent will give you a heads-up about this either way.
Do you have to pay baggage fees for connecting flights?
If you are travelling with a single connecting ticket and your suitcase was within the weight limits then you won't have a problem as your luggage will go straight through to your final destination. If you are changing airlines, you will need to make sure what the connecting flight luggage allowance is. Every airline is different. If you are within your baggage allowance for your first flight, but not your connecting flight, the second airline may charge you extra baggage fees.
Are airports open 24 hours?
Airports are generally open for 24 hours a day, however, the smaller domestic airports may not be fully operational, leaving you with very little to do or eat or drink.
International airports, especially the much larger airport hubs are very operational, allowing you to do some shopping or order a coffee or a beer in the wee hours of the morning. It'll definitely be beer o' clock somewhere in the world.
Long layovers aren't all bad. Just try to do some research about where you are travelling to and which airlines offer the best layover deals. More often than not, you are bound to find the perfect balance leaving just enough time to whip around the airport, grab a refreshment, and head over to your boarding gate. Layovers are all part of the fun.
Sign up to our newsletter for more great travel tips and flight deals!
Let us know if you have some interesting tips to entertain yourself over your long layovers. We would love to read about them in the comments below.
Post written by Zeni Meiring