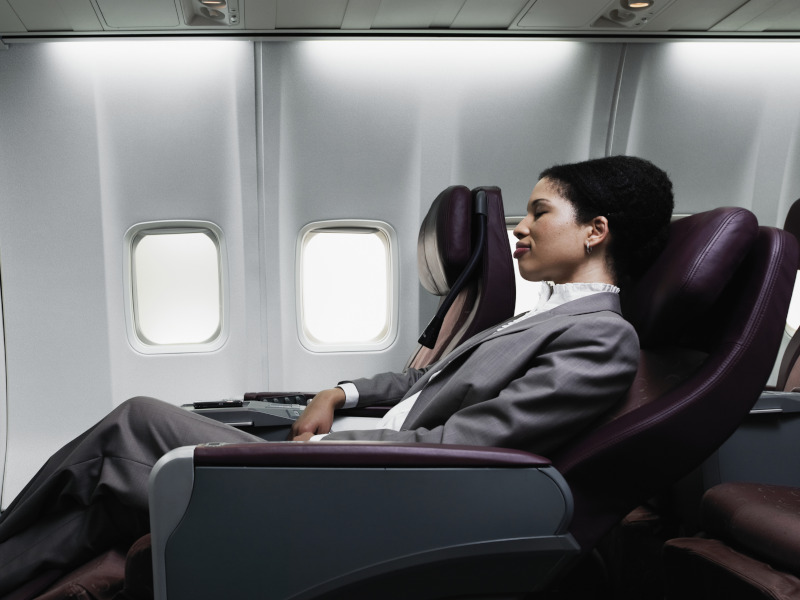 Choose travelling in luxurious business class when it comes to booking flights with Travelstart! This option exists for the sophisticated traveller. Soon, you might think that business travel is the only way to fly.
But first, let us break down all there is to know about business class.
What is business class on an airplane?
Business travel means travelling in style and luxury. In a nutshell, this option is an easily noticeable step-up from economy seats. It's for anyone who doesn't mind paying the full fare for all the top features. This option gives you the highest standard of services. For most international airlines, these include:
Chauffeur services
Priority check-in
Additional baggage allowance
Premium lounge access
Priority boarding and disembarking
Top-class dining menu (you will be able to request a meal or refreshment at any time during the flight)
Flatbeds ensuring complete relaxation
Spacious cabins and extra legroom
Lounges on board
Enhanced entertainment features
Work facilities (so you can continue being productive while you fly)
Priority baggage collection
Which airline is best for business class?
Let's look at which airlines offer the most features and which ones enjoy the highest ratings. Some of the aircraft of British Airways, Aeroflot, Emirates and Etihad offer options that include dedicated workstations, arrival drinks, in-house chefs, and amenity kits.
Is first class and business class the same?
Not all airlines offer first class. First class options differ from business travel due to the higher cost and a few more features, including double beds and showers (an impressive facility that Emirates offers). There are reports that some airlines are phasing out first class. No surprise, since most higher-paying passengers opt for business class instead. Business travel has also greatly improved over time. In some cases, it's almost the same as first class.
Which airline has the best food in business class?
You'll definitely be thinking about what you're going to eat before enjoying a business class flight. Many international airlines offer the finest dining experiences with a la carte menus prepared by Michelin-starred chefs. Halaal, vegan, low-carb and other meal options are included amongst the various meal types. The top airlines where you will enjoy unforgettable dining are:
Air France
Qatar Airways
Swiss International Air Lines
Lufthansa
What are the best airport lounges?
The luxurious airline lounges around the world make waiting for your flight a memorable experience. One example is the Etihad First Class Lounge in Abu Dhabi. Enjoy stylish decor, plenty of amenities, attentive lounge personnel and spa treatments. Another one that must be mentioned is the Turkish Airlines Business Lounge in Istanbul. The lounge covers around 6000 square metres and includes manned cooking stations serving delicious, freshly-cooked, restaurant-quality food.
Does business class have beds?
While every international airline offers business travel, not all aircraft have flatbeds. It's essential that you are well-rested and prepared for your meeting soon after you arrive. You can enjoy flatbeds on the following airlines serving Nigeria:
Emirates
British Airways
Cathay Pacific
KLM
Delta Air Lines
Air France
Air China
Air India
China Eastern
EgyptAir
Ethiopian Airlines
Kenya Airways
Korean Air
Iberia Airlines
Lufthansa
Oman Air
Philippine Airlines
Qatar Airways
Royal Jordanian
Royal Air Maroc
RwandAir
Saudia
South African Airways
SriLankan Airlines
Swiss International Air Lines
Thai Airways
Turkish Airlines
Ukraine International Airlines
Virgin Atlantic
Why is business class so expensive?
From what you know by now, travelling business class costs more than economy or premium economy class. That's simply because it offers so much more! It only makes sense to pay extra to experience the best that airlines have to offer.
How do you get upgraded to business class?
The rules of your economy class ticket determine whether you can upgrade to business class.
Some airlines allow you to upgrade to business class at the airport. This is subject to availability, however.
Other airlines, such as Virgin Atlantic and Qantas, allow you to upgrade using your airline miles. To do this, your original booking must be in one of the highest classes of service within the economy class.
For corporate travel, you can save on your business class bookings by signing up with Travelstart for business, at no cost. A team of experts will help you with any travel requests. All your needs will be taken care of in one platform with the guarantee of making business travel simple.
---
Now you know more about how business travel works. Next, simply choose which airline you will be flying with to your next exotic destination.
Find more flights to undiscovered locations by subscribing to our newsletter.
Have you flown with a business class option before? Tell us all about your experiences in the comments.