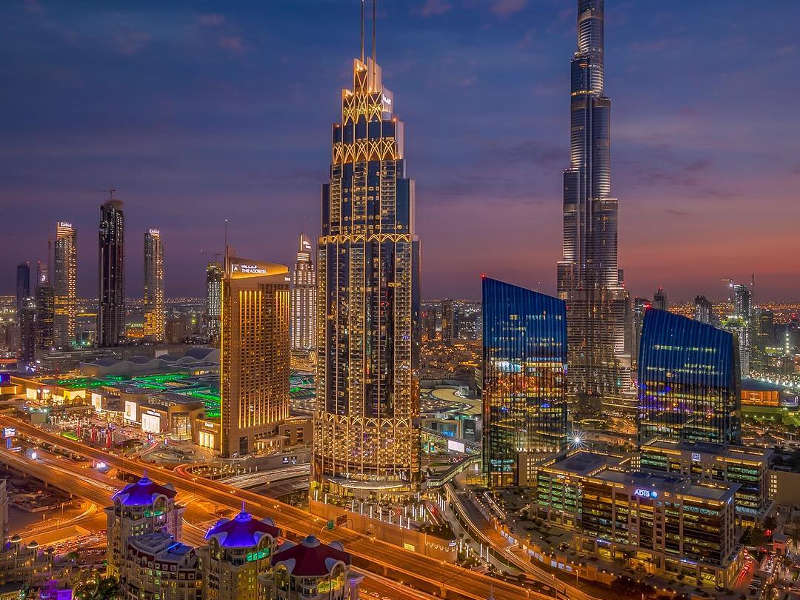 Dubai conjures up images of glitz and glamour, camels traversing the desert and fast luxurious cars! It's a beautiful city, and it's so easy to forget that it is located in the desert with all its modern advances seen throughout the city's architecture. However, while taking in all of Dubai's incredible progressive city-life, there are areas where you can get a glimpse of "Old Dubai". With souks and malls, places for shopping is endless but be sure to make time for other fascinating things to do in Dubai.
Here are a few reasons to make Dubai your next travel destination. Take a look at these 15 things to do in Dubai and get the full Persian Gulf city experience.
1. Shopping
Dubai is the region's capital city of shopping. Many make their way to the Persian Gulf city to shop. In Dubai, the malls are breathtaking buildings with aesthetic glamour. A shopping trip should definitely be on your list of things to do in Dubai. Due to its scorching hot weather, the air-conditioned malls have become a place to socialise. The perfect time for discounts is during the Dubai Shopping Festival. The "Big Five" malls to visit are Deira City Centre, BurJuman, Dubai Mall, Ibn Battuta and Mall of the Emirates. At the souks (markets), you should learn the art of bargaining – this way you'll engage with the locals and get great deals!
2. Theme & Water Parks
Dubai is an amazing adventure playground for those seeking an adrenaline rush or some family fun. Dubai boasts incredible theme parks that will entertain the family.  Get ready for the butterflies in your tummy as you take on the insane rides. Dubai thrills visitors with some of the best theme and water parks to be traversed in the Middle East. Be sure to add Wild Wadi Waterpark, Ski Dubai, IMG Worlds of Adventure, Splash 'n Party and Aquaventure Waterpark – largest water park in the Middle East and Europe to your things to do in Dubai itinerary.
3. Desert Safari
A desert safari in Dubai should be on everyone's to-do list! A desert safari includes visiting a camp in the incredible desert surrounding Dubai. You can choose from a range of activities, including sandboarding, dune bashing and camel riding. Guests can stay overnight and enjoy a BBQ dinner under the dazzling sky of stars. The popular evening desert safari packages include dune bashing, BBQ dinner, belly dancing and sunset photography. You will not regret a peaceful stay in the desert, it is sure to bring you a sense of calm!
4. Beaches
Jumeirah Beach is in walking distance from the stunning Burj Al Arab hotel and welcomes beach bums and sun-seekers to its incredible shoreline. Take in the city's gorgeous sun rays and catch a beautiful tan or dive in the Persian Gulf's inviting turquoise waters. This white sand beach has some incredibly picturesque surroundings and is a popular tourist spot in Dubai. Unwind at Jumeirah Beach and choose from a range of water activities, including swimming, sailing, banana boat riding, scuba diving and windsurfing. Pack in your sunscreen as temperatures can soar up to 35°C.
Gain access to Al Mamzar Beach Park for a small fee. It is a park and beach with fun landscaped playgrounds, lagoons and a sheltered beach. Take your family along to Al Mamzar Beach Park for a fun day out. Rent a sun lounge and take in the beautiful beach views at this quiet beach spot. Mondays and Wednesdays are "Ladies Day" which means no males over six are allowed on the beach on these weekdays.
Black Palace Beach may be hard to find, located next to one of Dubai's royal residences, but it has calm waters and breathtaking sunsets in the city. A day spent at Black Palace Beach is a great way to escape the bustling city and shopping crowds!
5. Museums
Dubai pays homage to its past with fascinating museums which honour the transition from its humble beginnings to the city's huge advances seen today. Visit these museums and take in all the sights and great feats of Dubai. If you wish to know about the city's origins, Dubai Museum is the best place to visit. Located at the Al Fahidi Fort, you can take an informative stroll through Dubai's history and see models of animals, people and places replicating life in Dubai throughout history. There is an array of museums located throughout the city for you to explore, including Etihad Museum, Museum of the Future, Dubai Police Museum and the Women's Museum.
6. Burj Khalifa Skyscraper
Once in Dubai, visiting the impressive Burj Khalifa skyscraper should be a top priority. A visit to the world's tallest building offers phenomenal views. Capture incredible city views from this stunning skyscraper.  The Burj Khalifa tour can be accessed in two ways, "At The Top Level" and "At The Top Sky". In fact, Burj Khalifa is so tall it is possible to see the sunset twice in the same evening, first from a low floor and once again from "At The Top", Burj Khalifa. The observation deck has an outdoor deck at a staggering height of 555m! A visit to Burj Khalifa is certainly like no other experience and will leave you in pure wonder at Dubai's impressive architecture.
7. Dubai Aquarium & Underwater Zoo
The Dubai Aquarium & Underwater Zoo is located on the Ground Level at the Dubai Mall, it is one of the largest suspended aquariums in the world. With thousands of marine animals, comprising of more than 140 species, you'll be amazed at the incredible marine life seen at the Dubai Aquarium. This 10-million litre aquarium was awarded the 'Certificate of Excellence' by Tripadvisor in 2012.  With over 300 sharks and the largest collection of sand tiger sharks in the world, Dubai Aquarium affords you a tremendously great encounter with sea life. At the Underwater Zoo, you can see piranhas, catfish, otters, a Humboldt penguin colony and more. The Underwater Zoo has a cool 'lunar-cyclic' system that changes colour depending on the time of the day and it has a direct effect on the ambience of the tank!
8. Gold Souk
If you're enchanted by all things flashy, including gold, silver and diamonds, make your way to Dubai's most visited souk, the Gold Souk. Here, you'll find a huge selection of jewellery. Whether you're looking to purchase some flashy or pass time with some window shopping, the Gold Souk will surely dazzle your visual senses! Local traders sell pieces by weight according to the current market price, not forgetting the added charge for the dedicated workmanship. The exciting part about purchasing at the Gold Souk is the bartering of everything on display. Although the weight of the piece is non-negotiable, traders will negotiate the cost for workmanship. Located in the district of Deira, visit this one-of-a-kind market for a trip back in time!
9. Helicopter Tour
Take an aerial scenic tour of Dubai in an exciting helicopter ride. With a bird's eye view of Burj Khalifa, Burj Al Arab, and the spectacular Palm Jumeirah, you'll be in for a truly wonderful experience in Dubai's sky. The helicopter tour will afford you the opportunity to take some magnificent photos of Dubai below you! There are various helicopter tour companies to choose from with journeys ranging from 12 to 50 minutes. So choose a helicopter tour which features all the attractions you'd love to see from the sky!
10. Chillout Ice Lounge
An ice lounge in one of the hottest cities in the world, but how? Well, Dubai aims to please and yes, it is possible to have an icy experience in sun-filled Dubai at the Chillout Ice Lounge. Decorated with ice sculptures, ice seating and tables, and illuminated interior, expect subzero temperatures throughout your stay. Once you walk through the refrigerator-like-doors and step into the lounge, you'll feel as if you've been teleported to the North Pole. The illuminated colours add to the amazing ambience of the Ice Lounge. You'll receive a complimentary welcome drink on arrival. Be sure to try the signature hot chocolate – yum! Located at Times Square Centre Dubai, consider visiting with family or friends and enjoy the scrumptious menu, including hot soups, sandwiches, a variety of desserts, and refreshing cocktails. Book in advance to ensure that a table or area is allocated to you.
11. Dubai Drums
Destress to the rhythms of the African Djembe (drum), with fun group drum sessions. Whether you're an expert rhythm-maker or have never drummed before, drumming with a group is a fun experience at Dubai Drums. Located in Al Quoz, an industrial area renowned for its art scene, Dubai Drums has drumming classes for corporate team building, community events and for groups of tourists who wish to create harmonious rhythms during their stay in Dubai. You can attend a full moon drumming session which encompasses a great desert atmosphere surrounded by the sounds of tribal drumming, amazing food and beautiful people looking to have a great time.
12. Indoor Skydiving
Defy gravity by floating in the air. Indoor skydiving is great for anyone who wants to experience skydiving but do not wish to jump out of a plane. With the help of a vertical wind tunnel, you'll experience the thrill of feeling weightless all while having a sudden rush of adrenaline surge through your body. Enjoy the freefall ride at renowned skydiving centres in Dubai, namely iFly Dubai at Magic Planet – Mirdif City Centre Mall and Inflight Dubai at Skydiving Dubai Desert Campus. With assistance from the pros, you'll get zipped up in a jumpsuit and learn some flying techniques to help you take flight and stay in the air.
13. Global Village
Attracting over 5 million visitors annually, Global Village is a wonder to visit and see for yourself. It is the region's first family destination abundant with culture, entertainment and shopping. This seasonal attraction invites visitors to partake in endless shopping during Dubai's winter months (November to March). Global Village features over twenty-five international stalls, each selling a particular country's products and promoting their culture. It is possible to tour the world while strolling through the Global Village. Along with endless shopping, the annual event has incredible entertainment, including amusement rides, firework displays and a musical fountain show. Global Village is a must-see for all the wonderful cultures of the world on display and camaraderie of all people through music, food and shopping!
14. Nightlife
Dubai is renowned for its glitzy nightlife. If you're seeking a vibrant and decadent nightlife experience, Dubai is the place to go! Money is not spared when it comes to throwing epic parties and recruiting the best DJs from around the globe. Make your way to the city's bars and clubs for a great time. Take out your dancing shoes and get ready for a night of extraordinary fun. Entertainment options are limitless in Dubai as you can choose from nightclubs to speakeasies, whichever you're in the mood for. Cirque Le Soir should be on your list of things to see- this is no regular nightclub with a circus theme and notably quirky dark humour, and is one of the most interesting night spots to visit. If you're searching for a more laidback evening out, make your way to a shisha lounge in the city and relax with some cocktails, food and great company.
15. Dubai Miracle Garden
Dubai continues to push the boundaries on what is geographically possible. Despite being a desert city, it is home to a breathtaking garden filled with lush flowers and the most beautiful colours on display. It is a unique sight to behold in the Middle East! Comprised of over 100 million flowers spread over quirky and adorable sculptures, including an upside-down castle, an Emirates A380 aircraft and animals, it is a great attraction to add to your list of things to do in Dubai. Dubai Miracle Garden is open from October to April and each year offers unique encounters with beautiful flowers and sculptures in the epic garden.
All these thrilling and exciting things to do in Dubai surely make it a number one destination to visit. This Middle Eastern city is booming with entertainment and its larger than life atmosphere dazzles all who seek out ultimate fun! Get your Dubai visa now and fly to this beautiful city for non-stop adventure.
Subscribe to Travelstart's newsletter for the latest flight deals to Dubai and other exciting places.
If you've been lucky enough to explore this dazzling city, share some of your top things to do in Dubai in the comments below.
You might also like: Dubai – The Best Time To Go
Featured image courtesy of @uae.px via Instagram