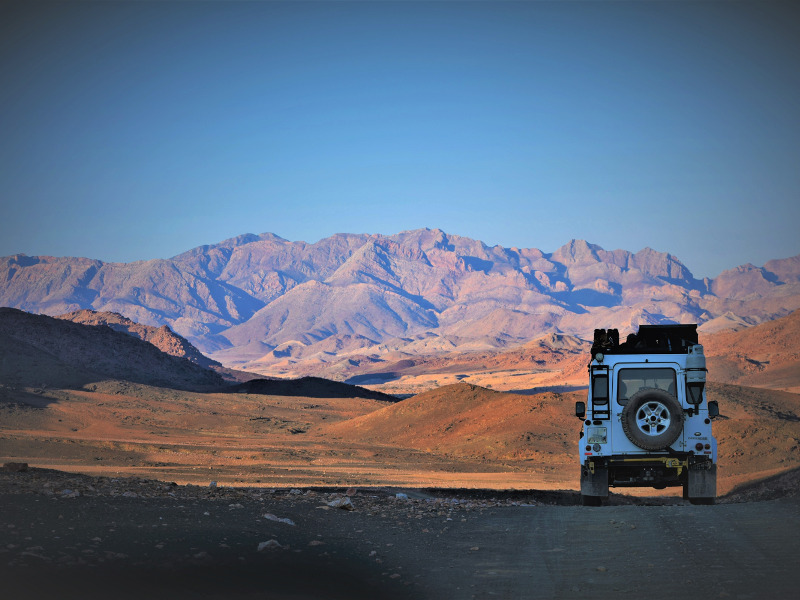 Namibia is a country of sublime landscapes and surreal moments. Lose yourself in the golden sands of the Namib desert, try the freshest seafood in Swakopmund or go hot air ballooning over the wild plains of Damaraland – the choices are endless. Planning your Namibia trip will involve getting a tourist visa and booking accommodation way in advance.
The best way to explore Namibia is to take an epic road trip through the picturesque towns and parks. If self-drive isn't your thing, there are plenty of organised tours you can join or, if you're a big group, why not hire a private tour? However you decide to visit Namibia, here are some essential tips and things to consider to make your planning a little easier.  
When to Go
The best time to visit Namibia depends on where you're going and what you'd like to see. The dry season (May-October) is the best time for outdoor adventures and game viewing when the waterholes in Etosha bristle with wildlife. June and July bring chilly night temperatures, while September and October are conversely hot. If you're planning to tackle the Fish River Canyon, April and May are the best months to hike, when the rainy season gives way to spectacular scenery!
The rainy summer season falls between November and April. If you're into birdwatching, this is the ideal time to visit the Caprivi Strip, however, watch out for flash floods in December and January. See the Namibian landscapes come alive with lush greenery and rich, orange-sand desert dunes.
Namibia's coastal areas remain consistently cooler, drier and less humid than the interior. Make your way to Walvis Bay for whale-watching during October and November, when you can spot southern right, humpback and Minke whales frolicking along the coast!
If you're looking to avoid school holiday crowds, avoid going in June/July and December. The low seasons, between February-May and October-November, are perfect for a relaxing holiday away and cheaper accommodation. Regardless of when you're planning your Namibia trip, make sure you book accommodation way in advance.
Getting There
Getting to Namibia is as simple as a direct 5-hour flight from Lagos to Windhoek. Air Namibia currently operates four flights per week on Mondays, Wednesdays, Fridays and Sundays. Alternatively, you can catch a connecting flight via Johannesburg on South African Airways. Hosea Kutako International Airport is just a 45-minute drive from the centre of Windhoek.
If you plan on starting your journey from South Africa, you have the option of a shorter flight, a luxury coach/ bus trip, or renting a car and driving up yourself (hint: epic road trip).
Popular Routes
While the road less travelled is often the best way to truly experience a place, a detailed guidebook will certainly be your best friend on your Namibia trip. Towns are miles apart from each other, often taking around two days to reach, so be prepared and plan your route to avoid ending up in no man's land.
Here are three routes to experience the natural beauty and wild charms Namibia has to offer.
1. Windhoek – Keetmanshoop – Fish River Canyon – Lüderitz – Sossusvlei – Walvis Bay – Swakopmund – Skeleton Coast – Damaraland – Etosha – Windhoek
Highlights: Quiver Tree Forest, Cape Cross seal colony, Spitzkoppe, hiking, historic towns, game viewing, hot air ballooning, sandboarding, desert safaris
Plan to spend: 3-4 weeks at least. You can extend your stay by stopping at a few extra towns, like Kaokoland.
2.
Walvis Bay – Swakopmund – Skeleton Coast – Etosha – Okavango River – Rundu
Highlights: exploring the coastline, game viewing, birdwatching, sandboarding, skydiving
Plan to spend: roughly 2 weeks. You want to be able to enjoy each place, not rush from town to town.
3
. Gondwana Nature Reserve – Fish River Canyon – Lüderitz – Aus – Kalahari (Mariental) – Sossusvlei
Highlights: hiking, history, magical sunsets, wild horses, desert sunrises, game viewing, hot air ballooning
Plan to spend: at least 2 weeks.
Park fees for entry into Fish River Canyon, Sossusvlei and Etosha are N$80 (₦2,172) for non-SADC members.
Keep in mind that fuel prices are pretty steep – a 7-day road trip can cost around N$2,652 (₦62,000) on fuel. If you're not much of a driver, you can hire a driver for your trip. There are also plenty of overland tours to choose from. Everything is taken care of for you, and it's a great way to make new friends!
Where to Stay
Your Namibia trip can be enjoyed on the cheap or you can glam it up – it's entirely up to you. Accommodation can really eat into your budget, depending on the time of year, how far in advance you've booked and where you'd be happiest to rest your head. If you've booked an all-inclusive package, accommodation is taken care of, but if you're planning to road-trip your way through the country, you might want to weigh up your options.
Camping
Nothing quite says "a bush trip under the African stars" like camping. If you're happy to rough it a little, this can be a great bonding experience, especially if you're travelling in a group.
If you're visiting Etosha, Sossusvlei or The Fish River Canyon, there are endless campsites to choose from. Many budget and private tour packages offer camping accommodation, from basic tents to all-out glamping. Some lodges offer a camping option (if you have your own gear) for around $30 per night. If you're on a budget, camping is definitely the cheapest way to explore Namibia.
Hotels and Lodges
While we all enjoy our creature comforts, you can expect to pay quite hefty rates in Namibia's lodges and hotels. In bigger towns like Windhoek, Swakopmund and Lüderitz, you can find cheaper options for around USD50 a night. But the further out you go, these rates are easily doubled (if not quadrupled during peak season).
Keep in mind that hotel prices are usually up to 50% cheaper during the low season!
If you're heading up to the Caprivi Strip, you should definitely consider staying on a houseboat for a few days. Wake up to incredible sunrises and jet off on safari cruises down the Zambezi. As dusk settles, sip on a sundowner, taking in the gorgeous sunsets and wildlife around you.
Places to Visit in Namibia
Fish River Canyon
With its dramatic steppes and gorges, the rocky chasm stretches for miles. The Fish River Canyon is any hiker's dream, and if you have 4-5 days to spare, the challenging hike along this jagged canyon will be every bit worth it. Or you could just admire its sheer beauty from views over Hell's Corner. Make sure your Namibia trip includes a stop at this awe-inspiring natural wonder.
Sossusvlei
Cradled by the Namib-Naukluft National Park, the Sossusvlei is one breath-taking scene of the Namibian landscape you cannot dismiss. You'll feel as if you've stepped into a painting, surrounded by magnificent bright-orange soft dunes and scattered camel thorn trees towering above you. A sunrise hike along the famous Dune 45 will illuminate the shifting sands and make for epic photographs.
Lüderitz
Built by German settlers in the early 1900s, the quirky town of Lüderitz is home to German architecture, great beer and some of the best whale spotting. It's also the gateway to the deserted ghost shell of Kolmanskop, an abandoned mining town. Take a tour of the eerie buildings engulfed by the desert sand, one for the memory books!
Walvis Bay
Known as a flamingo haven, Walvis Bay is Swakopmund's less-developed sister town where life is easy-going and the beers are cheap. Pull out your camera and photograph the pink sea of flamingos along the salt flats as you drive past.
Swakopmund
Along Skeleton Coast sits the sleepy fishing town of Swakopmund, filled with old colonial homes, trendy coffee shops, German food, a craft brewery and bustling waterfront. Swakopmund hums with activity and you can get your thrill on exploring the rugged coastline with quad-biking, sandboarding, skydiving, paragliding and boat cruises to fill your day. Of all the cities in Namibia, you're bound to fall in love with Swakopmund!
Damaraland
A picturesque oasis between Swakopmund and Etosha, Damaraland is a playground of ancient riverbeds and intriguing landscapes. At the centre of it lies Spitzkoppe, a 1987m high granite mountain rising from the desert. Explore the rock paintings, twisted caves and boulders as you hike along the trails.
Etosha
For the ultimate safari experience, a few days' stay in Etosha is a must. The game viewing in Etosha is something quite spectacular with its white salt pan attracting hordes of flamingos, while its concentrated watering holes feature plenty of elephants, antelope, lions, giraffes and zebra. You might even spot a rare black rhino!
Caprivi Strip
Your Namibia trip is not complete without a visit to Caprivi. Situated along the Kavango River, the Caprivi Strip is a special place to truly unwind and be one with nature. Wake up to the sounds of hippos, crocodiles and birds along the banks of the shore. Just outside of Rundu, this area is void of any commercial hype, where markets, friendly locals and cattle line the dusty streets.
Useful Tips:
Take your time

and soak up every moment – Namibia is vast, so don't rush it.

Make sure you take out

comprehensive travel insurance

for your trip.

Plan and book ahead of time

– you don't want to rock up at a lodge after a full day of driving only to find out they're fully booked (which is often the case).

Cell phone reception is only available in the towns and cities.

Petrol stations are far apart, so

fill up wherever you can

. Also, get a map and plan your activities (don't rely on your cell phone).

Don't drive at night

– the roads can be uneven, there is no lighting, and you might not see the animals grazing along the roadside.

While

southern Namibia is malaria free

, you'll need anti-malaria medication for travel in the northern parts around Etosha and Caprivi.

Namibia also accepts South African Rands (the exchange is 1:1). Credit card facilities are widely available, but

always carry spare cash

just in case.

Be prepared for anything

– always pack warm clothes, extra food and water.

Store electronic devices in protective, airtight casing (sand and dust get everywhere).

Tap water is perfectly safe to drink, just don't waste it!
Whether you choose to visit Namibia in style or on a budget self-drive, your Namibia trip will be unforgettable and you'll go home with plenty of stories to tell. Book your cheap flights to Namibia and discover this quirky oasis for yourself! Don't forget to sign up for our newsletter for more incredible flight deals and travel tips.
Travelled to Namibia? What were some of your highlights, or what are you most looking forward to on your Namibia trip? Share your thoughts in the comments below.