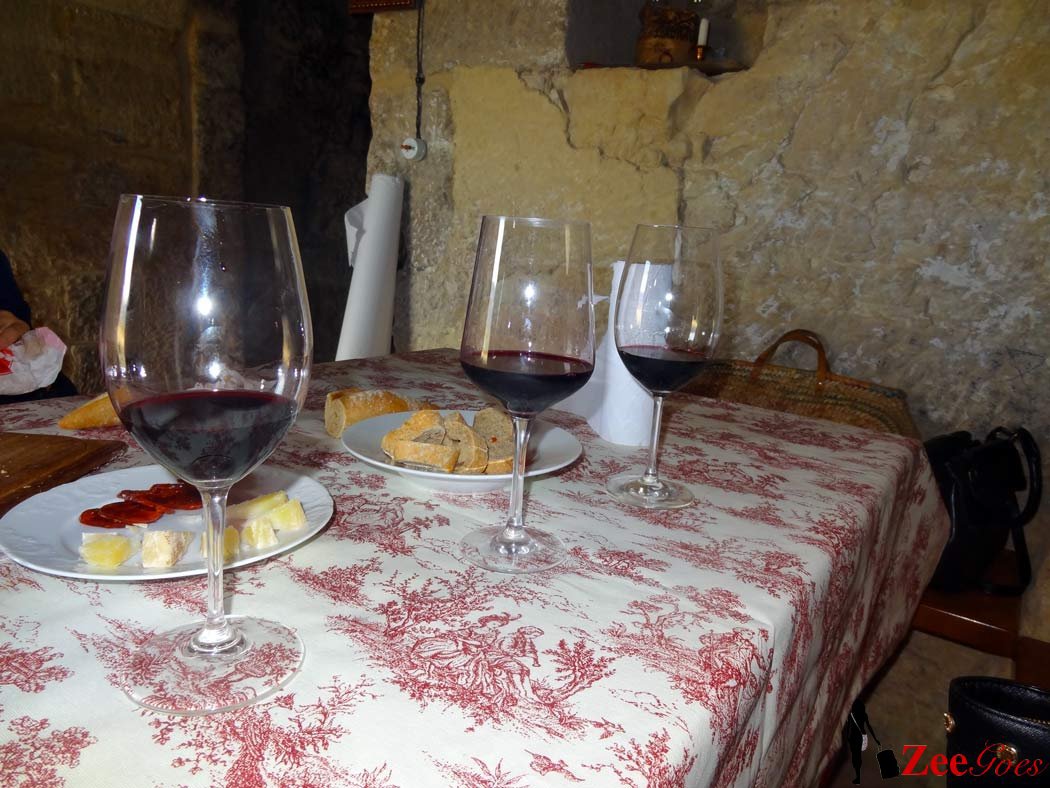 The language, the food, the music, the people, and often times, many forget to properly experience the wines of Spain. But not I.
I knew I wanted to roam around Spain for a few weeks, and a highlight I could NOT skip was La Rioja region of Spain. My experience with Spanish wine was very limited and I figured a day spent tasting different blends would serve as a crash course.
For those keen on going to Spain and love to try the wine culture, make sure to give Inma from Rioja Wine Trips a shout. I sent an email to several wine tasting tour guides with only 5 hours notice (yes, I sometime procrastinate), and this lady was the only one who took pity on me and showed me a customized taster of the region.
We met up in Logrono, the capital of La Rioja and from there, we drove through the region to experience a good variety of what La Rioja had to offer.
We tried some wine in a private cellar carved beneath an old castle and this experience took me back to my first wine tasting experience about 9 years ago in Germany. I have since seeked many wine experiences, but none had me giggling like a schoolgirl who just discovered a new treasure like this one. It was like a 'welcome back to your beginning, let's see how you have developed your taste buds.' Not so well I fear.
The wine itself was superb. The almost perfect balance of full bodied flavour with just enough tannins to shock my taste bud into acceptance. Okay…I'm talking too much now abi? I have many friends who prefer a simple bottle of sweet white wine and so do I! But I really respect the ones that make me sit down to appreciate and listen close enough to better understand the complexity and hard work that goes into its production.
I got to try out Rioja, Reserva, Gran Reserva, Crianza, Rosado, and Blanco types of wine and found my favorites in the Gran Reserva and Reserva. Both types spend more time aging in an oak cask and the Reserva is a bit more fruity than the Gran Reserva because it spends at least a year less in the cask, thus allowing its fruitiness to shine through the oak flavour. The perfect types of wine for an afternoon or evening with friends and family over a robust meaty dish.
The Crianza and Rioja are much younger, lighter, and easier to drink, and would be perfect for Nigerian wedding parties where wine flows like water.
The Rosado, equivalent to a Rose, and the Blanco (white wine), are dry in this region and I tend to like my whites and rose on the sweet side, so those did not speak to me.
My wine guide offered some cheese and bread, but for those who love to taste, do not eat such until after done tasting…it muddles and confuses the flavour. You do not want an aged cheese flavor murking the flavor of the wine you just drank, no?
From there we went to a couple local wineries that impressed me enough to involve my wallet into buying a few bottles to go back to Lagos with.
Over all, for the lovers of wine, Spain's La Rioja is a good region to visit. It is also not too far from the San Sebastian, a city where every food lover should must visit.
Do not forget to book your next flight to Spain on Travelstart Nigeria.
My friends and family call me ajala traveler and minister of enjoyment. On the flip side, I am a serious business woman that knows to make space for a bit of 'me time' whenever I see an opening for it. Traveling allows me to gain perspective in life and helps reset my work juices. I'm all about experiencing the food, the people, the language, and the in betweens that come my way.