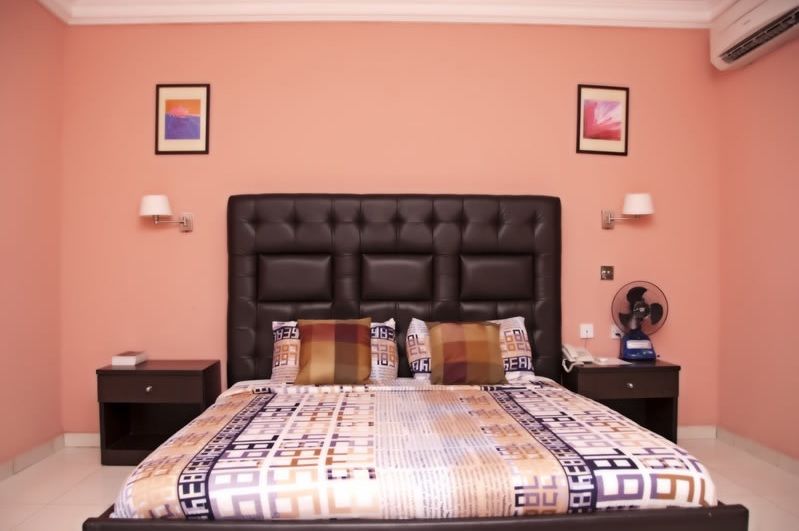 Gone are the days when hotel rooms in Nigeria were considered a luxury that only a few could afford. We took out time in scouring Nigeria to find the cheapest hotel rooms out there. Each of these hotels has a unique story in their designs, services and the rates. One fascinating thing about these rooms is that they come with luxury and comfort despite been very affordable.
Sometimes, you can take in great street views from some of the room windows, gawk at the stylish decoration in the rooms and the bottle line is, you may not want to leave these rooms.  We present to you 20 of the cheapest hotel rooms in Nigeria, where you can relax and have a great time:
1. Sweet Life Home Hotel, Lekki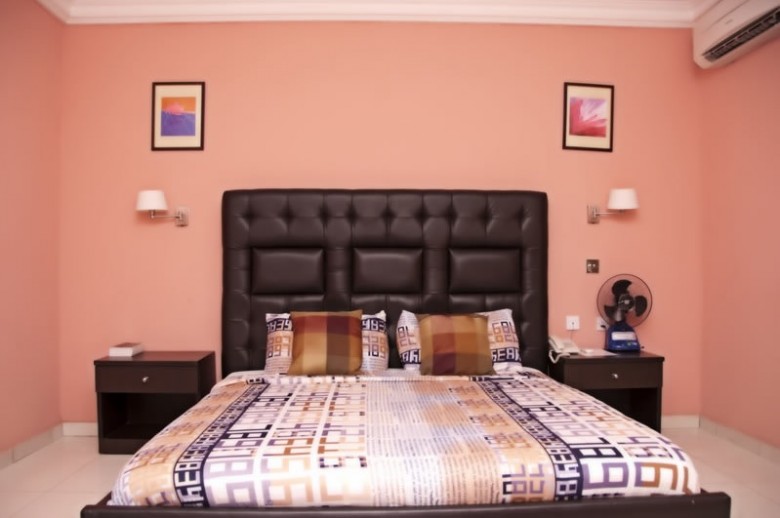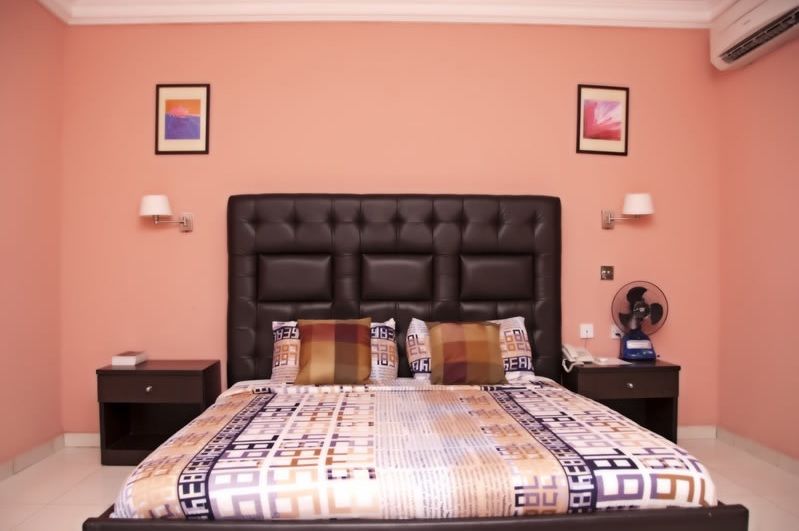 Are you thinking of an affordable room that would provide you with a blend of opulence and pleasure? Sweet Life Home Hotel is one of the few affordable hotels in Lekki that boasts of beautiful rooms and ensures that each visit is a memorable one.  Services are personalized to make ever guest value style and style at an affordable rate. Visit: Sweet Life Home Hotel
Rate: From N10,450 per night
Location: 2 Ivory Street, off 1st Avenue, Jakande Roundabout, Lekki Lagos
2. Jesse Hotel Limited, Awka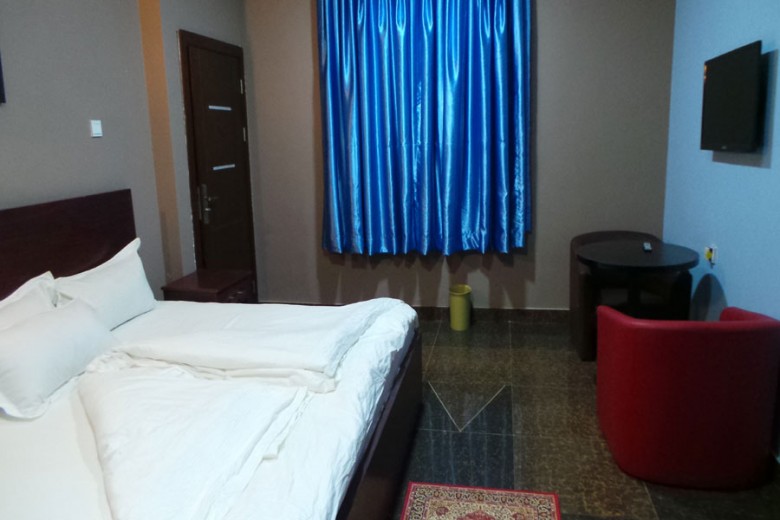 Thinking of the finest room to lodge in the capital city of Awka, Anambra State, Jesse Hotel  Limited has made it possible for you to have a room equipped with standard beds, that would give you access to classic pleasure, distinguished services and  outstanding recreational activities. Visit Jesse Hotel  
Rates: From N9000 per night
Location: 19 Igweze Street, Kwata Junction, Awka, Anambra State
3. Alama Hotel & Multipurpose, Lokoja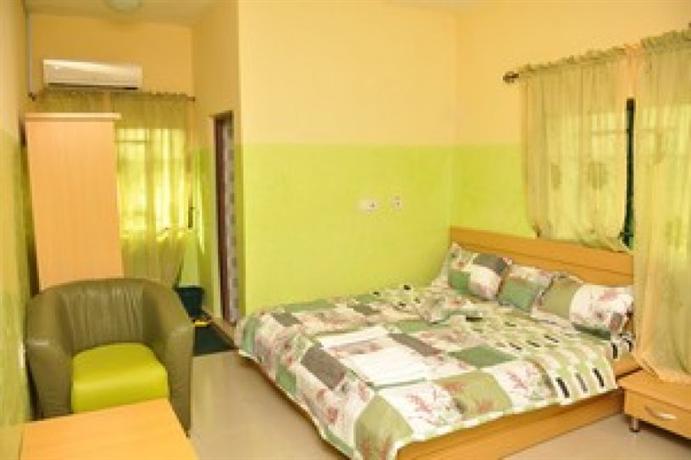 Alama Hotel & Multi-purpose is built close to the Kogi State's House of Assembly, making it a safe and lovely place to lodge. It offers guests luxurious rooms that are very affordable, access to modern gym, Wi-Fi access, a bar, games centre and special treatment such as 24 hours room service and laundry service.  Visit: Alama Hotel
Rates: From N9000 per night
Location: Alama, Along Kogi State House Of Assembly, Along Hassan Katsina way, Lokoja
4. Leksokky Hotel & Suites, Sango Ota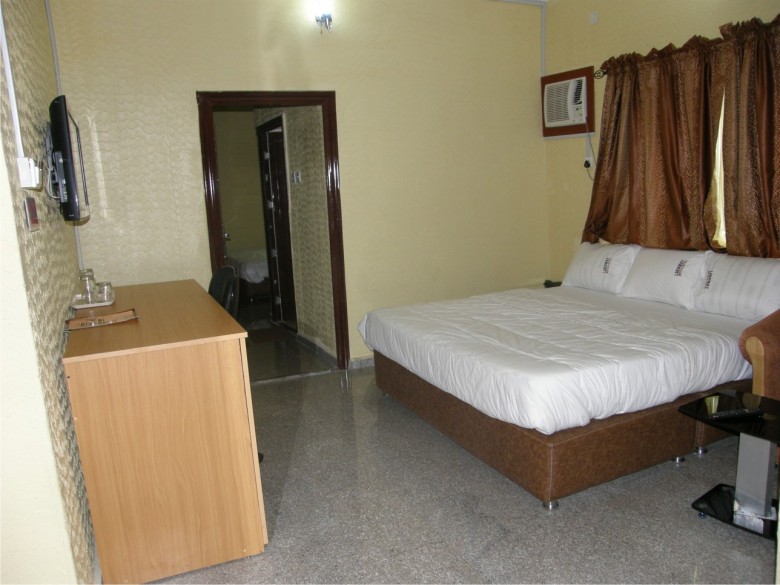 Leksokky Hotel & Suites offers guests different types of hospitality services in its affordable rooms. It is strategically located and spread over a landscape that has amazing views. There are gardens surrounding it and from your room, you can view some magnificent landscapes. Visit Leksokky Hotel 
Rate: From N5,800 per night
Location: Behind MRS Filling, Station Ijoko Sango Ota.
5. Osborn La Palm Royal Resort, Abakaliki
When it comes to relaxing in a room that is designed to exceed the imagination of a guest in terms of its rate, Osborn La Palm Royal Resort designed its affordable rooms to meet a luxurious standard. You are taken care of like a Royal person and have luxury around you.
Rate: From N9,200 per night
Location: 1, Osborn Avenue, Off Kpirikpiri Road Mile 50, Abakaliki, Ebonyi State
6. Dayspring Hotel, Abuja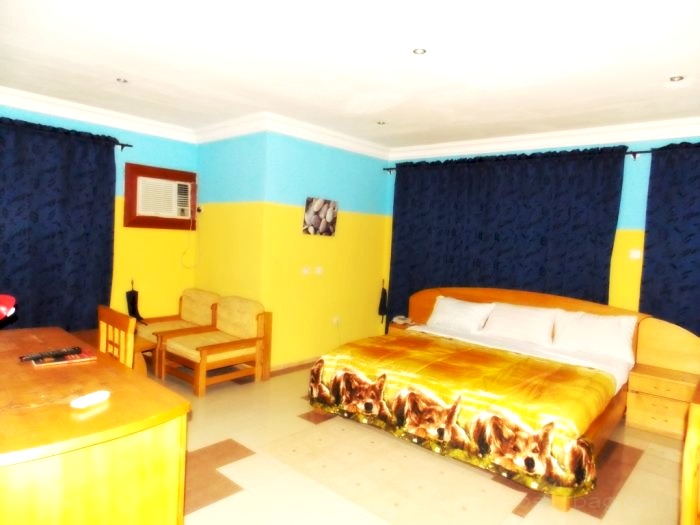 In a room where tranquil, warmth and cozy rule is what Dayspring Hotel can offer you. It is a hotel that is built for serious business and relaxation and in the midst of its affluence look, it is still affordable for anyone to visit and lodge in its 80 tastefully furnished rooms. Visit: Dayspring Hotel
Rate: From N8100 per night
Location: No. 4 Juba Street, Zone 6, Wuse District.
7. Dannic Hotel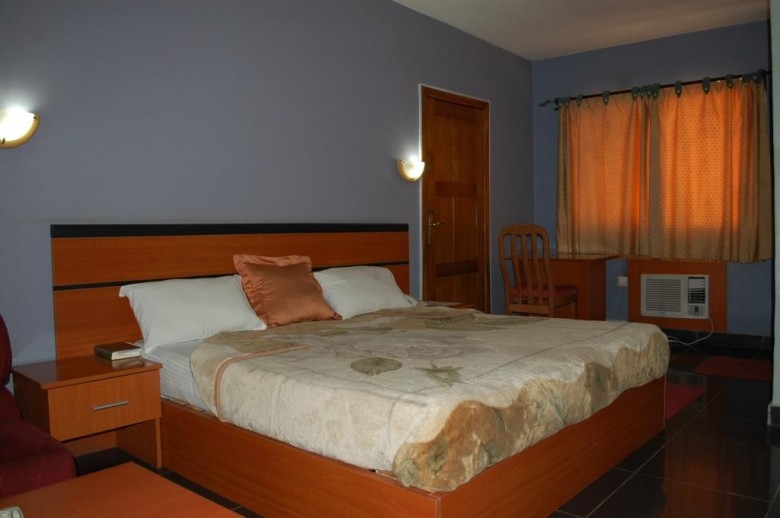 Dannic Hotel has two things to give you, a cozy room that is beautifully designed and comfort. The room service is excellent and the serene environment makes it one of the best hotels to spend a night. Visit www.dannichotels.com/abuja
Rate: From N9,900 per night 
Location: Plot 93, Oyo Street, off Moshood Abiola Road, Area 2, Garki, Abuja, FCT, Nigeria
8. Golf Le-Meridien Hotel
Golf Le'meridien Hotel is strategically located in Enugu, with easy access to new market/ 9th mile express Road, international trade fair complex and Akanibiam International Airport. Located in one of the most coveted neighbourhood in the state and fully armed with security and constant power supply. The rooms are simple and very beautiful. Visit: Golf Le-Meridien Hotel
Rate: From N6,272 per night
Location: 53, Chief Okeanonife Street, Golf Estate, G.R.A. Enugu
9. 44 Lodge And Suites, Lagos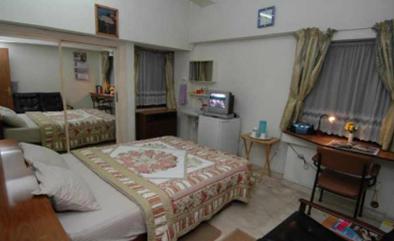 An affordable hotel room that blends convenience with comfortable is 44 Lodge and Suites. Each room is equipped with satellite digital access, telephone, flat screen television, modern shower and room toiletries. Customized room services are made available not forgetting the state of the art facilities like its fitness centre.
Rates: From N10,000 per night
Location: 44 Akinwunmi Street, Off Hughes Avenue, Yaba, Lagos Mainland, Nigeria
10. Niger Palace Hotel, Lagos

Niger Palace hotel offers guests free Wi-Fi access in their rooms and located in a location that links the Lagos Island through the famous Third Mainland Bridge.  Each room has a worktable, air conditioner, TV and lots more.
Rate: From N10,250 per night
Lacation: 1,Thorburn Avenue,Sabo, Yaba, Off Commercial Avenue, Sabo, Lagos Mainland, Nigeria
11. Golphins Hotel and Suites, Awka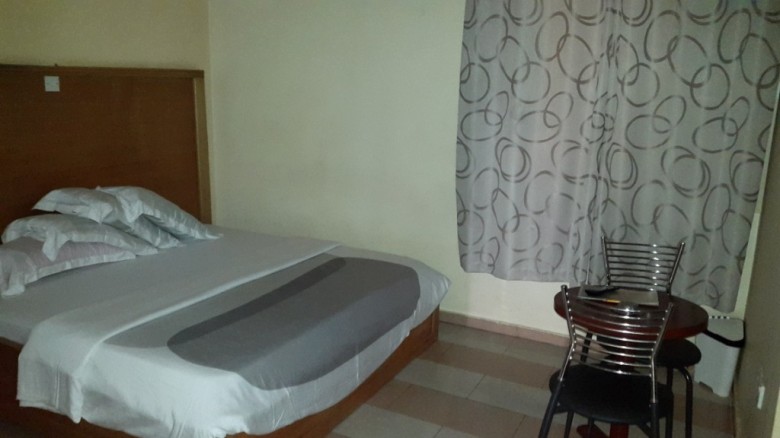 It is not all the time that you are lucky to lodge in an affordable hotel room that offers you a combination of master art works and elegant furniture in a city like Awka, Anambra State.  Each of the room in this hotel has been tastefully designed with a complete plethora of amenities and features. Visit: Golphins Hotel and Suites
Rate: From N7,000 per night
Location: Plot G5 Golphin's Close Unizik Junction, Awka Anambra State
12. Marble Arch Hotels and Event Centre, Awka    

 
It is new and magnificent! Marble Arch Hotels and Event Center has what you may be looking for in some of the most expensive hotel rooms in Nigeria; 24hours power supply, brand new beddings, refurbished kitchen and bar, armed security, 19 channels cable TV, air conditioner and lots more. Visit: Marble Arch Hotels 
Rate: From N10,000 per night
Location: 1-5 Marble Arch Drive, Off Oby Okoli Avenue, Awka , Anambra State
13. Bezer Hall And Hotel, Ota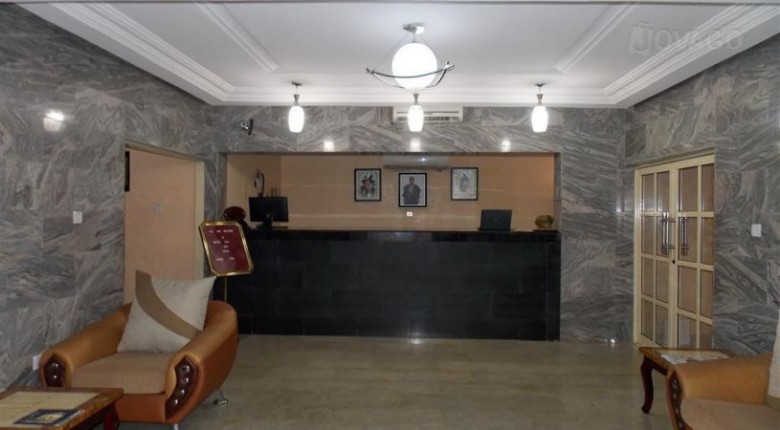 Photo Source: Jovago
A few minutes away from Lagos-Abeokuta Expressway, Ota is tucked Bezer Hall and Hotel. It has a restaurant that serves Asian, Indian, local and continental dishes. Each room is fully equipped with a flat screen TV, air conditioned, telephone, sofa, chair and fridge and its bathroom features toilet, shower, bathtub or Jacuzzi.  Visit: Bezer Hall and Hotel 
Rate: From N10,350 per night
Location: Km 47 Lagos Abeokuta Expressway, Beside Zenith Bank/Ascon Filing Station Adalemo, Ota
14. Randekhi Royal Hotels, Benin City
Randekhi is an iconic opulence hotel that is surrounded by serene and ambience environment, located at the quiet GRA in Benin, Edo State. Its spectacular views and sumptuous luxury will seduce you to its affordable suites and rooms, where you are treated to absolute privacy and great service.  Visit: Randekhi Royal Hotels
The price per night starts from 7,700 NGN
Location: 6 Uhenuyi St. GRA, Benin, Edo State
15. Zasarii Hotel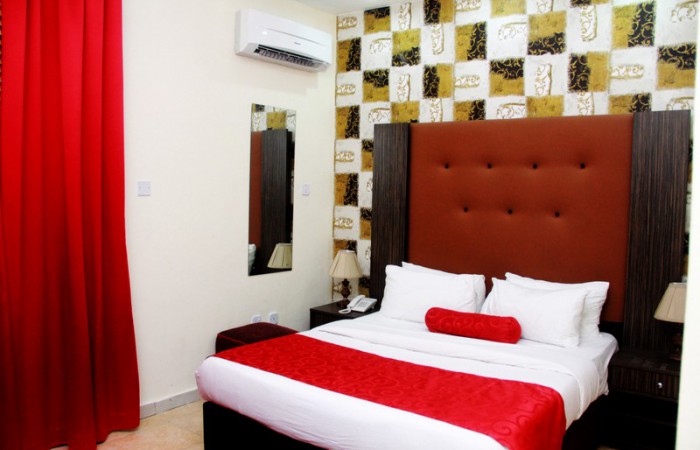 A perfect place to begin your visit to beaches in Lagos is when you lodge at any of the affordable rooms at Zasarii Hotel. Designed to be neat and comfortable with reception that is open every hour of the day. The rooms are equipped with free Wi-Fi access and entertainment options to make you feel at home. Visit: Zasarii Hotel
Rate: From ₦15,300 per night
Location: 11, Cornelius Odinjor street, off Hameed Kasumu street Chevyview Estate Chevron Drive, Lekki, Lagos
16. Sunfit International, Festac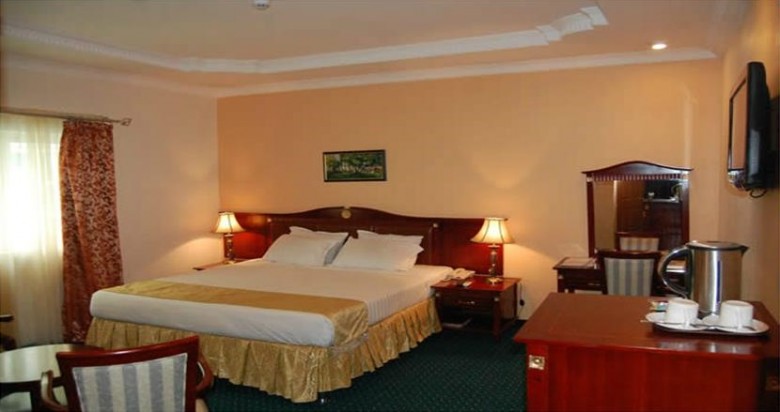 Everyone who has lived in Festac will always point at Sunfit International as one of the affordable hotels to lodge in. it is close to the Apapa Wharf and some distance to Badagry which makes it easier for a guest to explore and still come back on time to indulge in spa and fitness. Visit: Sunfit Hotel
Rate: From N15,682 per night
Location: Plot 327/ 329, Rafiu Babatunde Tinubu Road | Amuwo Odofin, Mile 2, Festac Town 
17. The African Garden Lodge
From your room at the African Garden Lodge, you can watch the world move. Rooms here have been designed to ensure that you are at the right place at the right time because of the way it has been strategically located in Lagos, 20 minutes to Murtala Mohammed International Airport, and less than 10 minutes to get to the Third Mainland Bridge. Visit: The African Garden Lodge
Rate: From N10,000 per night
Location: 418, Omofade Crescent, Omole Phase 1, Ikeja, Lagos.
18. The Berkshire hotels, Abuja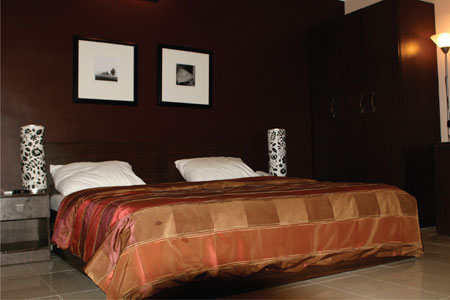 You are provided with a variety of rooms that would suit your budget when you come to Berkshire hotels.  The tranquil and serene setting is perfectly matched by its location that is convenient to those who make use of the rooms here.
Rate: From N15,000 per night
Location: No 6 Asa St, Abuja
19. Gomays Plaza Hotels, Calabar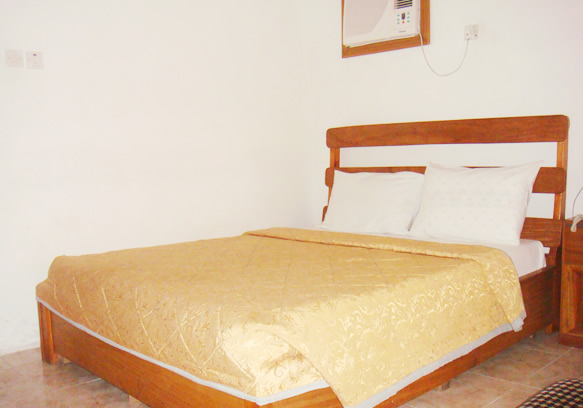 Whenever you are in Calabar, there is one hotel that would offer you an affordable room to spend your night in the Canaan City, the Gomays Plaza Hotels  with easy access to locations like the International Airport, Tinapa Tourist and Business Resort, the Calabar Sports Stadium, Nigerian seaport and major commercial centres. Visit: Gomays Plaza Hotels
Rate: From N9,000 per night
Location: 90 Atekong Drive, Calabar. Cross-River State
20. Princess Luxury Hotels
Princess Luxury Hotels takes after its name in its design and luxury, yet, it is still affordable for guests who cannot afford the expensive suites to use its standard rooms. Visit: Princess Luxury Hotels
Rate: From N9,920 per night
Location: Plot 31, Pipeline Road. Ilorin KW, Nigeria
Did we miss out your favourite and affordable hotel? share with us in the comment section below: