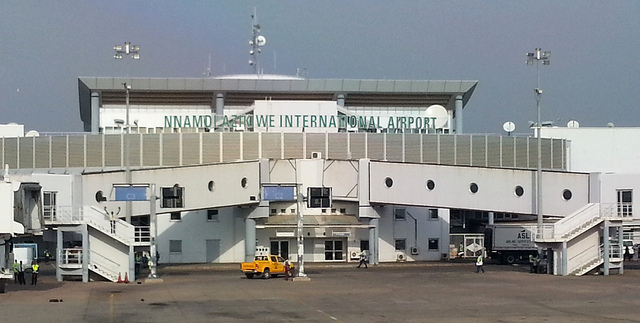 Right on schedule! The Nnamdi Azikiwe International Airport, Abuja will reopen for commercial flights tomorrow Wednesday, 19th of April, 2017 after its closure of six weeks for runway repairs.  The decision to reopen the airport on Wednesday is approved by  Nigerian Civil Aviation Authority (NCAA) as the runway now meets interna­tional standards.  Abuja airport was closed on 8th of March, 2017 for repairs till 18th of April, 2017. During this time, flights were re-routed to Kaduna Airport with many international airlines declining to fly passengers there.
According to the Director-General of the Nigerian Civil Aviation Authority (NCAA), Captain Mukhtar Usman, they "have carried out the in­spection and have confirmed that the job has been done quite satisfactorily in line with the In­ternational Civil Aviation Organ­isation (ICAO) standard and rec­ommended practices. So, the airport and the run­way are very ready to accept flight operations safely". Captain Usman also said the agen­cy had issued a "Notice to Airmen (NOTAM)'' to all aviators world­wide stating the airport's runway is safe and ready for flight operations on Wednesday 19th of April, 2017 as scheduled.
Some of the foreign airlines which have confirmed resumption of operations to Abuja Airport include British Airways, South African Airways, Lufthansa, Air France/KLM. Also in the same vein, the domestic carriers Arik Air, Aero, Air Peace, Overland Airways, Dana Air, Medview, First Nation Airways will also resume tomorrow, 19th of April, 2017.
The airlines hailed the Federal Government for keeping to the date proposed for the reopening of the Airport. Travelers were also commended for the huge sacrifices to ensure the repair of the Abuja Airport runway. Though Kaduna airport saw increased traffic due to Abuja airport's closure, it remains unclear if Ethiopian Airlines or any of Nigeria's domestic carriers will still continue to fly passengers to Kaduna Airport.
Nevertheless, it seems the whole country is ready and happy for flights to commence to the Nation's capital.
Travelstart Nigeria will keep updating you on more information about the Abuja Airport… so stay tuned!