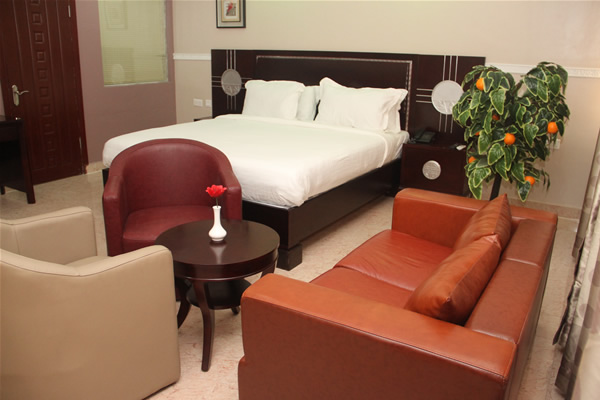 Lagos may have some of Nigeria's luxury hotels but this city also has some affordable bargains. It is no longer the story of dubious wallpapers, leaking pipes and sagging beds filled with bugs when it comes to cheap hotels in Lagos, but well-furnished rooms with sparkling bathrooms.
Even though Lagos is an affluent city, it offers many cheap options for accommodation and feeding. In no particular order, we present to you 15 cheap hotels in Lagos that offers reasonably priced accommodation for guests, one night at a time. Looking for a nice hotel to spend your weekend or holiday, book cheap hotel rates with Travelstart Nigeria.
1. Carat24 Business Hotel & Suites

Carat24 Business Hotel & Suites is an exquisitely furnished guest house that provides guests with warm ambiance and comfort. This is a hotel where business is mixed with pleasure, and every room is air conditioned. It has regular power supply and supported with 247 internet facility to keep you connected with the world. It also has different rooms that are tailored to meet every budget. Visit: Carat24 Business Hotel & Suites   
Location: 24 Road, F Close, Festac Town | Rate: For as low as N11,800 per night
2. Sunfit International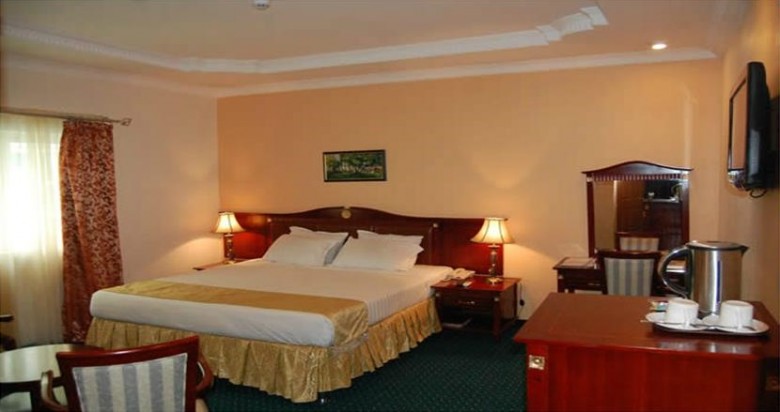 Although, Sunfit International falls is an affordable hotel, it supersedes with its amazing architecture that displays creativity.  Like the rest of the budget hotels, the rooms are designed in special themes. It is located just 15 minutes drive to the Murtala Mohammed International Airport. There is a free WiFi access, mini-bar, spa and wellness center and a free private packing. Visit : Sunfit International Hotel
Location: Rafiu Babatunde Tinubu Road, Amuwo Odofin Residential Scheme, Festac | Rate: For as low as N15,698 per night
3. Placido's Place  

You will recognize the style in Placido's place in an instant. This is an exuberant and fun hotel that will leave you grasping with excitement. The rooms are equipped with air conditioning, TV and a hot tub. Placido's place has you need — affordable rates, comfy rooms and convenient location It is located 19 km away from the Murtala Muhammed International Airport.
Location: 5b, Alakija Street, Yaba, Opp WAEC | Rate: For as low as N12,000
4. The Hardley Apartments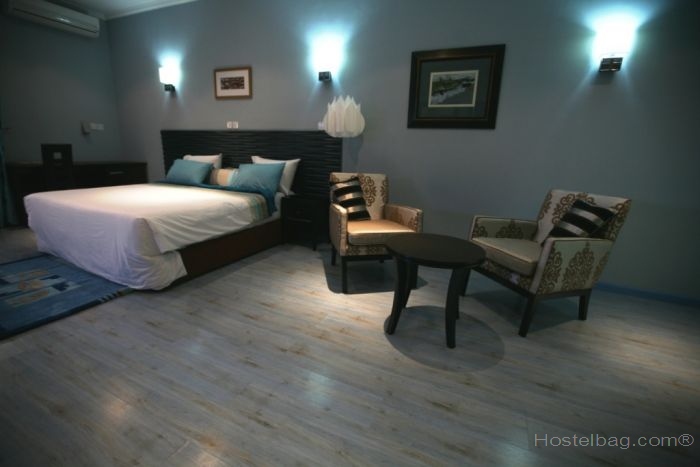 This is a perfect destination for those who would want to leap straight out of their beds and run into Victoria Island's action. The Hardley Apartments have excellent services and world class facilities right in a quiet area of Waziri Ibrahim Crescent. The apartments are filled with the kinds of facilities you had pay more for in an expensive hotel. The style of the hotel is unpretentious and the room service is superb.
Location: Plot 46 Waziri Ibrahim Crescent, Victoria Island | Rate: For as low as  N12,000 per night
5. The Belaggio Corporate Suites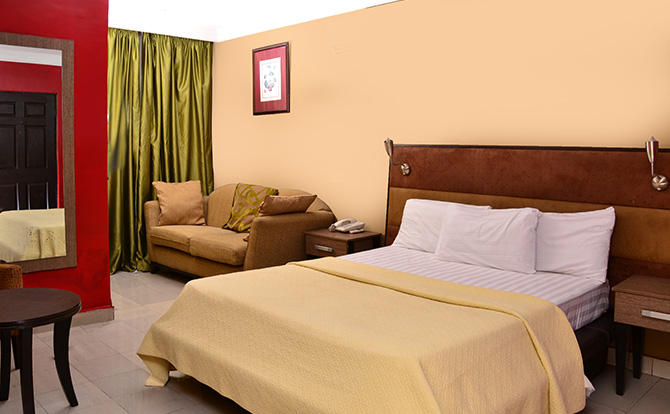 The living room and reception are part of Belaggio's charm. The cheerful rooms are equipped with modern facilities and are furnished to beat some expensive hotels' interior. The hotel is perfect for those who plan to stay long in Lagos. The ambience of the private residence offers the facilities of any Five Star hotel. Visit: The Belaggio Corporate Suites
Location: 1686a Oladele Olashore Street, Victoria Island | Rate: For as low as N12,000 per night
6. Hotel Victoria Palace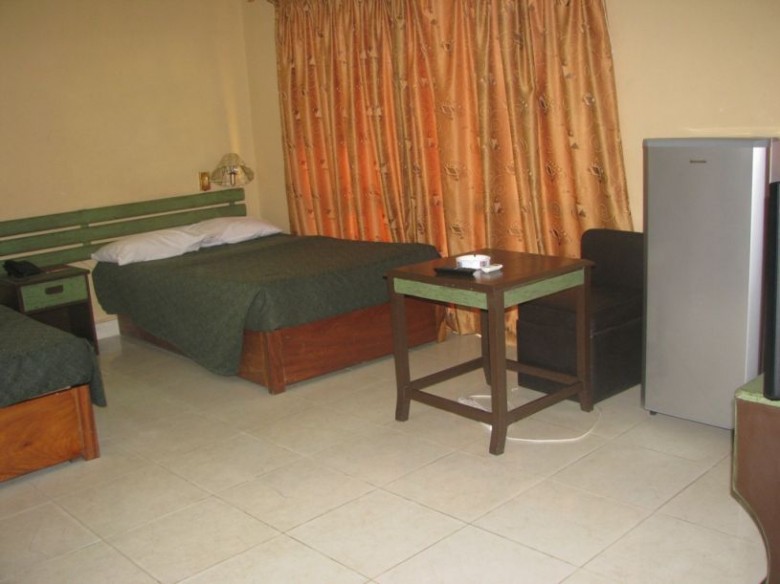 Hotel Victoria Palace is one of best cheap hotels in Lagos, it is a comfortable and reasonably-priced option. You can explore the classic rooms that are equipped with modern facilities. The restaurant serves continental and Indian cuisine.  The friendly staff make the hotel a place to be. There are varieties of games in the residents' lounge, not to forget fitness facilities to keep you healthy.
Location: Plot 1623, Saka Jojo Street, Off Adeola Odeku Street, Victoria Island  | Rate: For as low as N12,000 per night
7. De Rigg Place
Forget about the price because De Rigg Place has state of the art facilities for the comfort and relaxation of its customers. It is built in a peaceful environment that is secure and cozy. Its bar is well stocked and makes you feel at home with its customization of world class services. Visit: De Rigg Place
Location: 6 Rafiu Shittu Street, Behind Zenith Bank Plc, Alaka Estate, Surulere, Lagos. | Rate: For as low as N12,000 per night
8. Dmatel Hotel And Resort

Dmatel Hotel and Resort is a long standing cheap classic that offers you a taste of luxury and comfort. It is a short walk to Victoria Island and Ikoyi and situated in the heart of Lekki. There is a waterfall, beautiful gardens and great rooms that are well furnished. Visit http://www.dmatelhotels.com/
Location: 1A Agungi Road, Lekki | Rate:  For as low as N11,000 per night
9. Firstview Luxury Apartment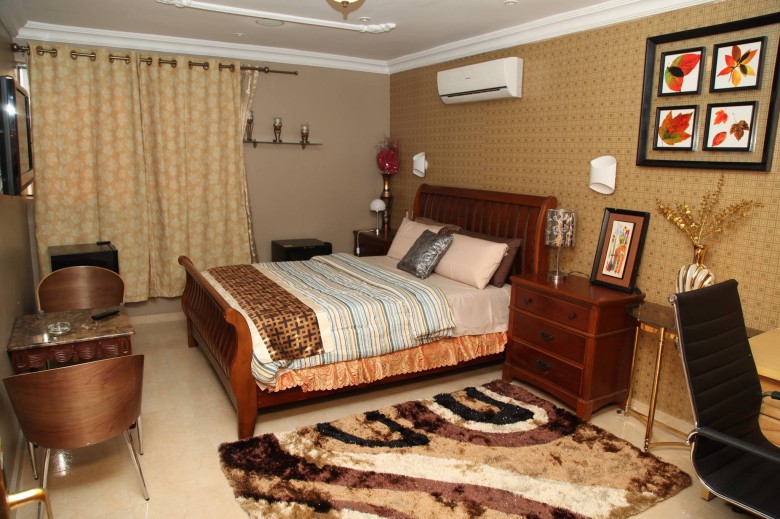 This is a boutique hotel that is well located and offers you a luxury all-suite accommodation with WiFi access, and unlimited free international calls to a lot of countries. This is one of the best spots for a romantic getaway, business trip or even vacation in Lagos. This Lagos hotel is very affordable, guests are always stunned when they see the rates per night. Visit: Firstview Luxury Apartment 
Location: 1,Adeniran Bamishile Street,Off Raji Rasaki Road Amuwo Odofin, Festac | Rate: For as low as N12,000 per night
10. Ed Scob Suites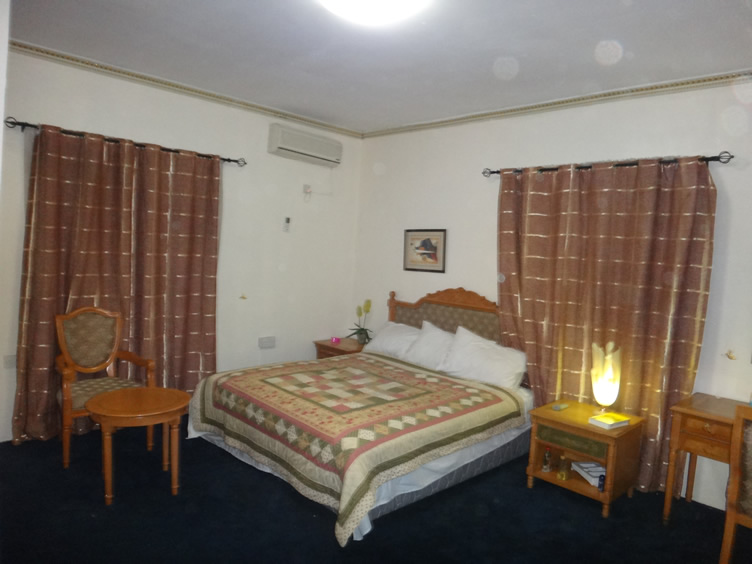 This is an impressive hotel with a spacious layout, barbecue, fitness center and lovely facilities. Privacy is strictly maintained and there is a restaurant that serves different cuisines.  There is a free shuttle service  and car rental service that is available. Ed Scob Suites is a fine choice for budget travellers who want a quiet place to stay in the city centre. Murtala Muhammed International Airport is just 10 km away. Visit: Ed Scob Suites 
Location: 7 Tade Aronmolate close william street, Surulere | Rate: For as low as N17,500 per night
11. Lakeem Suites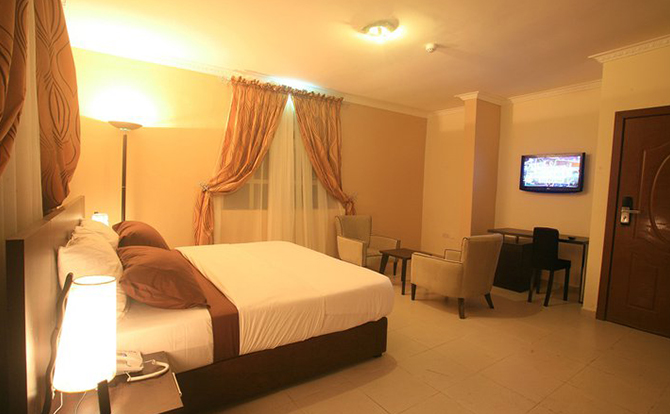 Lakeem Suites depict the home away from  home scenario just right, with its relaxed mini bar, a 24 hour front desk, stylish rooms and a free WiFi access.  Special services like deliveries, ironing service and dry cleaning and its proximity to the airport is what makes the hotel exceptional. Visit: Lakeem Suites 
Location: 23 Adebola Street Off Adeniran Ogunsanya, Surulere | Rate: For as low as N15,000 per night
12. Hillberry Suites

If there is one place that bargain hunters may want to visit, it is the Hillberry Suites. Every lifestyle is fully accommodated here with the modern facilities like the meeting facilities, nightclub, the onsite restaurant that offers international and local cuisine.  There is availability of free Wi-Fi access in public areas. Visit: Hillberry Suites 
Location: 19 Bayo Adewole Street, Off Ago Palace Way, Isolo | Rate: For as low as N11,000 per night
13. De Santos Hotel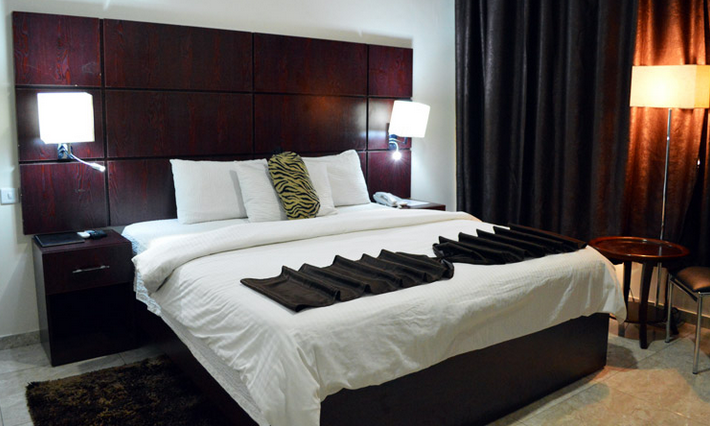 Have you ever wonder one place where you can have relaxation combined with a spa and wellness center? Not just this desire but at a very affordable rate. This is what De Santos offers, with a nightclub, restaurant, array of activities in the surrounding and a hot tub to ease your stress away.
Location: 7 Shasha Road, Akowonjo Roundabout, 100276 Agege | Rate: For as low as N15,000 per night.
14. 44 Lodges & Suites

When it comes to affordable accommodation, 44 Lodges & Suites like to keep it great for everyone. The rooms may be small but they are well decorated and beautiful.  If you have kids, the game room keeps them busy while the bar and beautiful sitting room leaves the adults engaged in special moments. Visit: 44 Lodges & Suites  
Location: 44, Akinwunmi Street, Alagomeji off Hughes Avenue, Herbert Macauly Way, Yaba. | Rate: For as low as N13,650 per night
15. Greenland Suites

If Lagos is on your radar, you can make use of Greenland Suites, a chic hotel that is close to Murtala Muhammed International Airport. Most of the bathrooms are fitted with shower, a bath and free toiletries and there is a 24 hour front desk for support. Visit: Greeland Suites
Location: 4, Canalview Off Lbiyemi Street, Off Osolo Way Ajao Estate,Mushin. | Rate: For as low as N12,000 per night
Did we miss your favourite cheap hotels in Lagos? Share with us in the comment below: