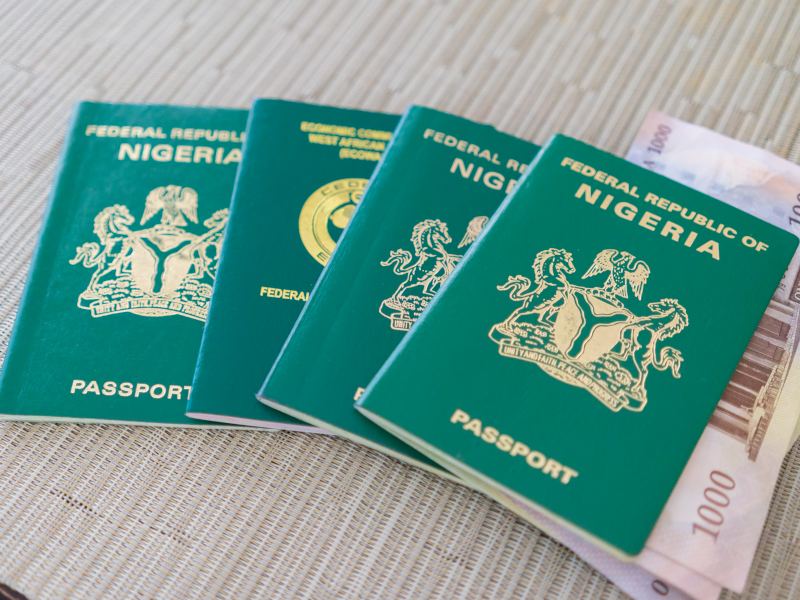 [Updated 05 May 2021]
So, you're planning to travel abroad later this year? Are you dreaming of exploring the vibrant cities of the USA or admiring the architecture in London? Since you'll be travelling outside of Nigeria, you need to make sure your passport is valid for at least six months before departure. If it's expiring soon or has already expired, we've got all the info you need with this step-by-step guide on how to easily sort out your Nigerian passport renewal.
The online application process is straightforward and easy to understand. If you're outside of Nigeria, you can apply online or at your nearest consulate/embassy. Spare yourself any unwelcome stress by applying and submitting your application documents well before your departure date. Once you get your renewed passport, all that's left to do is pack your bags and take off!
Please note this process is applicable to Nigerian passport holders.
How to Apply
The Nigerian passport renewal process must first be done online. At the end of your application process, you may collect your passport.
Online:
Visit the

Nigerian Immigration Services portal

Select passport type

Select a processing country

Complete application form

Select your preferred payment method

Once payment is completed, click "Submit"

You will be issued an Application ID and Reference number

Print out Guarantor's

form

and have it certified

Submit the completed application form with additional required documents in person at your selected passport office

If your passport is more than six months old, you will need to have your photograph taken and your biometric data captured
Application for the Nigerian passport renewal takes around 72 hours to process after your biometric data has been captured. It has taken up to a month to process in some cases, so be sure to apply well in advance. You will be notified by text or email, after which you can visit the immigration office to collect your passport.
Nigerians living abroad can apply for their Nigerian passport renewal online and then submit their documents and have their photographs taken and biometric data captured at their nearest consulate or embassy.
What are the requirements?
During the initial application for your Nigerian passport renewal (which is online), select your nearest passport office. Whether you have an expired passport or one that is about to expire, the requirements for the passport renewal are as follows:
Application letter

Passport booklet

Photocopy of the data page of your passport

Acknowledgement slip and proof of payment
Unexpired passports:
If your passport is valid for more than six months, you must give a reason for your renewal application.
To stay in the loop on the requirements for your Nigerian passport renewal, please consult the Nigerian Immigration Services website.
How much is the Nigerian passport renewal fee?
You must pay the NG passport renewal fee online. Cash payments are not accepted.
CATEGORIES
32-PAGE BOOKLETS
64-PAGE BOOKLETS
AGE: 0 – 17 YRS
AGE: 18 – 59 YRS
AGE: 60 YRS +
Passport Booklet Fee
₦ 8,750
₦ 15,000
₦ 8,750
₦ 20,000
Address Verification Fee
₦ 2,000
₦ 2,000
₦ 2,000
₦ 2,000
TOTAL
₦ 10,750
₦ 17,000
₦ 10,750
₦ 22,000
Please note this information was taken from the official Nigerian Immigration Services website and is subject to change.
Validity
Renewed Nigerian passports are valid for five years.
---
By following these easy steps, you can have your Nigerian passport renewed sooner than you think. If you haven't decided where to jet off to next, read up on these visa-free destinations for Nigerians! Read up on our simple visa guides on how to apply for other visas.
Find inspiration for your next dream holiday with Travelstart.com.ng!
Find the best international flight deals by signing up for our newsletter, and know about our amazing offers before anyone else!
We'd love to hear from you, so you're welcome to leave your comments below about your experience on the Nigerian passport renewal process.
Unfortunately, Travelstart does not handle applications for a Nigerian passport renewal.
All information on this blog page was correct at the time of publishing and may change at any time without prior notice from the original source. Travelstart is not affiliated with immigration authorities or their application centres and will not be liable for loss or inconvenience arising from the use of information from this website.
Travelstart does not provide advice or assist with processing passports. The content of this article is listed as recommended by research and the National Immigration Services (NIS). Kindly check the official NIS website for further information.