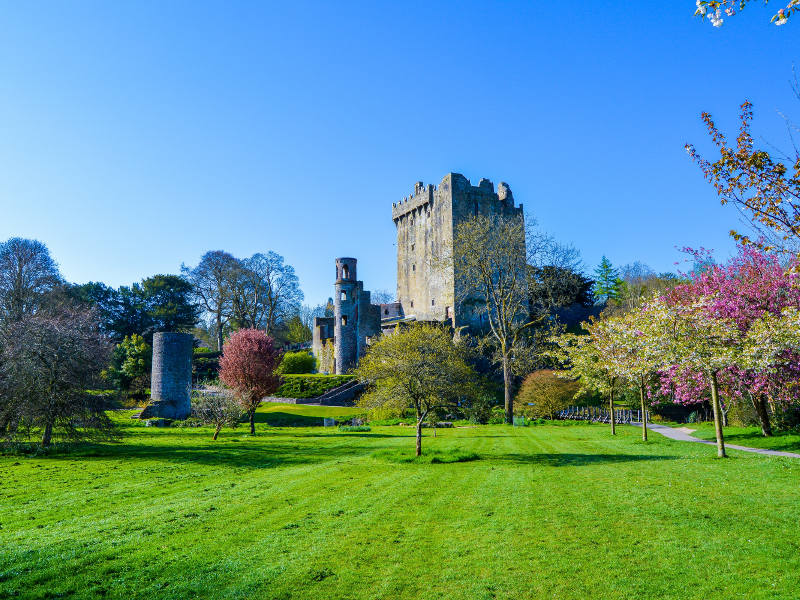 Is visiting the lush rolling hills, gigantic castles and experiencing the history and arts of Ireland on your bucket list? Now is the perfect time to enjoy Ireland's landscapes and unique culture. This step-by-step guide on how to apply for an Ireland visa will inform you about the best way to get yours! Applications for a tourist visa can be a stressful task, but we're here to help make the process easy by ensuring you are well prepared! Soon you'll be exploring Irish cities such as Dublin and Cork!
Nigerian passport holders do require a short stay tourist visa for Ireland. You will need to apply at the VFS Global (Ireland Visa Application Centre) in Lagos or Abuja. To avoid delays and to allow sufficient processing time, you should apply for your short stay tourist visa at least eight weeks prior to your departure date.
Please note this process is applicable to Nigerian passport holders.
Types of Visas
Short Stay Visas
All short stay visas are also known as 'C' visas.
Tourist Visa – This visa allows you to travel to Ireland for tourism or study purposes for a period of up to 90 days.
Business Visa – The business visa allows you to travel and stay in Ireland for a period of up to 90 days. This visa is ideal for those who intend to do business or work that lasts 14 days or less in the country. Please note: if your application to work is successful, you will still have to request permission to work when you arrive at the border control in Ireland. Make sure to bring all the necessary documents, such as an original contract.
Processing time
All visas are processed in the fastest possible time following their arrival at the Irish Embassy in Abuja. On average, the visa application can take up to 8 weeks. For those applying at the VFS Lagos office, it can take up to 12 weeks, considering the transfer times from Lagos to Abuja.
How to collect your visa?
Once your application has been approved, your Ireland visa stamp will be placed in your passport and returned to you by post, along with your original documentation. Therefore, it is important to submit a prepaid envelope along with your application from any courier service companies such as DHL, FEDEX and UPS – available at the VFS offices.
Visa costs
| | |
| --- | --- |
| Type | Cost |
| Single-entry tourist visa | ₦24,000 (€60) |
| Multiple-entry tourist visa | ₦40,000 (€100) |
In addition to the visa fee, you must pay a VAC service charge of ₦17,600 and bank charges of ₦400.
Please note:
The visa fee and service charge must be paid at the bank teller counter at the Visa Application Centre in Lagos or Abuja. Only Nairas will be accepted.

The visa fee cannot be refunded if your Ireland visa application is refused or withdrawn.

The multiple-entry visa is issued at the discretion of the visa officer. If you apply for a multiple-entry visa but you're only granted a single-entry, the difference in cost will not be refunded to you.
Ireland visa requirements
Create an

online application via AVATS

.

Print, sign and date your application summary sheets (from AVATS).

Application letter – type or write a letter explaining why you want to go to Ireland. Sign and date the letter. Your letter must include your full name and postal address, and:
The reason you want to go to Ireland

The dates you plan to arrive and leave

State that you will obey the conditions of your visa

That you will not rely on public services or become a burden to the State

That you will leave before your immigration permission expires
Your original passport – must be valid for at least six months after your departure date from Ireland.

A photocopy of each page from all previous passports you have (where available).

A description of your planned holiday or study trip to Ireland, including where you will stay.

Travel and medical insurance.

The completed

Questionnaire Form

.

2 x Passport-sized (45-50mm in height and 35-38mm in width) colour photographs:
On the back of each photo, you must sign your name and write your Ireland Visa Application Transaction Number from AVATS.

Check the

photo requirements

to make sure your photographs follow the rules.
You must show that you have enough money to support yourself in Ireland, including:
An up-to-date and certified bank statement.

If you're submitting a bank statement from a savings deposit account, you must submit an original letter from the bank that confirms you can withdraw money from it.
Prove that you will leave Ireland when your visit ends by showing that you have a strong obligation to return home (economic, social or family reasons).

A letter from your employer stating how long you've been employed there, your vacation dates and the date you will return to work.

If you are a student, you must show that you have an obligation to return home to continue your studies after your trip to Ireland. You must submit a letter from your school or college that states:
The course you are currently studying.

How many years you have been a student there.

How many years or semesters you have left there.

That the college or school expects you to return after your trip to Ireland.
Use the tourist visa checklist to ensure you have all the necessary documents.
Where to apply?
All Ireland visa applications are done at the VFS Global (Ireland Visa Application Centre) in Lagos or Abuja. You must apply in person in order to provide your fingerprints. Children between the ages of 6 and 17 years must be accompanied by a parent/guardian when their fingerprints are being taken.
Abuja
Address:
Ireland Visa Application Centre

Sterling Bank Plaza, 3rd Floor, Plot 1083 Mohammadu Buhari Way

Central Business District

Contact:

+234 815 018 8800

Working Hours:

Submission – Monday to Friday, 08:00-15:00

Collection – Via courier only
Lagos
Address:
Lagos Visa Application Centre

VFS Global

Manor House, Plot 110

Admiral Ayinla Way

Opposite Treasure Garden Estate, 3rd Roundabout, Lekki Epe Expressway

Lekki Phase I

Contact:

+234 815 018 8800

Working Hours:

Submission – Monday to Friday, 08:00-14:00

Collection: Via courier only
Where to print documents and photos
The VFS Global Visa Application Centre offers photography and photocopy services at a fee of ₦1,500 and ₦30, respectively. If you prefer to find other places, there are other options nearby the Visa Application Centres.
Abuja
CrossHatch Media Limited
| | |
| --- | --- |
| Address: | 765 Samuel Ademulegun Ave, Central Business Dis, |
| Contact: | +234 809 945 1073 |
| Operating Hours: | Monday to Friday, 08:30-16:00 |
Leo Digital Print
| | |
| --- | --- |
| Address: | Suite 014, Noble Plaza, Area 10, Garki, Garki, Abuja. Federal Capital Territory |
| Contact: | +234 806 255 1379 |
| Operating Hours: | Monday to Friday, 08:00-16:00 |
Lagos
Hilcrest Ventures Cyber Café
Address:

26 Admiralty Way, E, Lekki, Nigeria

Contact:

+234 902 828 3073

Operating Hours:

Monday to Tuesday, 08:30-19:00

Wednesday, 08:30-17:30

Friday to Saturday, 08:30-19:00
Elroy Cyber Café
| | |
| --- | --- |
| Address: | Adeyemo Alakija Street, Victoria Island |
| Contact: | +234 802 358 7120 |
| Operating Hours: | Monday to Friday,  08:00-19:00 |
Now that you have all this great, simplified information on acquiring your Ireland visa, you're one step closer to shopping and visiting incredible museums in Dublin, walking down St. Patrick's Street in Cork, and enjoying delicious Irish cuisine in Shannon.
Make sure you sign up for our newsletter for the latest flight deals to Ireland and other amazing destinations.
Have you recently applied for an Ireland visa? Let us know about your experience.
All information on this blog page was correct at the time of publishing and may change at any time without prior notice. Travelstart is not affiliated to immigration authorities or their application centres and will not be liable for loss or inconvenience arising from the use of this volatile information.
Travelstart does not provide advice or assist with processing visas. The content of this article is listed as recommended by research and the Ireland Visa Applications Centres. Always check the VACs' website BEFORE applying for your visa.