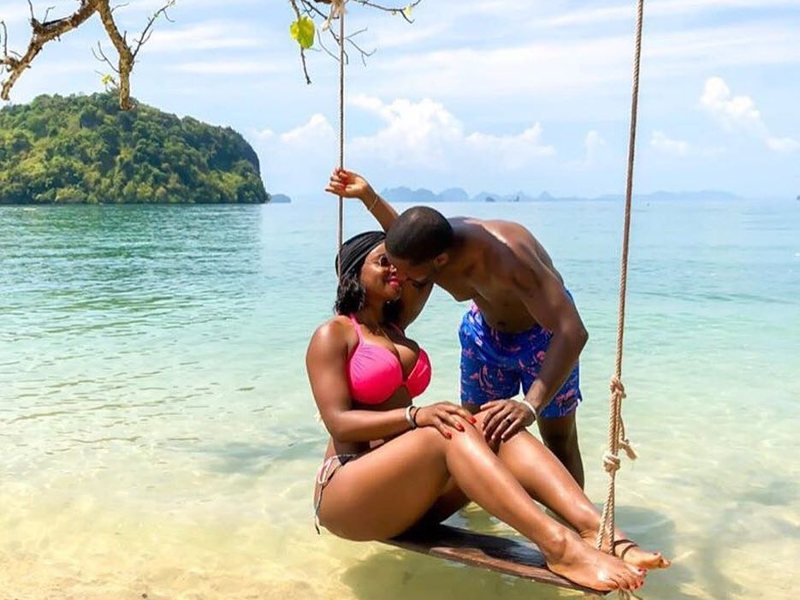 You've just tied the knot and cannot contain your excitement! That's no surprise as a wedding is the most special time in any couple's lives. With the wedding ticked off, now it's time to get ready for your unforgettable honeymoon. There are many honeymoon destinations to choose from and it all depends on what experience you're looking for. We've handpicked the best beach, exotic, budget and glamorous honeymoon destinations across the world.
Beach Honeymoon Destinations for Beach Lovers
Seychelles
Seychelles is emerging as a must-visit honeymoon destination. Situated in East Africa, Seychelles is comprised of approximately 100 islands with scenic beaches, spectacular outdoor activities and phenomenal island cuisine. Head to La Digue Island for its beautiful beaches such as Anse Source D'Argent and Petite Anse. Get the best out of your Seychelles honeymoon by island-hopping with your loved one. Head for the buttermilk sand and enjoy a lovely day out on the beach. Watch the epic sunset which is sure to enhance the romantic ambience. Enjoy a walk through the 'Garden of Eden' on Praslin Island. Don't forget to book a couples' massage and take in the one-of-a-kind tropical surroundings.
There are so many beautiful places to visit which makes it an incredible honeymoon destination. Places to visit include:
Coco Island

– This reputable snorkelling spot has a calming influence with its eye-catching limestone rock formations and turquoise waters.

Victoria Market

– Go shopping at the bustling local market in the capital city, where you'll find anything from spices to souvenirs. Don't forget to try the delicious seafood!

Seychelles National Botanical Garden

– Great for hand-holding strolls, the Botanical Garden is home to a variety of exotic and endemic plants. Explore the various spice and fruit trees including mango, litchi, star fruit and some trees that are unique to the Botanical Gardens. The Aldabra tortoises are a popular attraction with some reaching the age of more than 150 years old. The wildlife attractions include reptiles, Seychelles tropicbirds and insects.
Nigerian honeymooners can obtain a visitor's permit on arrival.
Also read – Seychelles: 5 Tourist Attractions to Explore
Mauritius
Mauritius is called the Paradise Island and it is little wonder with white-sand beaches to lure all to its exquisite natural scenery. The island is an amazing honeymoon destination with a vast range of things to do and places to visit. Newlyweds seeking a beach destination will be spoiled for choice in Mauritius with beach-hopping and days spent soaking up the gorgeous sun on the itinerary. Visit beaches such as Grand Bay, Belle Mare, Blue Bay and Flic en Flac beach. April-June and September-December is the best time to visit Mauritius for a honeymoon getaway. Once you've retired from the beach, head to the amazing restaurants or street markets for mouth-watering flavours with Creole, African, Chinese and Indian influences.
Things to do in Mauritius:
Visit Chamarel Village

: For a unique honeymoon destination experience, head to Chamarel Village which is home to the 'Seven Coloured Earth'. Located in South Mauritius, Chamarel is famous for its majestic waterfall and the 'seven coloured earth' a natural phenomenon of sand dunes of seven distinct colours (red, violet, brown, green, purple and yellow). This natural beauty should definitely be on your list of places to visit in Mauritius.

Go rum tasting

: Attend a rum tasting at

La Rhumerie de Chamarel and celebrate

your love with a Golden Mojito. You'll get to visit the distillery, partake in rum tasting and enjoy a scrumptious lunch.

Enjoy a horseback ride

: Take in the incredible island scenery on a majestic horseback ride on

Riambel Beach

.
The best thing about Mauritius? It's visa free! Simply obtain your Mauritius visa on arrival and enjoy the island paradise.
Bora Bora
This French Polynesian island is considered one of the most beautiful locations in the world! Newlyweds will be welcomed to breathtaking attractions and the locals are sure to make your stay so much more incredible. If a beach retreat is what you're seeking, head to Bora Bora  – undoubtedly one of the most beautiful honeymoon destinations you could visit. Choose to stay in a chic hotel or in a bungalow situated above the water, accommodation options are endless. Its gorgeous beaches welcome visitors year-round, however, the best time to visit Bora Bora is June-October with average temperatures of around 29°C. Bora Bora is home to Matira Beach, the island's most popular public beach. Take in the lush palms and green hill views with long strips of privately-owned beaches on each side. In addition to snorkelling, stroll along a beautiful walking trail which starts at the eastern side of Matira Beach. At the end of your hike, you'll be treated to epic views across the lagoon where you'll be able to see Mount Otemanu and Mount Toopua.
Things to do in Bora Bora:
Tahiti Pearl Market: Purchase cultivated pearls set into jewellery from the family company. The Tahitian pearls are a natural wonder sourced from the surrounding lagoons. 
4-Wheel Drive: Witness the sensational views of the island such as East Matira, Amanahune Bay and Faanui Canon. Get a taste of the tropical fruits at a plantation along your 4-wheel drive journey. You'll also see US military artifacts from WWII at the Faanui Canon lookout, as well as see local artists make tie-dye sarongs and coconut oil.
Honeymoon Destinations for a Taste of the Exotic
Marrakech
If you're dreaming of a honeymoon destination with plenty of colour, adventure and shopping, Marrakech is the place to go! This Moroccan city offers a beautiful escape for newlyweds who wish to embrace a different culture. Marrakech is abundant in architectural wonder, and a wealth of colour and culture. This mysterious city is home to snake charmers, bustling bazaars, vibrant spices and ornate palaces. The weather is perfect all year round, but if you're looking to get the best value for money, July to mid-September is the best time to visit.
Things to do in Marrakech:
Visit the palaces

: Marrakech is one of the four Imperial Cities of Morocco. Tour the incredible palaces for a hint of the city's historic past. Palaces to visit include

Ait-Ben-Haddou, Dar Si Said

(now home to the Marrakech Museum of Moroccan Arts) and

Palais el-Badi

.

Explore the Souks

: The traditional markets, known as souks, offer you a taste of Morocco. Discover the Moroccan culture by interacting with the locals at the souks filled with carpets, pottery, clothing and leather products being sold. Consider doing a guided tour with your significant other for a thorough understanding of the beautiful city.

Hot Air Balloon ride

: Nothing is more romantic than roaming the air in a hot air balloon! Nothing compares to the views of Marrakech with your loved one. Consider a hot air balloon ride at sunrise and take a stunning selfie with beautiful Marrakech underneath you!
You might like: 15 Things You Didn't Know You Could do in Morocco
Goa
This exotic Indian city provides the perfect honeymoon getaway with old Portuguese-style buildings, century-old cathedrals, a bustling nightlife and stunning sunsets on the beach. Goa is the ideal honeymoon destination if you're in search of fun, history and seaside views. It is an ideal place to make great memories as newlyweds. The best time to visit Goa for your honeymoon is between October and April. Avoid the heavy crowds in October, March and April.
Things to do in Goa:
Visit Ashwem Beach

: It is a hidden gem that is great for couples who wish to avoid the beach crowds. Relax on the secluded beach under the cooling trees. Take a walk further inland, through the forest, and encounter Goan villages and temples.

Explore Goa's nightlife

: Goa has a range of cool bars which attract crowds of tourists. Sip on cocktails while you dance the night away.

Taste delicious Goan dishes

: Let your taste buds fall in love with India. Try the delicious local cuisine including

xacuti

(a curry with coconut, spices and poppy seeds),

cafreal

(fried chicken marinated with spices) and

balchao

(a tomato-chilli curry).

Stroll through the markets

: Spoil your beloved at the Goan markets. These colourful markets sell a range of cool things such as hammocks, beachwear, musical instruments and souvenirs. Anjuna Flea Market, Mapusa Market, Panjim Market and Calangute Market Square are just some of the markets you have to visit.
Honeymoon Destinations for Those on a Budget
Thailand
An epic holiday in Thailand allows you to get the best experience while still being affordable. An incomparable nightlife, wonderful massages, interesting temples, plenty of shopping and coconut cocktails galore are just some of the things you can enjoy throughout your stay in Thailand. This tropical country is the ideal budget honeymoon destination in Asia. Get the most for your money with a vast itinerary of things to do and places to visit. In fact, Thailand is considered one of the cheapest honeymoon destinations in the world.
Things to do in Thailand:
Book a massage:

Relax and unwind with a luxurious couple's massage as you overlook the shimmering beaches or find your inner zen.

Treat your beloved to an afternoon tea:

This one-of-a-kind afternoon tea is located at Erawan Tea Room within the attached boutique Erawan Bangkok Mall. It is considered one of the best tea rooms in the world with beautiful views of Bangkok city.

Take a private cooking class in Phuket

: This fun cooking class includes going to the local markets to purchase fresh ingredients and heading to the chef's Balinese-Thai style bungalow to cook up a delicious storm.
Read more about the 5 Exciting Things to do in Phuket and 10 Exciting Things to do in Bangkok.
Istanbul
Discover the passion and romance oozing throughout the city of Istanbul. Ideal for lovers, this Turkish city is abundant with incredible things to do for newlyweds. Istanbul should definitely be considered as your honeymoon destination as you're guaranteed to have lasting memories of this special time in this beautiful city.
Things to do in Istanbul:
Visit the intimate Arasta Bazaar:

Located next to the Mosaics Museum, newlyweds can stroll hand-in-hand amongst the locals and peruse Turkish ceramics and handwoven rugs. You are sure to find something you'll love for your new home!

Dance the night away:

Istanbul has an array of clubs, jazz cafés, rooftop bars and cocktail bars where you can enjoy music and have a good ol' time. Couples looking to have a good time and mingle with the locals should definitely check out the Istanbul nightlife scene for an incredible vibe.

Enjoy a Turkish Hamam:

Do as the Turks do and venture to a Turkish bath known as a

hamam

. You'll get to relax in a sauna-like room, followed by a full body scrub and massage. The unique

Suleymaniye Hamam

allows for couples to enjoy the experience together, whereas other hamams usually separate men and women. 
Honeymoon Destinations for a Touch of Glamour and Sparkle
Dubai
This glamorous honeymoon destination offers newlyweds a memorable vacation they simply will not forget. This Middle East city goes out of its way to be the best at everything and there are so many wonderful things to do in Dubai to keep you entertained. With all the glitz and glamour, Dubai thrills all honeymooners with its incredible playground for adults. It is a captivating destination with a unique charm. Spend your honeymoon exploring all the city has to offer: lavish party yachts, belly dancing at the Dubai Marina, waterparks and eating out-of-this-world dishes at world-renowned restaurants.
A honeymoon in Dubai would be incomplete without a trip to Dubai's malls. The city is the shopping capital of the Middle East. Here, you'll find everything your heart desires!
Find out the best time to visit Dubai to escape the sweltering heat as well as all you need to know to get your dubai visa for Nigerian citizens.
New York
The mention of New York conjures up images of a fast-paced city life featuring Times Square, Central Park and the Empire State building. Why not consider New York as a honeymoon destination? It has everything you could need for a perfect newlywed getaway. Get your US visa and find out about all the romantic things you can do in New York:
Enjoy a picnic at Central Park

: This romantic spot is the perfect way to enjoy a picnic basket and soak in the quietness away from the city bustle. Take a horse-drawn carriage ride through Central Park, it is guaranteed to spice up your honeymoon with its old-school charm.

Attend a jazz show

: You'll get to enjoy the beautiful sounds of jazz while you wine and dine your way through New York's famous jazz clubs.

Take a ferry to Staten Island

: The Staten Island Ferry has sensational sunset views of the Manhattan skyline, harbour and the Statue of Liberty.
Now that you have a guide to some of the best honeymoon destinations in the world, we bet you can't wait for your big day to arrive!
Make sure you sign up to Travelstart's newsletter and get the latest information about our flight deals to these stunning destinations and more.
Do you have an ideal honeymoon destination you'd like to visit? Share your amazing destination in the comments below.
Featured image courtesy of @courtnee19 via Instagram