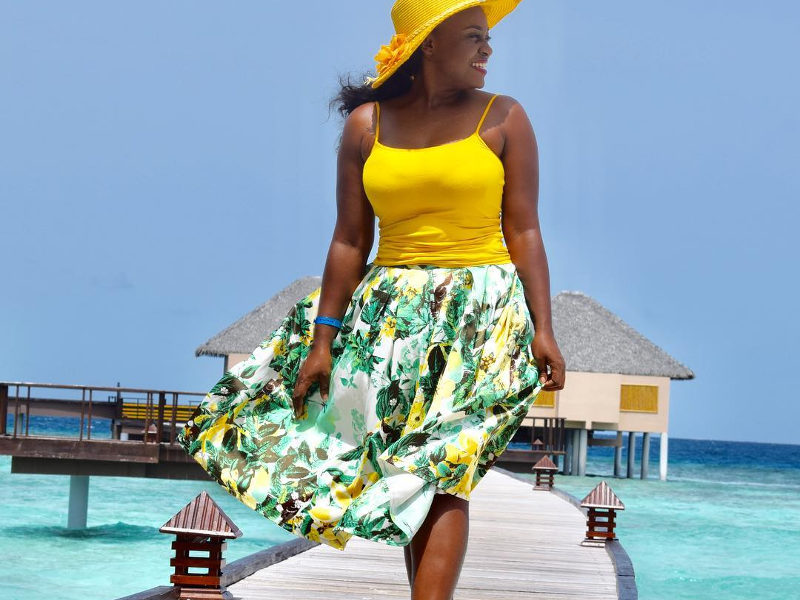 Choosing where to spend your summer vacation is never easy. The world is a big place and there are so many exotic places to discover. Some are so unreal you need to visit them at least once in your life. The Maldives is one of those "pinch yourself to make sure you're not dreaming" kind of places.
That is what makes it the most sought-after tropical destination.
Where is the Maldives?
The Maldives is a garland of 26 atolls and over 1,000 islands in the middle of the Indian Ocean. It is considered a part of South Asia and is located to the south west of India and Sri Lanka. Only about 200 of the islands are inhabited.
Here are 10 reasons why you should go to the Maldives for your summer holiday.
1. The Good Life
The islands move at a slow pace and the level of luxury is out of this world, so a trip to the Maldives is all about taking it easy and enjoying the good life. Expect to eat delicious food and prepare for some serious relaxation because shoes are unnecessary, work is forbidden, and drinking champagne is encouraged.
2. Glow-in-the-Dark Beaches
Bioluminescence is a natural phenomenon that happens when the ocean is disturbed and the tiny phytoplankton emits a neon blue glow. It is called the Sea of Stars and is one of the most beautiful things you will ever witness if you are lucky enough to see it. Vaadhoo Island is considered a hotspot.
Bioluminescence is unpredictable so you can't really plan when to see it, but the most sightings seem to occur between July and February. A bright moon can also dim the glow so try going to look for it during a crescent or new moon.
3. The Ocean is Your Playground
Warm, crystal clear water stretches for miles and miles around the Maldives. It is an invitation to spend your afternoons hanging out on a catamaran and sailing on a traditional dhoni to find a private island for a beach BBQ. Parasailing is also something you have to do at least once in your lifetime!
4. Date Nights That Will Blow Your Mind
On a wooden platform above the treetops
In the middle of a tropical jungle
On a beautiful beach with a private chef
In an award-winning restaurant overlooking the lagoon
On a torch lit sandbank beneath the stars
In an underwater restaurant surrounded by sharks
On a coral terrace on the edge of a beach
You can stay in the Maldives for 7 nights and have a different mind-blowing dining experience each night!
5. Island Hopping
Whether you hop onto a ferry or arrange a private transfer to one of the other resorts, island hopping is one of the best things about visiting the Maldives. Over 1,000 islands are there to be explored so you don't have to stick to just one. Maafushi is a must-visit if you want to experience the colourful local life and Fulidhoo is a great place to try hedhikaa, local snacks that are spicy and delicious!
6. Sunsets That are Out of This World
There is no other way to describe the sunsets of the Maldives but magnificent. When the sun goes down, the sky becomes a canvas for the heavens to paint with shades of gold, orange, red, pink, and purple you didn't even know existed. You haven't seen the perfect sunset until you've seen a sunset in the Maldives!
7. The World's First Underwater Spa
It is no secret that the Maldives is one of the best spa destinations in the world, but one of the most unforgettable spa experiences is at Lime Spa on Huvafen Fushi Island. The treatment rooms are 8 metres underwater, so you will be able to watch blacktip reef sharks and colourful fish swim by while getting pampered with coconut and lime spa treatments. Nothing says relax quite like an underwater spa does!
8. The Maldives Resort Experience
The resorts and hotels in the Maldives are in a league of their own when it comes to luxury. Whether you stay in one of the glamourous overwater villas or lavish beach resorts you will get to experience the legendary Maldives Resort Experience. You will be treated like royalty from the moment you arrive and get exclusive access to spa treatments, award-winning restaurants, stylish cocktail bars, and island activities.
Some of the best resorts can be found on the Baa Atoll.
9. Memories You Will Never Forget
From the moment you get a view of the atolls from the plane to the moment you leave, your trip to the Maldives will be one of unforgettable experiences. So take it all in and indulge in all the experiences on offer because this is as close to paradise as it gets and it is a trip you will never forget!
10. The Maldives is Heaven on Earth
Rest and relaxation on dreamy tropical beaches. Luxurious ocean villas and stylish beach resorts. Lush evenings in glamourous cocktail lounges. Once in a lifetime bucket list experiences. If heaven on earth exists it is definitely in the Maldives!
But the only way to find out what all the fuss is about is to go and check it out for yourself.
Getting to the Maldives
Flights to the Maldives are not short and there might be few stops depending on the airline you are flying with. Flights on Emirates from Lagos are about 15 hours and 30 minutes with a short layover in Dubai. Qatar Airways offers cheap flights to the Maldives with a quick stopover in Doha if you want to save money. Flights depart from the major airports in Nigeria.
We recommend: Plan your trip with a stopover in Dubai and do some amazing shopping. Dubai is one of the best cities in the world for shopping!
To get to the islands from Malé you have to take a seaplane or speedboat. Resorts that are close to Malé can be reached by speedboat and resorts that are further out can only be reached by seaplane. Seaplanes cost between $800 – $1,000 and only operate during the day. Speedboat transfers are cheaper and can usually be arranged during the day or evening.
And even better, you won't need a visa for the Maldives! You will be able to get a 30-day tourist visa when you arrive and show proof of a return flight and accommodation.
Discover more visa-free countries for Nigerian travellers!
Sign up for our newsletter if you're thinking about planning a trip. You will be the first to know about cheap flight deals and flash sales for some of the most popular destinations around the world.
Let us know if you would love to visit this amazing island paradise in the comments section below!
You Might Also Like:
Maldives: The Ultimate Escape for an Exotic Paradise
Tips on How to Save Money for Your Travels
Nigerian International Passport
Featured image courtesy of @the_wakaholic via Instagram