With a new year, comes new travel aspirations, make this the year your travel dreams come true! Explore irresistible destinations or indulge in the most luxurious experiences ever!
European countries tend to be some of the top go-to travel destinations all year round. Home to some of the cheapest and also most expensive cities in the world, that boast culinary excellence, beautiful beaches and stunning architecture.
If for some reason, you failed to complete your 2016 travel goals, don't despair- we have a list of some of the best places to travel to this year so buckle up it's going to be an exciting ride!
Corsica, Region of France -Food, wine & melodious music

.
If you are planning to visit France this year, make sure you go to the astonishing city of Corsica. It is located almost in the middle of the Mediterranean Sea. A perfect destination for lovers, honeymooners and couples who are searching for the ideal location to rekindle their romance.
Taste some of the best wines in the world including the popular Muscat made from the delicious pale Muscat grape, or maybe you prefer the darker, sweeter, herb-rich Cap Corse. Both can be drunk as apéritifs – or at any time for simple enjoyment. When looking to tantalise your taste buds, of course, you have a selection of local specialities that are as pleasing to the eye as they are to the palate. Savour the famous pasta asciutta or try the tasty fresh fish and seafood, mullet or a fresh rock lobster.
If you think you've seen the best of France, Corsican scenery will still surpass your dreams and expectations, owing to its dazzling white beaches, lush green forests and towering mountain ranges. To top it all up this mountainous Mediterranean island's culture makes for an idyllic oasis to find ultimate peace and tranquillity.
When to visit: Any time of year is suitable for the summer months of May through September being the warmest.
Naxos, Greece – Ancient splendour & culinary haven
Immerse yourself in the ancient splendour of Naxos as you uncover fascinating Greek Myths based on Gods: Zeus, Apollo and Dionysus (God of wine). As the largest and most fertile island in the Cyclades, Naxos produces some of the finest delicacies such as freshly grilled octopus. This tasty dish which is a favourite of the locals and is usually washed down with an icy glass of Ouzo. Don't forget to enjoy the waters of Agios Prokopios all the way down to Mikri Vigla. Try something new and exciting like wind surfing, kite surfing or maybe walk through the ancient Kastro.
 Get in touch with the simple things in life when you visit the inland villages or maybe explore the captivating ruins in the city. Naxos is a cultural centre of classical Greece and Byzantium, with a few Venetian and Frankish influences.
When to visit: The hot Mediterranean summer can be experienced from July to August, September is sunny and warm while October brings cooler weather.
Pantelleria – Sicily, Italy – Perfect for diving boat excursions
A beautiful gem perfectly placed in the heart of the Mediterranean—closer to Africa than to Europe. It lies 60km away from the shores of Tunisia. Pantelleria is a gorgeous Italian Island, with secluded coves that are perfect for snorkelling, diving and boat excursions. It should be your top travel destinations this year, after all, it is only a few hours away!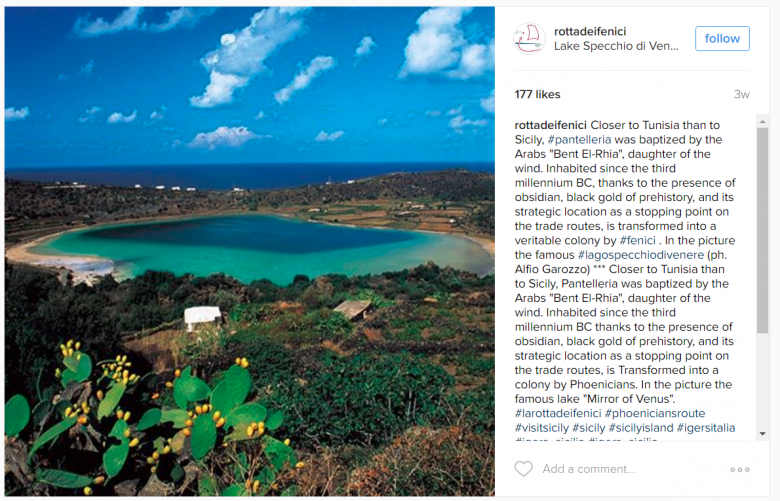 When to visit: Italy has a Mediterranean climate, the best time to visit is May /June or September/October, to avoid the summer's ferocious heat.
Sardinia, Italy – Beautiful Scenery
This enchanting and picturesque Mediterranean Island is surrounded by some of the bluest beaches you'd ever seen. The beautiful city of Sardinia will be love at first sight with dazzling scenery that should not be missed. This city offers the best of everything from colourful festivals, architectural wonders, historic monuments, tranquil lagoons, and one of the longest beaches in the Mediterranean. You can hike through the lush, silent interior to the twilight of Tiscali Nuragic ruins and walk the vertiginous coastal path to the crescent-shaped bay of Cala Luna. Climbers are known to spider up the limestone cliffs you can also cruise to Cagliari and play on unspoilt beaches and rocky cliffs.
When to visit: With its hot, dry summers and cool wet winters, the magical Island is an all-year destination, but it would be cool to visit in May, June, September and October. The weather in these months is between 22-25°.
So what is on your travel wishlist in 2017? Whatever you might have on your 2017 travel wishlist, add these luxury European Island to it!
Book for cheap flight to your favourite European Island here