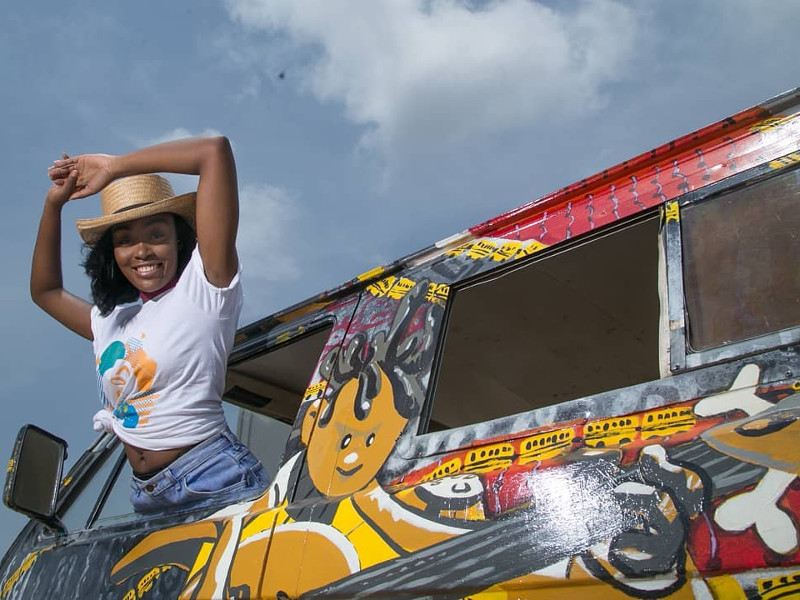 With the holidays upon us and the new year around the corner, it's time to start planning your social diary for 2019! Take advantage of the public holidays, and extend your leave days with long weekends in April, May, June, August and October. Whether you're planning a getaway or a staycation, there are wonderful events and festivals in Nigeria to make sure your 2019 is packed with colour and fun!
Take a look at these festivals and events throughout Nigeria for each month.
February
Argungu Fishing Festival
This four-day festival in Nigeria takes place in the north-western state of Kebbi. It draws thousands of fishermen from the northern regions to come together and compete in catching the largest fish in the river, using only traditional nets.
Lagos Theatre Festival
Founded by British Council in 2013, this week-long cultural extravaganza showcases over 600 artists from around Nigeria, Europe, Africa, the UK and the USA performing at 20 venues across Lagos. This fringe festival is an annual highlight, featuring over 100 curated performances of theatre, film, dance, cabaret, music, comedy, poetry, mixed arts and children's theatre. The overall objective is to capture and critique daily life and society, and each year presents a new theme. If you're a lover of the arts, be sure not to miss out!
Social Media Week Lagos
If you're in the digital marketing, media or tech space, you don't want to miss out on this week-long convention kicking off on 4 February 2019. Deemed as one of Africa's most prominent tech and digital media events, this is your chance to get to grips with trends, insights and business tools to leverage the business space throughout Africa.  
March
GidiFest
The one festival in Nigeria to see and be seen, GidiFest is a hot item on Nigeria's social calendar where socialites and party animals can hang out and immerse themselves in a VIP African experience. While the music and DJs are the main crowd pleaser, you can rub shoulders with celebs, see art installations, play beach soccer and volleyball, and indulge in endless cocktails and delicious food – all on the swanky Victoria Island.
April
Lagos International Jazz Festival (Lagos Jazz Fest)
Taking place on Lagos Island from 27-30 April 2019, this is one of the most iconic jazz festivals in Nigeria. Featuring the likes of Grammy award-winning artists like Jermaine Jackson, Lekan Babalola and Freshlyground, this event attracts people from around the world to take part in the jazz workshops, lectures, concerts and exhibitions.
May
Lagos Carnival (Caretta Carnival of Lagos)
Yet another colourful celebration in Lagos, the Lagos Carnival brings together all cultures, from western Nigerian to Brazilian and Cuban. This one-day festival is an explosion of colour, dancing, music, dazzling costumes, and all-around excitement. This carnival is a fascinating glimpse into Lagos' history, and many people come to film the culture and heritage of the local people.
Eyo Festival (Yoruba Festival)
Annually performed on Lagos Island, the whole of Carter Bridge to Tinubu Square is closed for the Eyo parade. This festival in Nigeria is a cultural display of the Isale Ekpo people and has, over time, garnered fame among tourists for the masquerade displays of head-to-toe white costumes. These costumes represent the spirit of the dead. Note that sandals, bicycles, smoking and suku hairstyles are banned at the Eyo Festival.
June
Durbar Festival
The Durbar Festival is the most highlighted event of northern Nigeria's Muslim community. It is celebrated at the end of Ramadan and the start of the Mecca pilgrimage. Some Muslims travel to Mecca in Saudi Arabia during this time, while others celebrate Id el Kabir at home, where both Muslims and non-Muslims are invited to attend the celebrations. The best cities to witness this festival are Kano, Kaduna, Bida and Katsina. If you're in Kano during this festival, visit the ornate Emir of Kano Palace.
Witness the grand procession of horsemen in colourful warfare attire, rounded up by the Emir with musicians and parades on either side. Enjoy traditional dancing, acrobat performers, bejewelled camels and horses, festive meals, and the famous Jahi horse race. It's an excellent opportunity to dress up and get some beautiful henna artwork.
August
Osun-Osogbo
This is a two-week event held at Osun Grove in Osun State. Traditional cleansing of the town marks the beginning of this festival along the banks of the Osun River. Once a cultural event of the Yoruba people, this Nigerian festival now draws tourists from the USA, Canada, Spain, Cuba and the Caribbean to join in the rituals, fun activities, and explore the renovated shrines and sculptures.
New Yam Festival
As a way of bringing together the Igbo community and expressing gratitude to the ancestors for the successful harvest, each year the New Yam Festival takes place just after the rainy season. This cultural celebration sees Nigerians from the southern and eastern regions coming together in a parade of dances and masquerades.  
September
Lights Camera AFRICA!!! Film Festival
Calling all emerging filmmakers and those with an appreciation for film. This annual film festival in Nigeria portrays a magnitude of various African films, including feature films, blockbusters, animation and documentaries. The festival takes place in Lagos where you can sit in on workshops and seminars shedding light on the film industry.
October
Eko International Film Festival (EKOIFF)
Taking place between 11-16 March 2019 in Lagos, the EKOIFF assembles filmmakers from around Africa, Europe and America to promote the culture of Nigeria. Be inspired by the film screenings, screenplays, scores, workshops and discussions in an effort to promote Nigeria's film industry.
Felabration
In celebration of the Nigerian Afrobeat pioneer, Fela Kuti, Felabration has become a dazzling stalwart of Nigerian music festivals. Over 1 million people around the world tune in, while more than 30,000 Nigerians attend the celebrations at the New Afrika Shrine. The stage welcomes musicians, DJs and dance troupes that highlight African culture and Afrobeat music.
National Festival of Arts (NAFEST)
The National Festival of Arts is an effort to promote peace, unity and national development through the arts. Drawing crowds from all states of Nigeria, this year's colourful festival is set to take place in Benin City. Expect spectacular music, dancing, wrestling competitions, games, delicious cuisine and competitions for the little ones.
November
Abuja Carnival
Arguably one of the biggest festivals in Nigeria, the Abuja Carnival is a highly-anticipated event on Nigeria's social calendar attended by more than two million people. Usually taking place at the end of November, the Abuja Carnival is organized by the Carnival Roadshow Company and marks the start of the festive season. This is one place you'll get to see fire-eaters, acrobats, magicians, comedians, cultural parades, durbar, road shows, boat regattas and circus performances all under one event in Abuja.
Mmanwu Festival
One of many masquerades significant to the Ingo community, this festival in Nigeria is a celebration of masquerades across the state of Enugu. Each masquerade represents a village's ancestors or deities, and only chosen members of the community may wear the specially-created masks, believed to be a reincarnation of the dead's spirit. Costumes are typically made from fabric, straw and wood (only worn by men), and there is plenty of traditional dancing and roasted yams well into the night.
Africa International Film Festival (AFRIFF)
Film buffs and emerging filmmakers should diarise the Africa International Film Festival taking place towards the end of the year. This dynamic and exciting festival features keynote speakers and panel discussions with directors, producers and film critics, as well as training classes and live screenings. Held in different cities each year, the purpose of this festival is to showcase talented filmmakers across Africa, with special awards and prizes for a range of film categories.
December
Calabar Festival
Coined "Africa's biggest street party", the Calabar Festival is possibly the most anticipated festival in Nigeria. Kicking off in early December, Calabar goes all out in showcasing the diversity of all 36 states through music, dance, masquerades and roadshows. Drawing both local and international artists, this is one colourful, fun fiesta you don't want to miss!
Other Festivals around Africa
Marrakech Marathon – January
This world-renowned marathon attracts over 8,000 runners from around the world to take on the picturesque circuit lined with palm and olive trees, in Marrakech. Those who find the 42-km marathon a bit ambitious can conquer the half-marathon – an equally beautiful race.
Busara – February
A celebration of African music over four days in Zanzibar – this is one festival you need to be at! The biggest carnival parade hits the streets of Stone Town and musicians and performers go all out with brass bands, acrobats, capoeira, Mdundiko dancers and Maasai warriors.
Jazzablanca – April
Calling all lovers of jazz music – enjoy nine days of soothing jazz from street buskers and intimate jazz clubs to grand stages in the streets of Casablanca.
Bushfire – May
A weekend packed with entertainment, music, art, food markets, dancing and workshops, Bushfire attracts thousands of people from all over the world to camp out or glamp out under the stars in Malkerns Valley in Swaziland. The stage houses world-class artists from Africa and beyond for one epic weekend.
Mawazine Festival – June
Attracting the likes of Bruno Mars, Jamiroquai and The Chainsmokers, the line-up at this week-long festival is always incredible! Entry into the festival is completely free – you'd be crazy not to take advantage. All you need to do is book your flights to Rabat!
Rwanda Film Festival – July
Deemed one of Africa's most prestigious festivals, the week-long Rwanda Film Festival takes place each year with screenings staged around Kigali and in other remote parts of the country.  
Harare International Festival of the Arts (HIFA) – July
A festival that brings people together in spirit and performance, the HIFA is a platform to learn, educate and celebrate Zimbabwean art in a challenging city like Harare. Performers from the USA, Netherlands, Portugal, South Africa and Finland collaborate with local artists to create a harmonious festival spanning six days.
Lake of Stars – September
This three-day event of culture and music from around the world gathers around Lake Malawi. From jazz and reggae to hip-hop and EDM, this is a musical extravaganza for the senses. Other highlights include fashion shows, theatre, poetry slams, yoga sessions, beach volleyball and roller skating.
There you have it – the best events and festivals in Nigeria and around Africa for 2019! From local ceremonies and traditions to glitzy world-class festivals and concerts, be sure to diarise these festivities.
We'll help you get there with flight deals to these amazing destinations. Sign up for our newsletter and don't miss out!
Which events will you be attending next year? Let us know in the comments below.
Featured image credit: @badmantej via Instagram