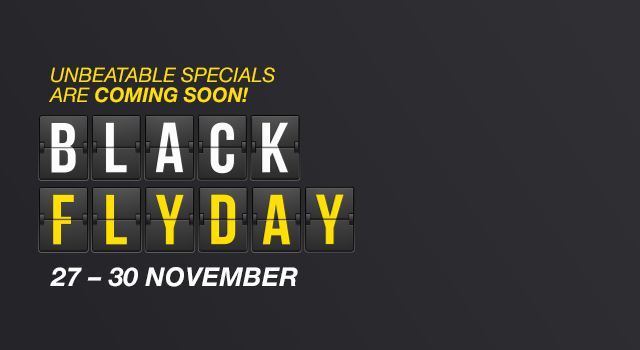 IN A WORLD of scarce travel deals and feeble currencies, this Friday one travel agency will rise above all others by helping the masses with catastrophically deep discounts!
Featuring an all-star cast of airlines and travel deals like you've never seen before, BLACK FLYDAY will break new ground in low prices on international and domestic travel when it premieres on Travelstart Nigeria this week.
---
Coming to a browser near you!
BLACK FLYDAY Releases this Friday, 27 November 2015.
Visit Travelstart.com.ng for more.
---
Be a good friend …
… Do what it takes to secure your #BlackFlydayNG deal then share this page with your friends and let them know BLACK FLYDAY is coming using #BlackFlydayNG. Trust us, they will appreciate the heads up.
BLACK FLYDAY starts this Friday, 27 November and runs until Monday, 30 November at 3pm. Expect bumper deals and slashed prices on Travelstart Nigeria.
It's been a long year and you owe it to yourself to splurge on international and domestic travel specials; some of which have been discounted by up to 50%!
Stay tuned to the Black Flyday page for rolling deals, sign up for our newsletter to remind yourself and yell #BlackFlydayNG from the social rooftops!

Black Flyday > Black Friday
Black Flyday is our take on Black Friday – the Friday following Thanksgiving Thursday which is widely known as the biggest ecommerce shopping day of the year. Historically, Black Friday was the day that retailers made a profit; also known as going is into the 'black' instead of deficit red. Today, Black Friday symbolizes the official start of the Christmas shopping season and is often the most anticipated shopping day of the year.
For shoppers Black Friday has come to symbolise the most mouthwatering deals of the year.
Black Flyday begins in …
[wpdevart_countdown text_for_day="Days" text_for_hour="Hours" text_for_minut="Minutes" text_for_second="Seconds" start_time="1448466650″ end_time="1,15,7″ action_end_time="show_text" content_position="center" top_ditance="10″ bottom_distance="10″ ]BLACK FLYDAY is on – Go to Travelstart.com.ng NOW![/wpdevart_countdown]
… on your marks, get set, and GO!
Follow me here for travel tips, Visa information, destination reviews and much more. Connect with me on
Google+