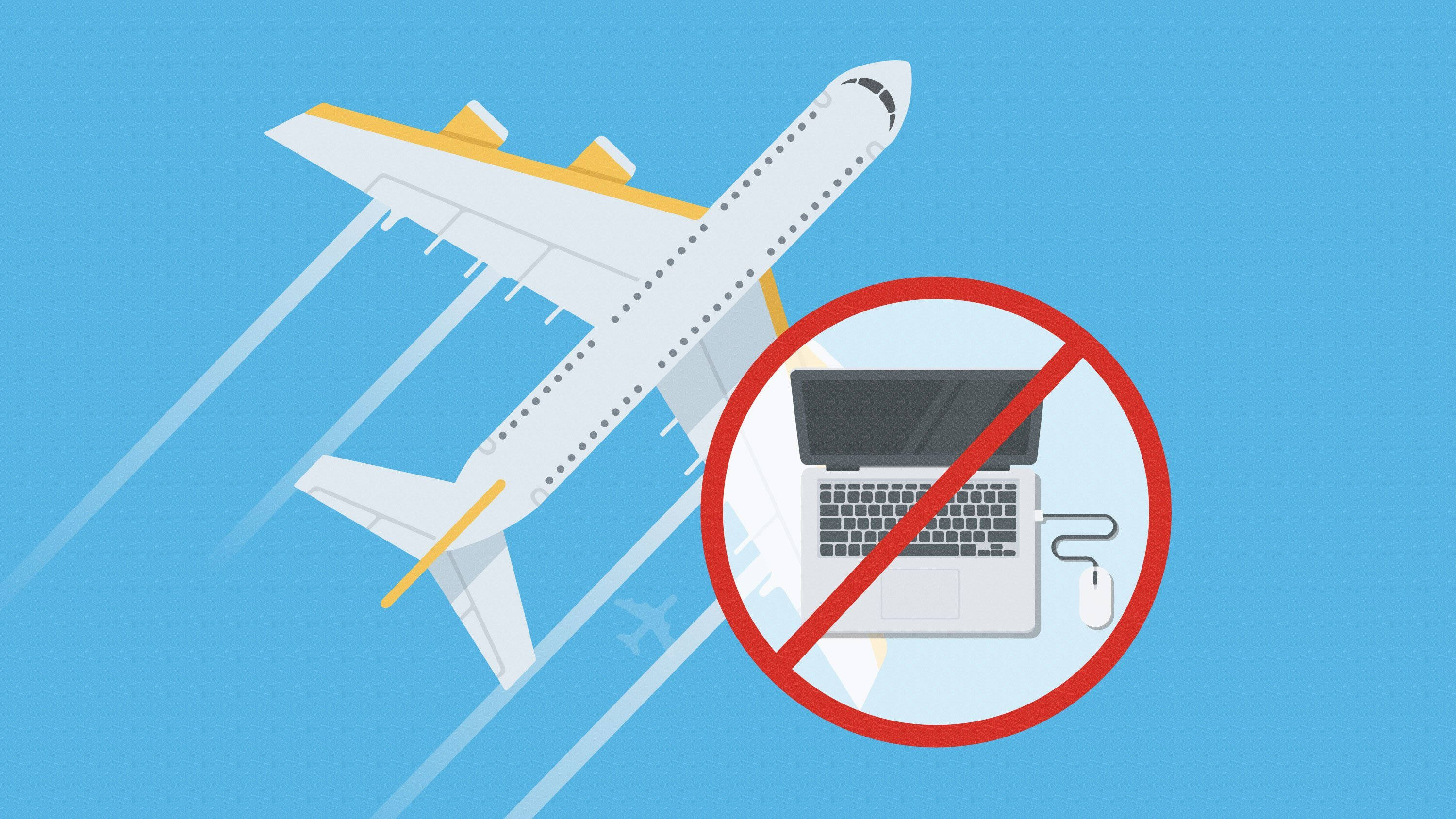 There is a new travel tech policy that restricts passengers from entering the United States and the United Kingdom with some electronic gadgets. This is a separate policy than the US travel ban on seven countries, Iran, Iraq, Libya, Somalia, Sudan, Syria, and Yemen. The travel tech policy states that passengers on these flights, regardless of nationality, must check their gadgets in their luggage before it can be brought onboard.
Travelstart Nigeria is gathering more information about the situation to better keep its customers informed and safe.
What led to the Travel Tech Policy?
Based on intelligence reports, the UK and US travel tech policies are in response to the threat of terrorism.  Both governments seek to enhance security procedures for passengers to better protect them as well as their citizens by placing new checks at the last point of departure before entering the United States and the United Kingdom.
According to a statement released by the Department of Homeland Security in the US, the restriction on electronic gadgets, is as a result of past security issues to the Unites States such as the "2015 airliner downing in Egypt", "the 2016 attempted airliner downing in Somalia", and "the 2016 armed attacks against airports in Brussels and Istanbul". This was further evaluated by the Intelligence department that "terrorist groups continue to target commercial aviation and are pursuing innovative methods to undertake their attacks, including smuggling explosive devices in various consumer items."
When does the Travel Tech Policy Go into effect?
According to the Department of Homeland Security in the United States, the policy will take effect from  Friday, 24th of March, 2017 and will be valid until 14 October 2017. On the other hand, UK government has not given a start date for the ban but says airlines are "in process of implementing it". However, some U.K. airlines have already begun introducing the new restrictions.
Book for cheap flight here
What type of electronic devices are banned?
The United States and United Kingdom have both announced that tablets, laptops, handheld games consoles, e-readers such as Kindles, iPads, portable DVD players and any other electronic device that is not a phone or larger than 6.3inch (16cm) long, 3.6 inches (9.3cm) wide and 0.6 inches (1.5cms) deep will be banned from cabin luggage on some flights from Middle Eastern countries, North Africa as well as Turkey.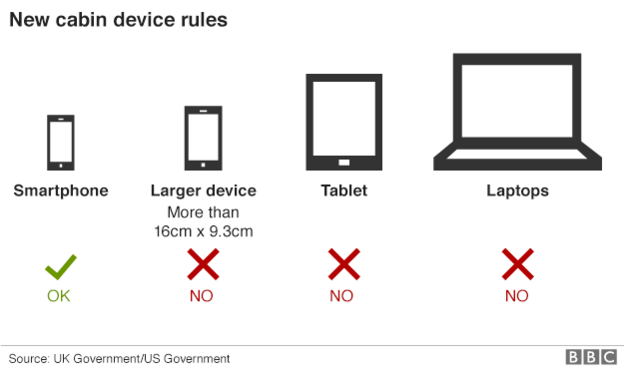 Who will be affected by the Travel Tech Policy?
The travel tech policy affects any passenger travelling to the US or UK  from the following countries Turkey, Lebanon, Jordan, Egypt, Tunisia , Saudi Arabia and also those flying from the United Arab Emirates, Qatar, Kuwait and Morocco.
What airport and airlines will be affected by the Travel Tech Policy?
According to the report from CNN, the ban will also affect inbound passengers from the listed countries on flights operated by British Airways, Easyjet, Jet2, Monarch, Thomas Cook, Thomson, Turkish Airlines, Pegasus Airlines, Atlas-Global, Egyptair, Tunisair, Royal Jordanian, Saudi and Middle East airlines.
However, the US officials confirmed that no American carriers will be affected by the ban, which would involve devices larger than a mobile phone. Passengers on American airlines such as Delta Airlines and Virgin Atlantic Airlines would be allowed to carry larger devices in their checked luggage. Airlines will be given a few days to adjust to the new regulations, and those who refuse to do so will be barred from flying to the UK and The United States. The affected airlines have agreed to comply with the new travel tech policy. The affected airports are;
Abu Dhabi International, United Arab Emirates

Ataturk Airport, Istanbul, Turkey

Cairo International Airport, Egypt

Dubai International, United Arab Emirates

Hamad International, Doha, Qatar

King Abdulaziz International, Jeddah, Saudi Arabia

King Khalid International, Riyadh, Saudi Arabia

Kuwait International Airport

Mohammed V International, Casablanca, Morocco

Queen Alia International, Amman, Jordan
How will the Travel Tech Policy affect Nigerians?
Nigerian passengers that have stopovers during their flights to US or UK through one of the listed airports or flying one of the listed airlines. For example, if you are flying from Lagos to New York through Dubai, you will need to check-in your larger than a smartphone electronic device. It is advisable that Nigerian passengers pack the banned gadgets in with checked luggage from Lagos so as to avoid any issues when boarding their connecting flights.